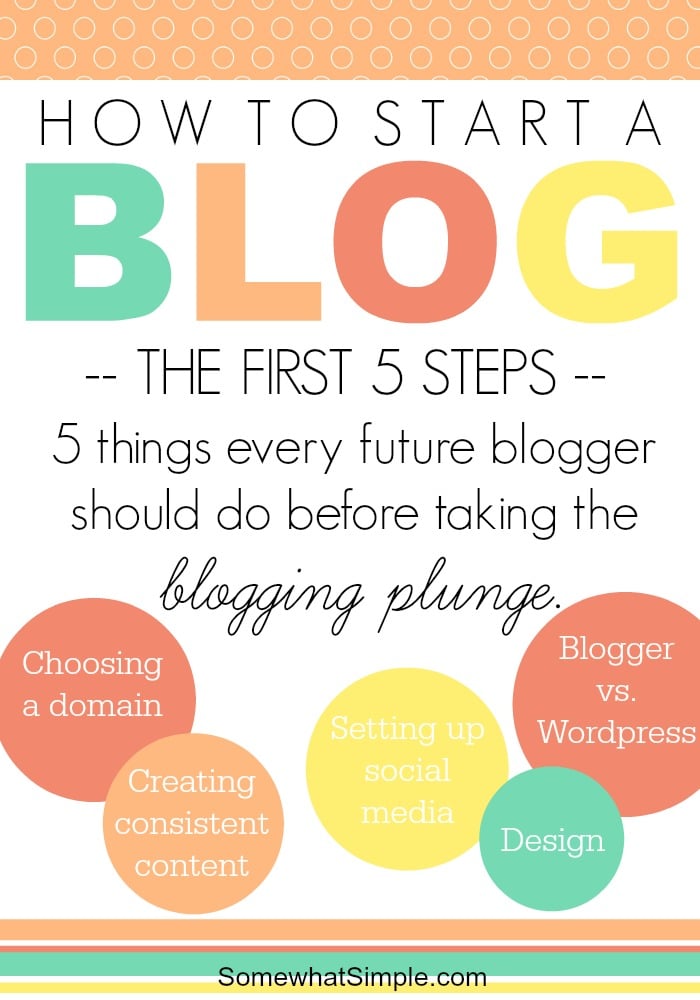 Today we are going to talk about How to Start a Blog and the First 5 Steps every future blogger should do before taking the plunge.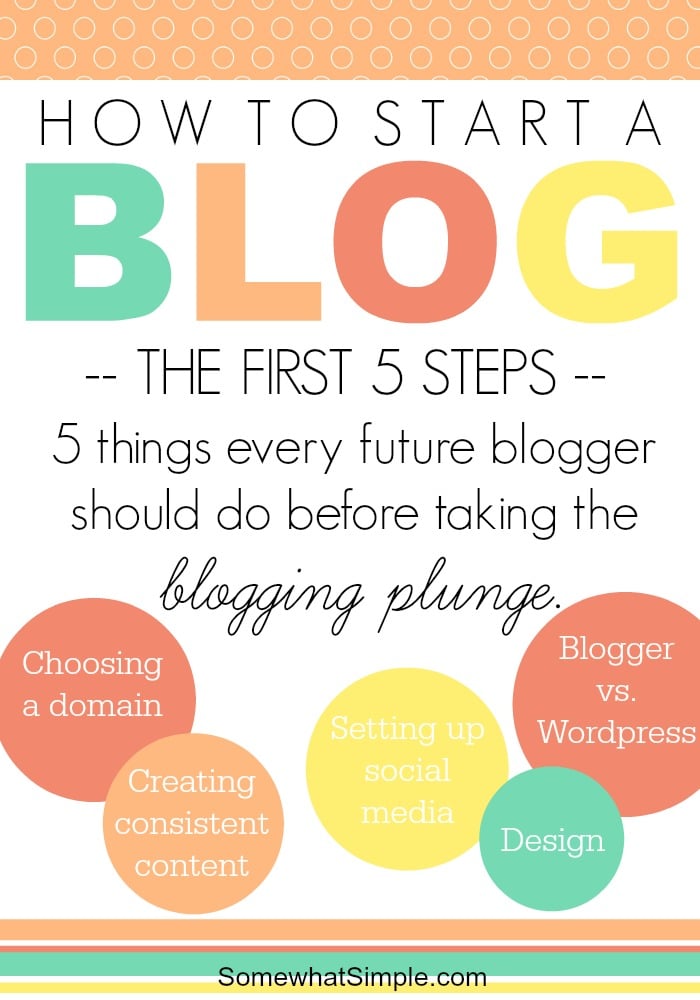 How To Start You Start A Blog
I've talked in the past about what I wish I would've known before I started a blog. The truth is, I never thought my little corner of cyber space would be read by anyone outside my family and close circle of friends. I didn't approach it with a business mindset, nor did I think I could earn an income doing so.
Needless to say, I learned a lot along the way as my blog transformed from a family journal into a professional business. Now, when family and friends ask me to coach them on starting their own site, I start with some very basic, but very necessary steps with the tips. If you are thinking of possibly starting your own blog, this is a must-read!
How to Start a Blog – The First 5 Steps
I recently went to Periscope and shared each of these 5 steps with my followers there. Here is the video in case you missed it:
So, you have an idea of what you want to write about, now what???
Choose A Domain Name For Your Blog
Be thoughtful on this – I can't tell you how many bloggers I know that have "name remorse", and re-branding is something you want to steer clear of. Things to consider-
• Check GoDaddy and make sure the dot com of your blog name is available.
• Make sure you don't have any weird spellings, characters or dashes in your domain. You don't want a business name that you have to spell or clarify. You want people to be able to recall your blog name and find it without you present.
• If you can't get the domain you want, you might want to go back to the drawing board and come up with a different blog name.
• Once you have a domain you love, purchase it. Right now one of my favorite hosting companies, Bluehost, is offering FREE domain registration for the first year and hosting for your site that's only a couple dollars a month! You really can't beat that when you're first starting out.
Choose A Host For Your Blog
You will need a hosting company for your site but you don't need to spend a lot of money in the beginning for this service. Like I mentioned above, Bluehost is a great company to use when you first start your site. It's only a few dollars a month for hosting.
Start Your Blog's Social Media Accounts
Blogging is no longer about writing a post, publishing it and hoping people see it. Having a blog means you also have to build a strong social media presence so you can promote your blog posts to your fans and followers. Decide right away what platforms you want to utilize and grab those usernames. Here are some things to consider:
• Your social platform domains are just as important as your blog domain. Try to get the usernames that are as close to your blog name as possible – avoiding abbreviations and special characters if you can.
• I recommend every new blogger use Facebook and Pinterest – for SURE. Those will be the big traffic drivers to your site.
• I also use Twitter because it is a good way to connect with brands, and Instagram because it is a good way to connect with readers.
• There are plenty of other platforms too: StumbleUpon, LinkedIn, YouTube etc. You'll have to decide which platforms are best for you.
• Pay attention to the length of your blog name and what the maximum number of characters you are allowed to use on each social platform. For example, when I set up my Twitter account, my blog name SomewhatSimple was too long for me to use. (Darn it!) So I had to get more creative and ultimately chose SimpleStephD- a piece of my name and my blog name. I justified this since I am the person behind SomewhatSimple, and Twitter is typically used for conversations. I also use this same username for Instagram.
Choose a Platform For Your Blog
There is a lot of discussion on the internet over Blogger vs. WordPress (<<read that post for more insight with pros and cons). It is my opinion that WordPress is the superior platform – BUT I always suggest starting on Blogspot/Blogger because it costs nothing, so it is risk-free. (WordPress will cost you at least $5/month for hosting, so it more of an initial investment.) Blogger is also a super simple platform to learn and use. After several months or a year, if you decide you are loving all that blogging entails and you want to invest some time and money into your blog, you can easily switch your entire blog over to WordPress at that time.
Set Up Your Blog
Once you decide what platform is best for you, go through the prompts on setting up an account with that platform. (This will take just a few minutes.)
• If you do choose to go with Blogger, you can and should use your dot com domain, not the blogspot domain that it comes with. (Read this post for details.)
• Choose a layout and design for your blog, and come up with a logo. If you're not good at graphic/web design (I certainly am not!) I'd suggest checking etsy.com for help. There are some affordable pre-made logos as well as custom designs you might find fit within your budget.
• You should also take some time at this point to set up the email account you will be using for your blog. GoDaddy has a good email service that I use, but I also recommend setting up a free gmail account. (You will need gmail if you use Blogger and YouTube anyway.)
Start Writing On Your Blog
The only difference I have seen with people who start a blog and go nowhere with it vs. those who write very successful blogs is consistency. People are usually really excited about blogging in the beginning. And then it might take more time than they realize, or they don't like how slow it grows at first and so they lose interest and motivation and they eventually stop. My advice is this: come up with a blogging schedule and stick to it!
• You don't have to have a new post every day, but write at least one a week.
• Don't deviate from your plan because as soon as you miss a day or two, it is easy to miss day 3, 4 and 5.
• Be consistent and don't give up.
• Write as though you have an audience, even when there will be times you are literally talking to your computer screen.
• Once you have a handful of written content on your blog, start promoting it on social media. Go to your private FB page and invite your friends to see what you've done. Make sure you have enough content on there that keeps them interested in coming back for more!
. . . . .
I hope what you read here gives you the motivation and direction you need to hit the ground running! Please leave a comment if you have any questions or suggestions. Good luck!