Transitioning from eye glasses to contacts might sound a bit intimidating, but it doesn't have to be! Today we're sharing some tips on how to take care of contacts + our advice for parents with teens who want to make the switch!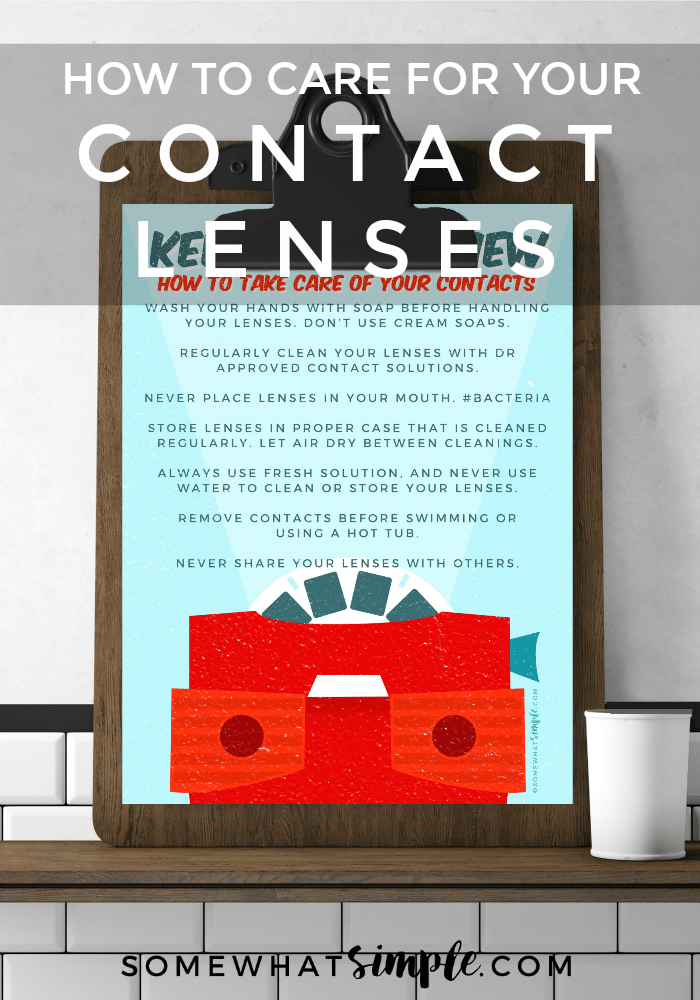 My 13 year old son has been wearing eye glasses since the 3rd grade. I personally love the way he looks in glasses, but getting him to take them to school and keep them on was proving to be quite the struggle!
He told me a while ago he wanted to try contact lenses.
And he definitely had some valid reasons for wanting them – they're one less thing to remember to put in his backpack each morning, he doesn't love the way he looks in glasses like I do + they offer an unobstructed view while playing sports. But since I don't wear glasses or contacts, I didn't want to invest in something that I didn't know much about.
So I did some research. I took my son to the eye doctor with a list of questions!
How do you clean them?
How often should you clean them?
How often do you have to change them?
How much do they cost?
Is 13 years old too young for contacts?
…just to list a few!
The doctor answered all of our questions and gave Ethan an eye exam. He fit him with his first pair of lenses before we left and he showed him over and over how to put them in and take them out. (This was probably the hardest part of the entire process!) One week later, we returned for a follow up appointment and the rest is history!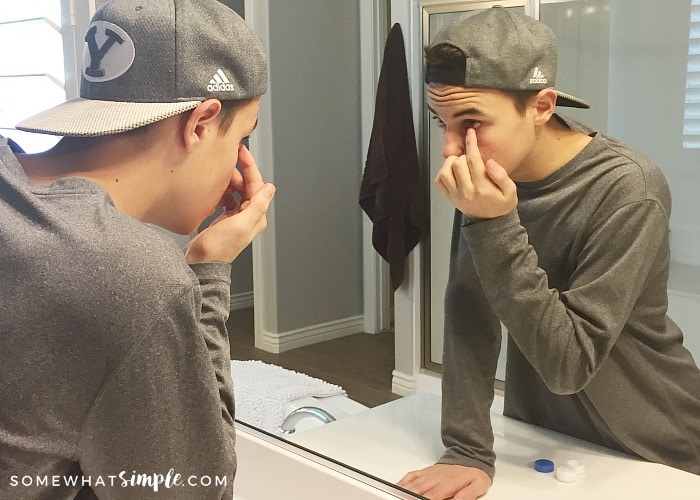 Ethan has been wearing contacts now for several weeks and he absolutely LOVES them. I love them too because I no longer worry about him not being able to see the white board in class. I make sure he has them in before he leaves for the bus, and then I remind him to take them out at bedtime. SO EASY.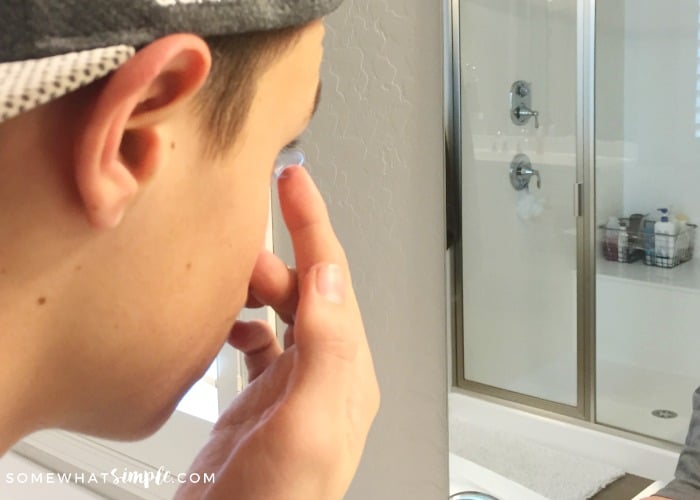 Once we had the prescription for his contact lenses, I went online to 1800Contacts.com and ordered a year supply! Ordering was so SIMPLE – I did it straight from my phone on the 1800Contacts app. And since Ethan's prescription was in-stock, I had the contact lenses delivered to my door within a few days!
Doesn't he look great?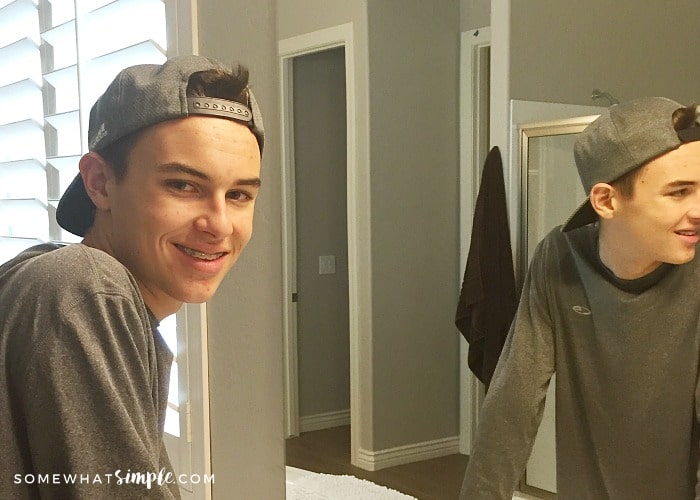 To avoid eye infections and the need to order more replacements, contact lenses do require cleaning each day.  Take the time to talk with your child about the proper use and care, and then decide if wearing lenses is right for them! Here is a simple printable we made with some helpful tips. Feel free to print it out if you'd like to!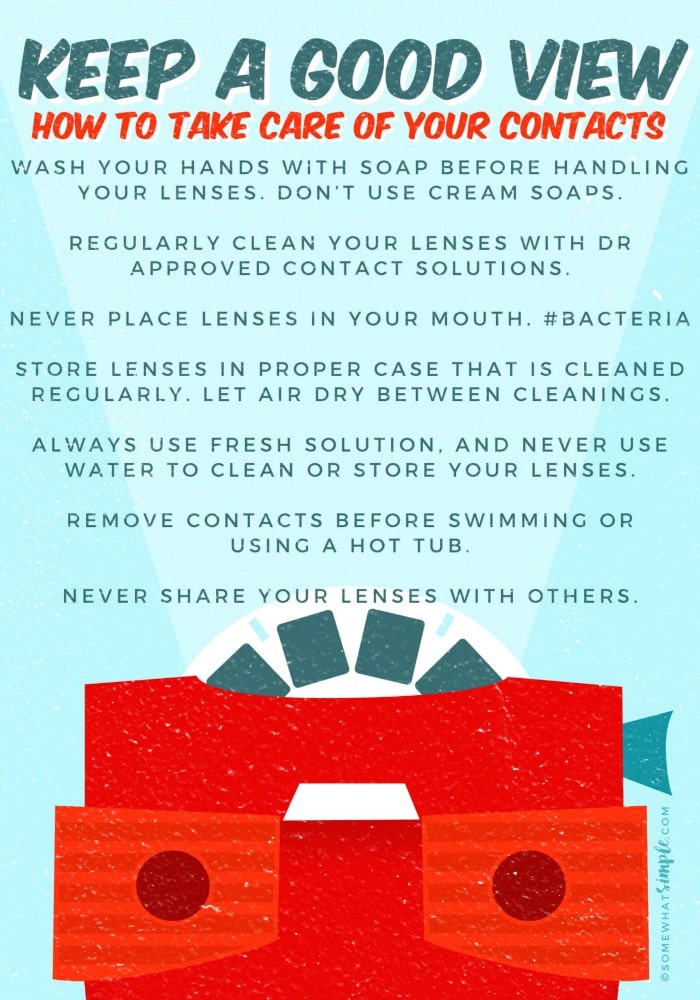 Please remember, all of our free printables are for personal use only and may not be sold or claimed as your own. Thanks for your support! 
. . . . .
1-800 CONTACTS is the world's largest contact lens store. They provide a simple, hassle-free way to replace your contact lenses. You can receive the exact same contact lenses your doctor prescribed, delivered to your door, at a great price!
This post is in partnership with 1-800 Contacts and their #ContactsMadeEasy campaign. All opinions are 100% our own. Thanks for supporting our sponsors so we can continue to provide creative content to Somewhat Simple.