Hello! I'm Ashley and I blog over at Cute as a Fox Creations. I'm so happy to be here for the Summer of Service! Thanks for inviting me over, Steph!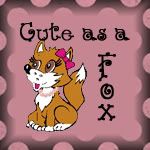 I can't wait to share with you my idea for teaching children about service. For the second year now, we are helping my sister raise money for the Susan G Komen 3-day for the Cure. She does the 60 mile walk and we help her raise money for the cause. This year I thought it would be great if my children could actively participate in the fundraising efforts. We decided that they would sort through their toys and pick out items that were in good condition but not really played with anymore. We got together several big bags of toys and then we had a garage sale!
We sat down and talked about why we were going through our toys and I was happily surprised with how willing they were to donate. They really enjoyed finding toys that they could sell for their Aunt. Making money for a worthy cause felt great, but so did thinning out the toys around my house. It's a pretty great thing for everyone involved. It's been too hot here in Arizona to have a real garage sale, but we've invited over some friends for a pre-sale and the kids have already raised $35! I can't wait to see what they raise when it cools off a little and we open the sale to the public. After the money was collected, we donated the money online. We were able to put the donation under their name so they got to see their names on the list of donors. They were really excited about that!
If you don't have a particular cause you want to donate to, you can donate your toys to Deseret Industries, Salvation Army, or Goodwill. All of these organizations will make good use of the funds they raise from selling your toys. Thanks again for having me! I have really appreciated the opportunity to teach my children the importance of being generous and giving to others. Hopefully you will be inspired to do the same thing.