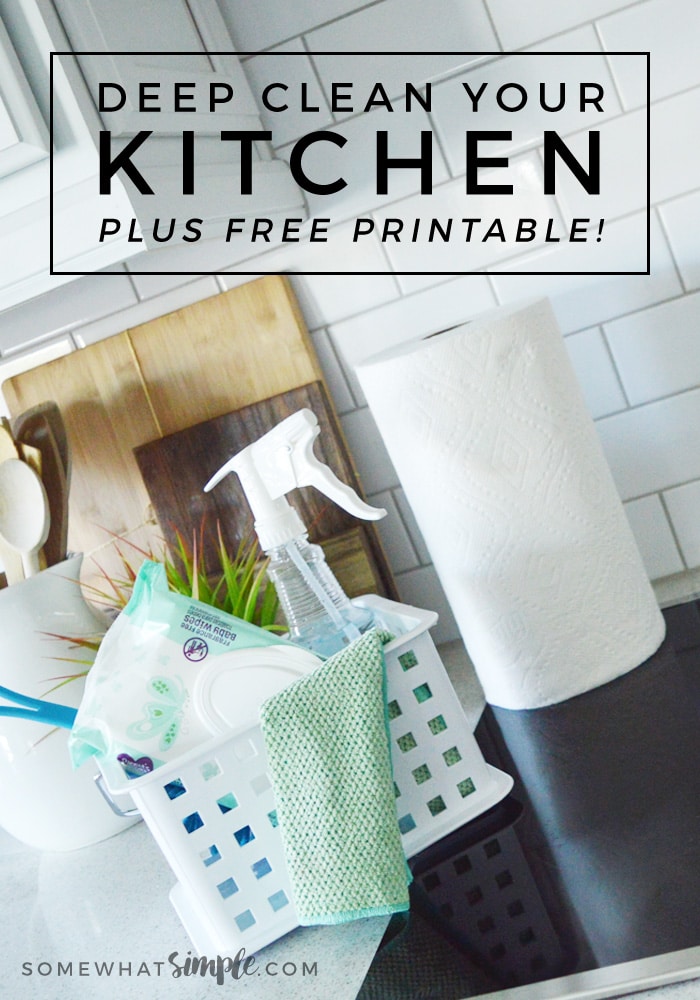 This kitchen cleaning post is sponsored by Bounty.
Get your kitchen sparkling like new TODAY with our printable kitchen cleaning checklist! We have step-by-step tips (and an Amazon deal!) on how to clean a kitchen + all the supplies you'll need to get the job done right!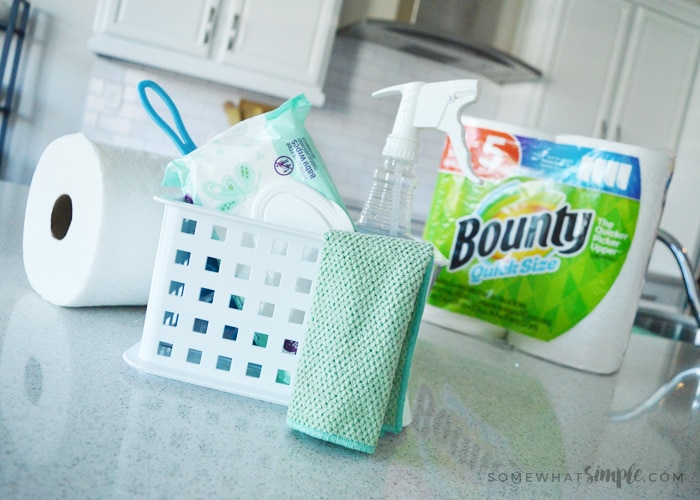 Cleaning the Kitchen
Out with the old, in with the clean! Spring is in full swing and now is the best time to catch up on the cleaning that was neglected over the winter. Today we're going to talk about cleaning the kitchen and how to get everything fresh and clean from top to bottom!
kitchen cleaning supplies
First things first, grab your supplies! You don't have to go crazy with this, in fact, the fewer items you have to store, the better! Here are the 4 kitchen cleaning supplies I keep on-hand and ready to use:
Bounty Quick-Size Paper Towels – I promise, these will become your "right-hand man" when it comes to tackling big and small messes! Read below to learn how you can stock-up on these for spring.
All-Purpose Cleaner – I fill a squirt bottle with water+vinegar. It is safe and effective and super affordable too!
Wet Wipes – I use these to clean my baseboards.
Cleaning rag or duster – For dusting all the corners and the inside of my cabinets.
As I mentioned above, you can easily spruce up your kitchen with the help of the NEW Bounty Quick-Size Paper Towels, available on Amazon.
They have an amazing deal going on right now to help stock-up and tackle the job. Here's how: apply the $2 Amazon coupon, head to check-out and apply the code 5QUICKBOUNTY for a total of $7 off! With this you'll get 16 Family Rolls (which is the equivalent of 40 Regular Rolls)!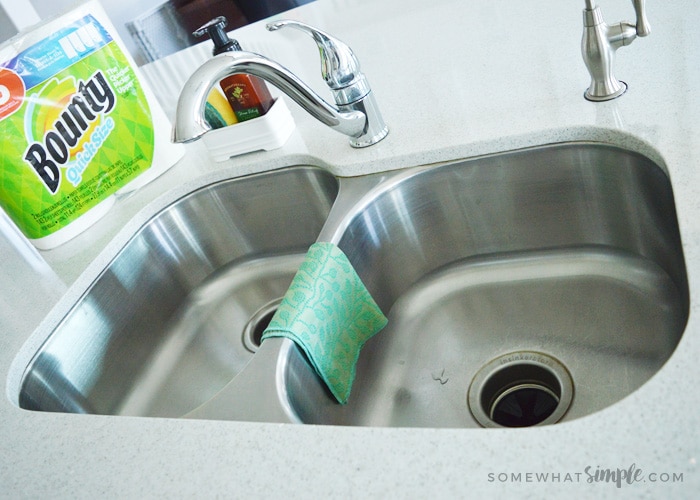 kitchen deep cleaning
Here are 10 kitchen deep cleaning tips to get you started. We're going to start at the top and work our way down to the floors. Let's get cleaning!
Start with a quick dusting of corners and cabinet tops. Don't forget to clean your vents too!
Next, wipe down the front of all cabinets with a paper towel and all-purpose cleaner.
Wipe down the front of all appliances.
Pull everything out of your fridge and freezer. Toss all expired items and wipe down the inside. Group like items together so you don't have to search for food when you need it.
Clean your appliances– microwave, oven, stove and small appliances like toasters and blenders.
Next, clear out your pantry and wipe down the shelves. Toss or donate unwanted food and group like items together.
Start at one end of the kitchen and begin clearing out the cupboards, one at a time. (This will ensure your don't get distracted or overwhelmed.)
– Sort the items
– Toss what you don't use
– Wipe down the inside with a damp paper towel
– Put items back in an organized fashion.
– Repeat until you work all around each cupboard.

Things to note:

If you haven't used those serving trays within a year or you have a huge abundance of plastic cups from the gas station, consider tossing them. Keep only what you use. Also, take careful inventory of your plastic containers and toss spare lids or containers. Sort through any junk drawers and try to consolidate or get rid of the junk altogether.

Clear your counters, putting all items that don't belong in their proper places. Wipe down the counters with paper towels and a disinfectant/all-purpose cleaner.
Quickly sort through your spice cabinet. Group sweet spices together and savory spices together, then alphabetize spices for quick locating.
Wipe down your walls- don't forget light fixtures and switches
Organize any food storage containers you might have.
Wipe down your baseboards.
Sweep and mop floors.
Clean your garbage disposal and sink.
And now you have a clean kitchen!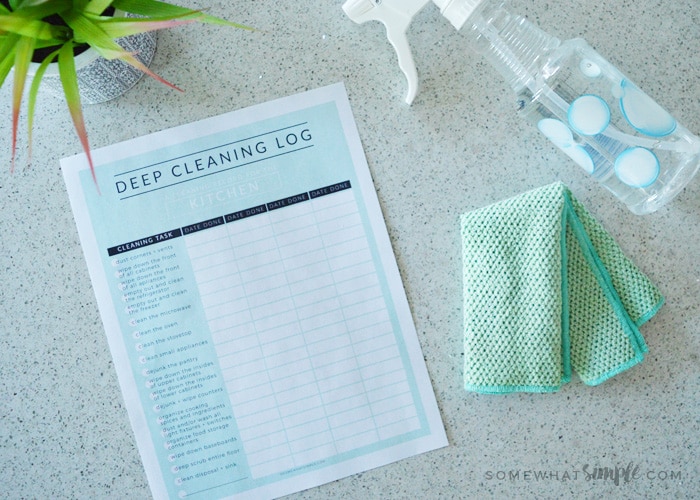 Use our Kitchen Deep Cleaning Log to keep track of all cleaning you've accomplished.
(It coordinates with our Spring Cleaning Printables so you can keep track of what you've deep cleaned and when you cleaned it!)
How about you? What's your best kitchen deep cleaning tip?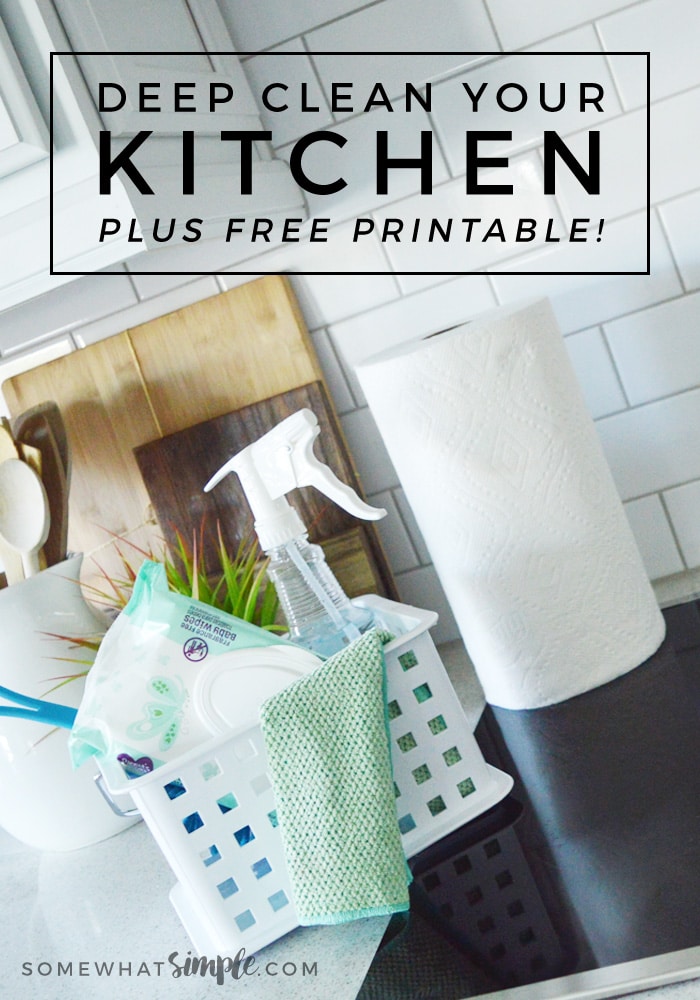 This is a sponsored conversation written by me on behalf of Bounty. The opinions and text are all mine.