Welcome to the Love It or Lose It Challenge!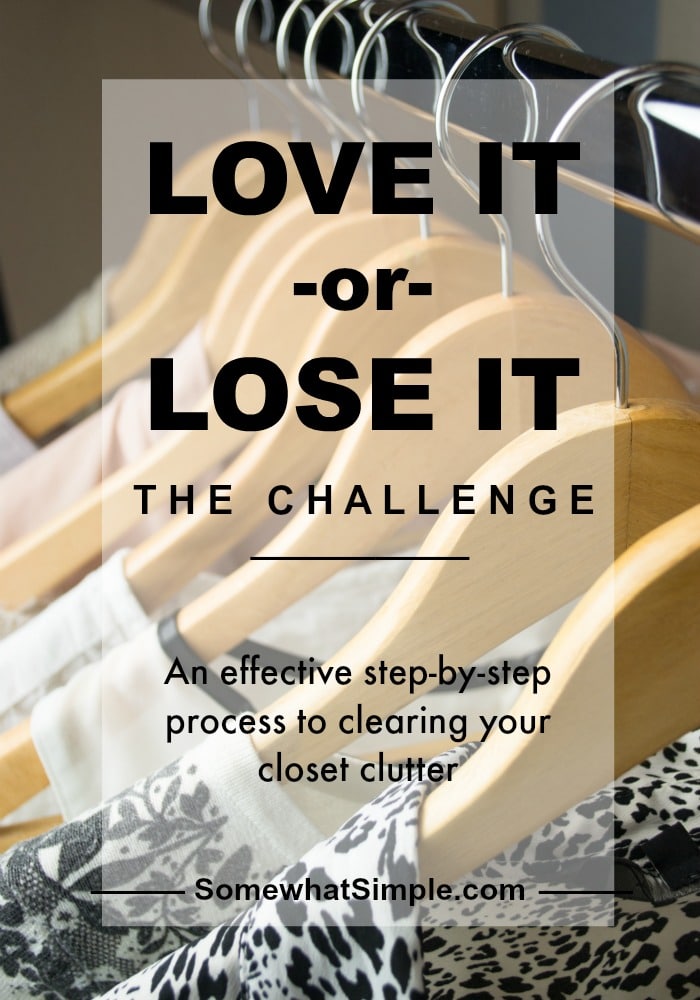 I need to get something off my chest: When I get ready in the morning, I look in my closet full of clothes and think, "I have nothing to wear!" A couple times a year, I try to clean it out and get rid of things that I don't like or don't fit anymore. But every time I do this, I catch myself holding onto plenty of items that I don't wear often. So I came up with a plan: Each day I am going to wear 1 article of clothing that for some reason I won't part with. At the end of that day, I will decide either that I love it and can't imagine having gone so long without it, or I will lose it and donate it to charity.
I know I am not the only one who hangs on to unworn clothes, and that's where you come in! I'd like you to join me in our Love It or Lose It Challenge! Here's how it works:
The Love It Or Lose It Challenge
Start by going into your closet and pulling out all the items you are certain you want to donate, to get them out of the way.
Next, pick out some items that you haven't worn in a while, but that still fit and are in good shape. In other words, don't pick out the leather pants you used to wear in college but hang on to for sentimental reasons. Pick out things like that wool sweater you remember being unflattering but that is in good shape so you keep it anyway. Or that shirt you used to love but the last time you wore it, you remember it feeling a little short, so you haven't put it on since.
Each week until you run out of items, decide to wear one (or more!) of the articles you selected. You'll either notice right away how you feel about it, or you'll wear it all day and make a decision in the evening. The point is to go through each item you've been hanging onto, yet not wearing, and decide once and for all the fate of that article of clothing.
For some added support and accountability, we'd like you to report back! Feel free to leave a comment in the space below with your progress and/or your links to any blog posts where you might have documented your progress so we can see what everyone wore, what is being kept and what is being donated.
Who's ready to give this a shot?
I will start things off by showing you the progress I've done over the past few weeks.
ITEM ONE: Grey Button-Up Cardigan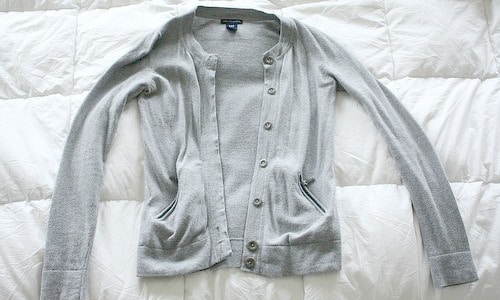 Why I Like About This Sweater:
I love that it's grey. I love grey in the winter.
I love that it's soft and warm.
I love that the button hole side of the sweater has a flap over the holes to cover the buttons up.
And, most of all, I love the zip up pockets.
Why I Don't Wear This Sweater:
Yeah yeah yeah, I know. I love the idea of the zip up pockets, but after wearing it for about an hour, it bunches up and isn't flattering!
I had decided that was enough, goodbye sweater! …and then my husband walked into the room.
Me: This is the first sweater I'm trying on for Love It or Lose It!
Husband: Why? I love that sweater on you. It's one of my favorite.
Me: Oh… What about this lumpy part? The part where the pockets bunch up and create unnecessary bulk?
Husband: I don't notice it. I think it fits well everywhere else., and if that part bothers you so much, just cut out the pockets underneath and sew it up.
VERDICT:
He had a good point. I took his advice and fixed it, so now I will wear it again- yay!!!
. . . . .
ITEM TWO: Long-Sleeve Blue Shirt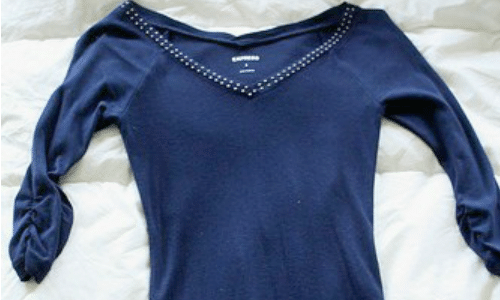 Why I like this shirt:
It's long. And I'm tall. And they make women's pants too low. I feel more comfortable in long tops.
The rouching on the sleeves.
The little nubs along the neckline.
Why I don't wear this shirt:
It was a grab and go shirt, meaning I didn't try it on. (A cardinal sin!) I liked the concept of the shirt so much, and I was already in line (a very long line) to check out, and I didn't want to get out. So I bought it.
Once home I realized it's tighter than I prefer. But long shirts are so hard to find that I for some reason kept hanging on to this one.
VERDICT:
No pictures necessary – it is too tight and not flattering at all! I could probably wear it and not have trash thrown at me, but I certainly won't be turning any heads. At least not in the classy way. So hopefully some tall skinny teenager will find it and love it the way I wanted to.
. . . . .
ITEM THREE: Pin-Stripe Blazer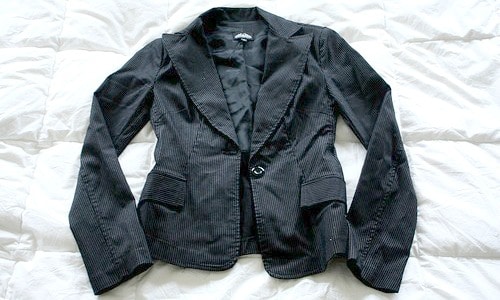 What I like about this jacket:
It came with a suit that I absolutely loved- it was the first suit I ever purchased & I felt unstoppable in it.
Over the years the pants got a little too tight. I still held on to the jacket to wear as a blazer with nice jeans.
Why I don't wear this jacket:
I rarely find myself needing to wear a blazer with jeans.
It's not the nicest material (being my first suit purchase, it wasn't very expensive).
The Verdict:
Lose it. 100% gone. It's been so long since I've worn it, that I see now how poorly it fits. Hopefully it will make some other girl purchasing her first suit as happy as it made me!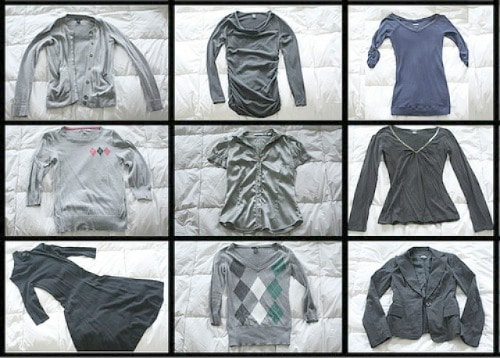 I'm still working my way through the other articles of clothing I chose, but I would love to hear your thoughts on the Love It or Lose It Challenge and hear about your progress with this challenge. Leave me a comment in the section below!
…now, if you'll excuse me, I have a complicated relationship with a cardigan to work out.
. . . . .
ABOUT THE AUTHOR: I'm Katie P, from Food, Wine, & Mod Podge. I live in the bitter cold depths of Chicago with my hubby and my kitty. When I'm not at work, I'm crafting and cooking, often with a glass of wine in hand. So nice to meet you!
The Love It or Lose It Challenge originally published on Crazy Domestic in 2010. This series was imported to Somewhat Simple at the close of that site and was edited and republished on Somewhat Simple in 2016.