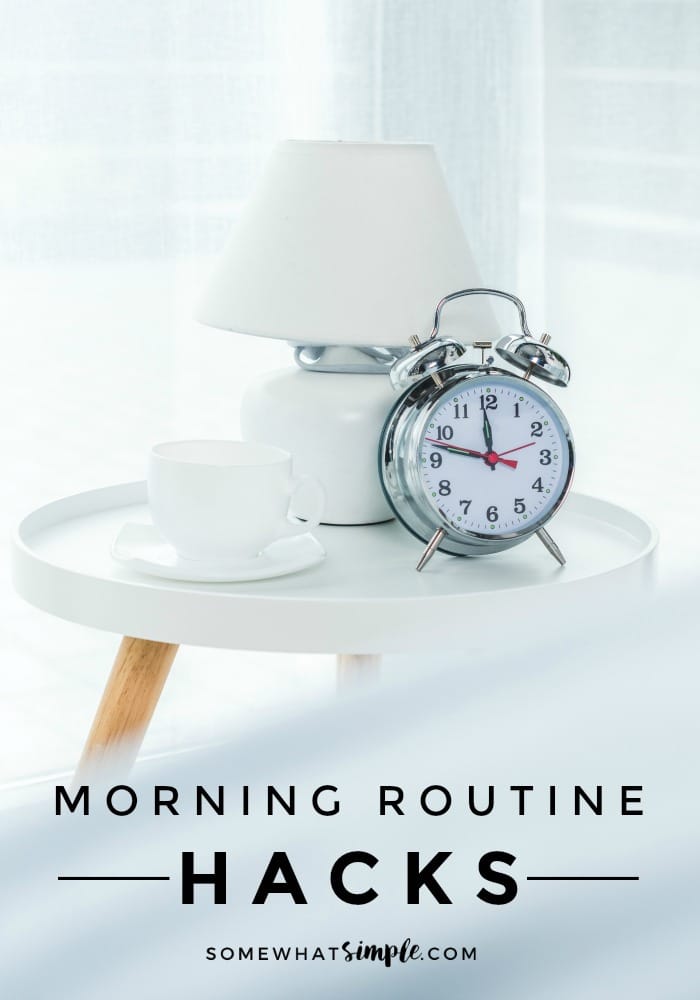 Whether you're a morning person or not, the first hour or two each morning can set the entire tone of your day! These 10 simple tips will take the craziness out of your morning routine for school and will help start your day off on the right foot!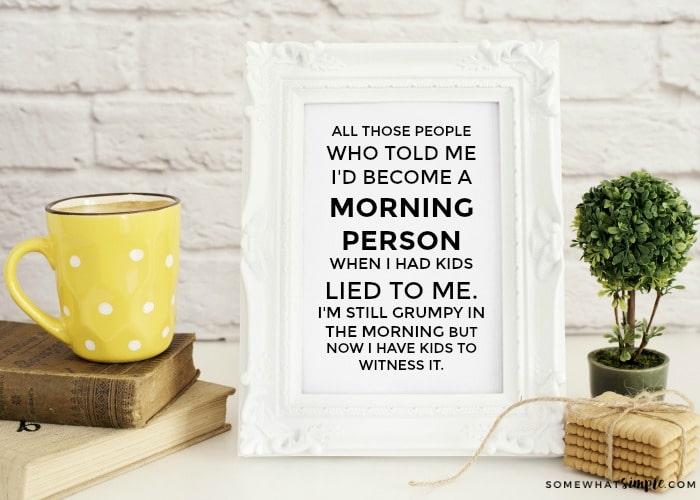 Morning Routines
One of the craziest times in my home happens to be the first hour of the day when the house is a buzz with sleepy eyes, hungry kids, scavengers on the hunt for their missing left shoe, and parents who tell their kids over and over (and OVER!) to get dressed and brush their teeth!
To help "calm the crazies" and to make sure we sending the kids off to school fed, dressed, and happy, my husband and I made some changes to our morning routine that have made all the difference!
These simple tricks have resulted in less frustration, less contention, and just an overall better morning vibe!
If you're looking for ways to reclaim your sanity, you've come to the right place!
The Best Morning Routine – 10 Helpful Tips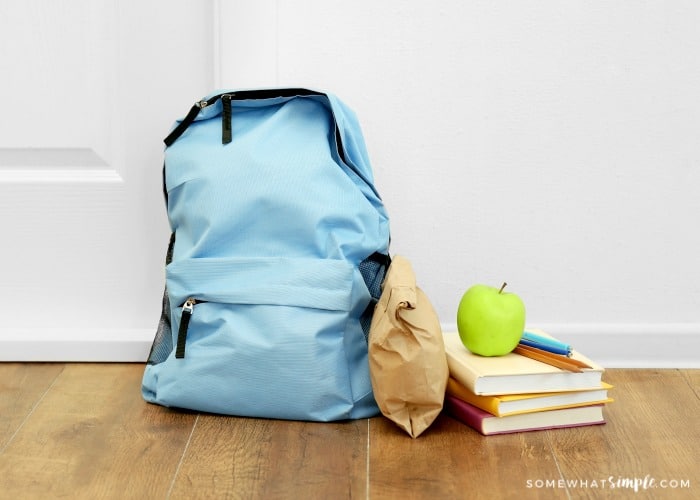 Prep the Night Before.

This is huge, you guys. Taking 15 minutes of your evening can save you an hour the next morning. Here are some things you could do –
– Lay out everyone's clothes
– Get all backpacks together. Keep them in the same designated spot every night so you know right where they are in the morning.
– Check the calendar for any deadlines or special events. (Show and Tell, big homework assignments, etc.)
– Make lunches. If you dread the daily chore of making school lunches, you need to check out these delicious make-ahead school lunch recipes! Peanut butter and jelly sandwiches freeze really well, so I'll often make an entire loaf of bread worth of sandwiches in one night and stick them all in the freezer!
– Get everyone involved in doing a quick sweep of the house to make everything tidy. Mornings are bound to be crazy if you wake up to a disorderly house. Get the toys off the floor, put dirty laundry in the laundry room, wipe down your counters and make the house look nice. I also like to empty the dishwasher so our breakfast dishes can go directly into the dishwasher when we are done eating.


Bedtimes for Kids –

Have a bedtime and stick to it! Kids need sleep. Tired kids = Cranky Kids, and Cranky Kids = Crazy Mornings. We have a couple printables to help parents who are struggling with this:
– Nighttime Routine Checklist
– Bedtime Goals Reward Chart

Wake Up Before Your Kids –

Give yourself 10 minutes of quiet time to fully wake up before the house is a buzz. If you have more time than that, consider doing a quick stretch or work out, or read a chapter of your favorite book. Your attitude is contagious. When mom is feeling happy and productive, it is more likely that your kids will be too!

Play Some Music.

Music is a great way to set the entire mood of a home! Play something fun and upbeat to keep the energy high and smiles on everyones face. Music will make you feel good, or it will help drown out the fighting and teasing at the breakfast table. Either way, you win!


Keep Breakfast Simple.

I know it is so important to feed your kids a good breakfast each morning, but save the pancake buffet and waffle bar for the weekend! You can still eat filling, healthy meal full of protein to fill their little bellies! Here are a few of our go-to breakfasts for school days –

. Easy Breakfast Smoothies – All the prep is done in advance so you literally dump the contents of sandwich baggies into the blender!
. Overnight Oatmeal – Take a few minutes in the evening to prepare a pot of overnight oatmeal, and you'll wake up to a healthy breakfast that keeps your kids satisfied until lunch!
. Apple Cinnamon French Toast Bake – Prep it the night before, and just pop it in the oven in the morning for a lazy (but delicious!) breakfast.
. Grab and Go Breakfast Bags – For the mornings you need to eat on your way out the door!

Plan 15 Minutes Ahead.

I am a very punctual person – I seriously HATE being rushed or late for anything! The secret to my punctuality is that I give myself an extra 15 minutes for everything. If it usually takes us an hour to get ready for school, I make sure we have 75 minutes. If we need to leave the house by 8, I plan to have everyone in the car at 7:45. We are NEVER in the car at 7:45 – someone is always missing their homework or they didn't brush their hair. But even with those setbacks, that extra 15 minutes we give ourselves ensure we are always on time for everything.


Speaking of Brushing their Hair…

I like my kids to look put together in the morning, but school days are not the times to get fancy with various hairstyles. I made a list of my favorite 10-Minute Hairstyles for Girls that I use as a go-to guide for busy mornings. My girls still look clean and polished, but no time is wasted on twists and braids that take all morning to create.

Keep the Electronics Off.

Nothing is more distracting than TV and video games. There have been plenty of times I've thought my kids were busy getting dressed, only to find them staring at the TV like zombies with one sock on. We made a rule that the TV is not allowed on UNLESS everyone is ready from head to toe.


Set a Timer.

I find it helpful to set a couple alarms on my phone each morning that keep up on track. One alarm goes off when we have 10 minutes before we have to leave. One alarm goes off when we need to be out the door. The 10-minute warning is enough to kick us back into gear if anyone starts slacking off. The last timer has saved us plenty of times when I get busy or distracted and lose track of time.

Have Fun.

If your kids are feeling a bit more sluggish than normal, implement a game or a challenge that will keep them moving. I'll set a timer for 3 minutes and say, "Whoever can get dressed before the timer goes off gets a special after school snack!" It is amazing what a little competition and encouragement can do! Joke and riddles also work well in keeping the mood upbeat and happy. Write a daily joke or riddle on a white board for some extra smiles or laughs. Let older kids write an encouraging message to younger siblings each day for some additional positivity.
. . . . .
Take the STRESS our of your Morning Routine for School!
A good day starts at home. When kids can't find their clothes, when breakfast is rushed and "mom time" is non-existent, the rest of our day is negatively impacted. We hope these morning routine tips will help make mornings easier and more positive! Good luck!