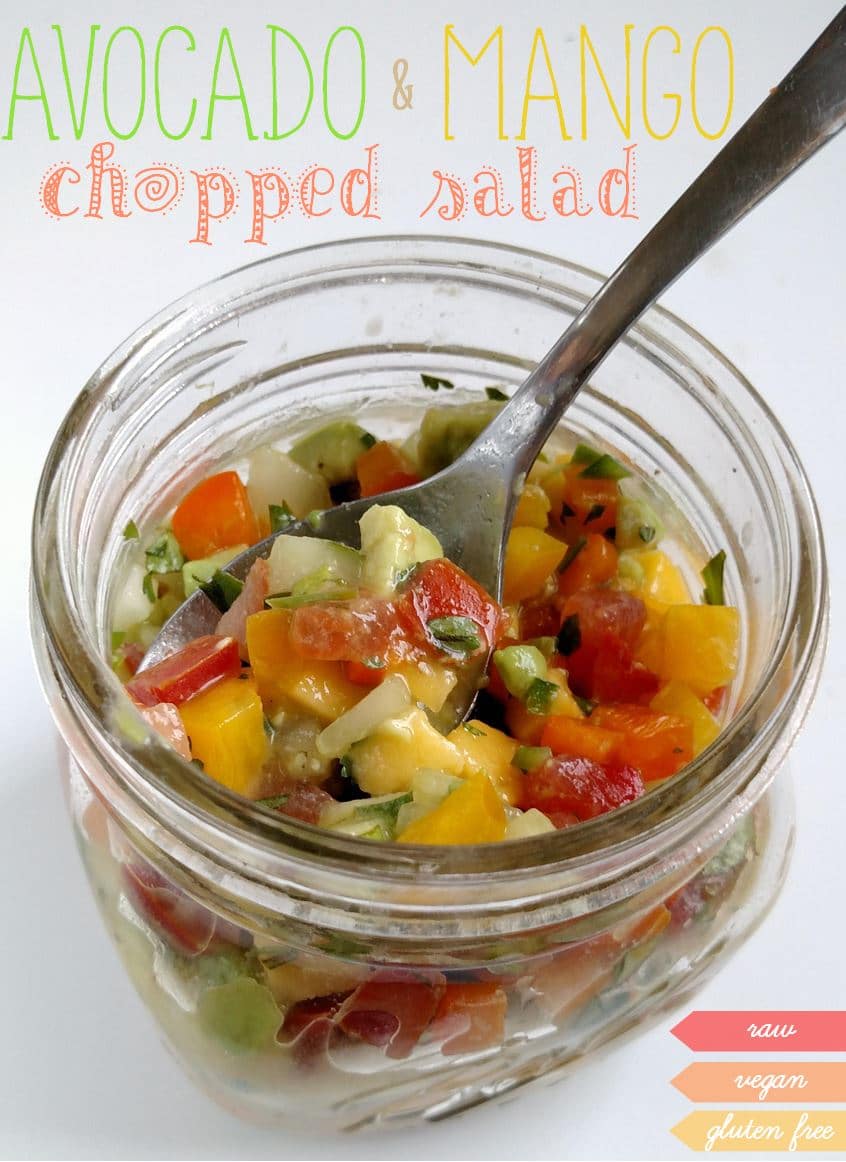 To me, this Mango Avocado Salad is summer in a bowl. It's bright, fresh, crisp, and ready FAST so I can get back outside. On a nutrition front, it's a winner. Gluten free, vegan, dairy free, nut free, not to mention completely customizable so if you need to swap something, swap it! I'd call 4 pieces of this recipe essential- mango, avocado, lime and cilantro- the rest completely up to your tastes! The peppers, the tomato, the jalapeno, the cumber- everything else is fair game so get creative! I especially like to add protein to boost this side into a full meal.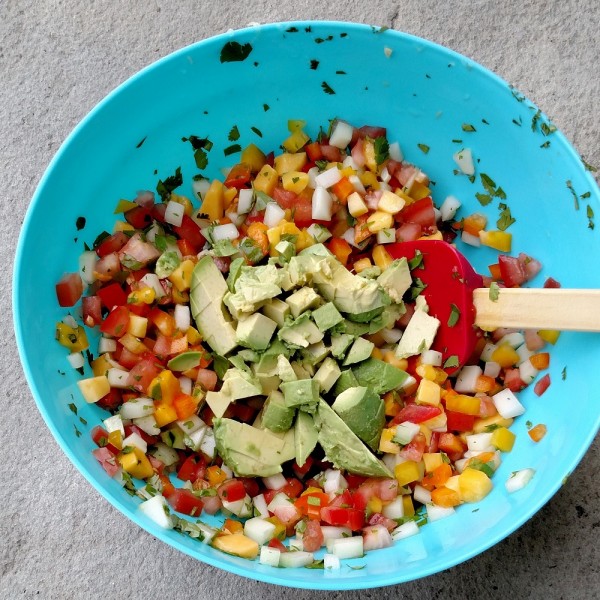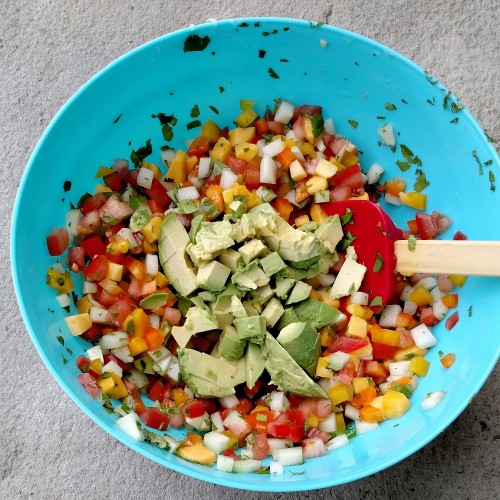 No matter how you customize this healthy dish, here's a variety of ways to serve it…
Add black beans or chickpeas for some vegan friendly, high fiber protein
Add some cooked shrimp (especially if you're in an area where you can get great fresh fish!). If you're going the fish route remember acid can "cook" fish so try not to prep more than a day in advance to avoid a rubbery texture.
If your family eats meat, serve it on top of some grilled chicken as an amazing salsa.
Use in place of salad dressing for a refreshing, flavor packed salad. (You'll see below this is not only my favorite use, but I also like to get extra festive and serve it on a fish platter!)
Layer on your choice of bread (gluten free for me although my family loved it on a baguette) with your favorite protein for a fresh sandwich
Of course the obvious: chips! Whether it's multi-seed crackers (Crunchmaster is always around in my house) or good old blue corn tortilla chips this is the summery-est topping around!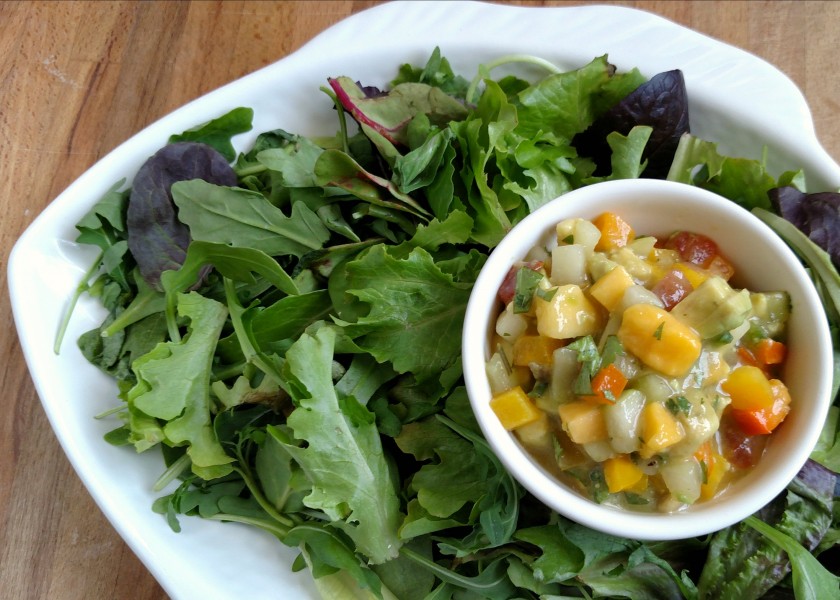 Ready to get mixing? Here's the recipe! If you have a mandolin it makes this recipe incredibly easy but if not get out your favorite knife and settle in for some zen chopping time!
Ingredients
1 bell pepper, diced
1 large tomato, diced
1 cucumber, peeled, seeded, and diced
1/2 cup minced red onion
1/2 cup fresh cilantro, finely chopped
1/2 jalapeno pepper, very finely diced
2 cups diced mango
juice of 2 limes
Directions
With your favorite knife chop everything (do the avocado last though).
Throw everything in a bowl and season with salt and pepper. Optional add your choice of protein here.
Refrigerate at least 20 minutes (although 40 would be ideal) and enjoy!
Nutrition for 6 servings: 172 calories, 10g fat, 22 carbs, 3g protein
This is only a guideline, make the recipe however many servings you want. To get accurate nutrition multiply the nutrient by 6 then divide by how many servings you want it to be.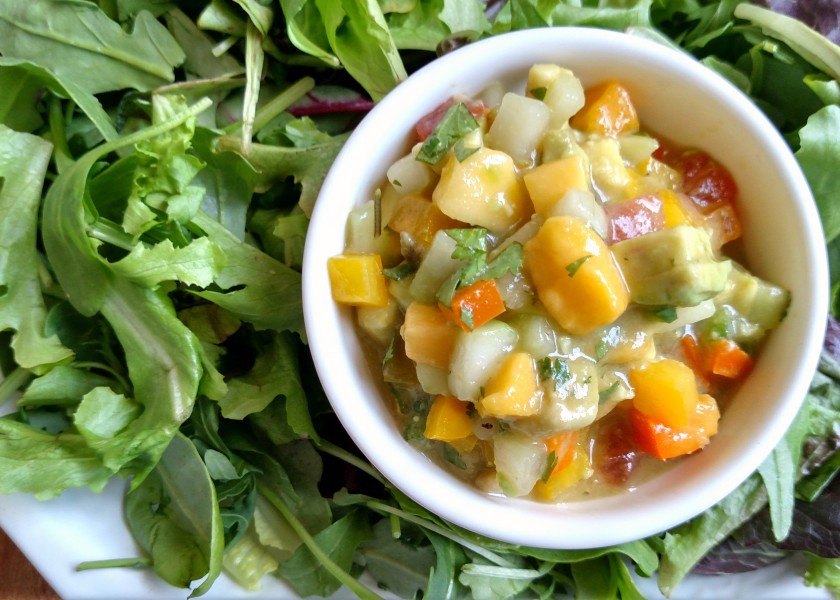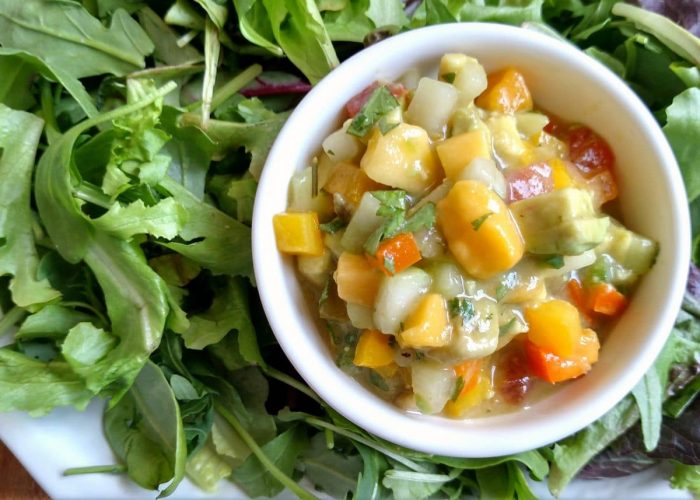 There you go! Fresh and delicious!