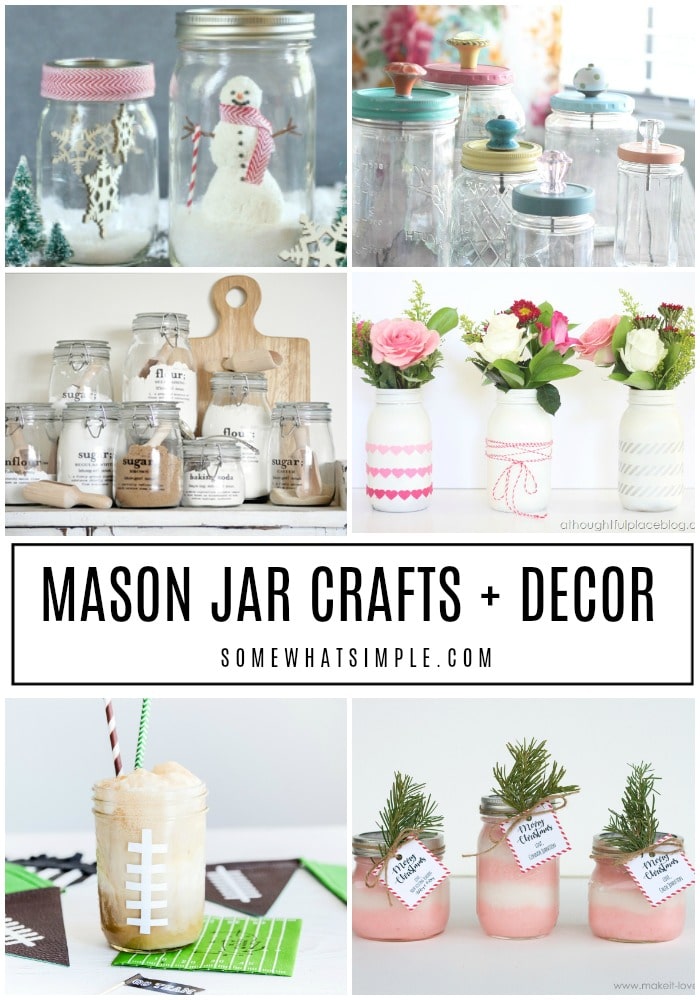 It's time to turn those empty mason jars into something practical and pretty! Here are 40 Mason Jar crafts, gifts and decor Ideas.
For more creative upcycled projects, be sure to check out a few of our favorites – Montessori Crayon Holder, T-shirt Refashions, and Tin Can Vase.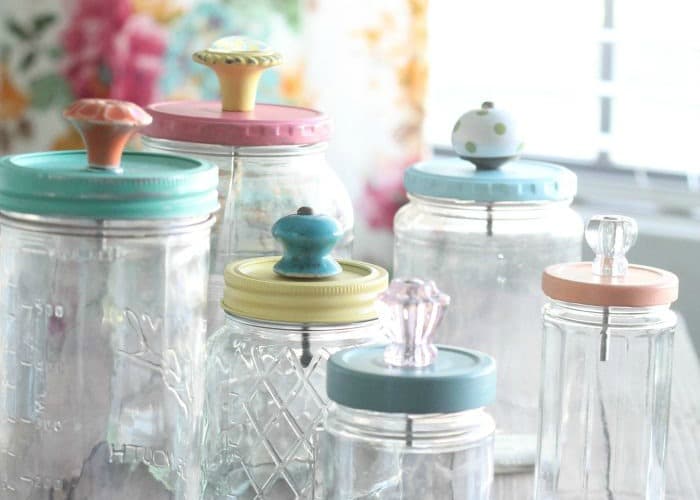 There's an endless amount of creative Mason jar ideas out there, and for a good reason! They are chic yet rustic, simple yet versatile and oh so affordable! Here are 40 favorite Mason jar crafts and decor ideas –
Mason Jars Lights and Candles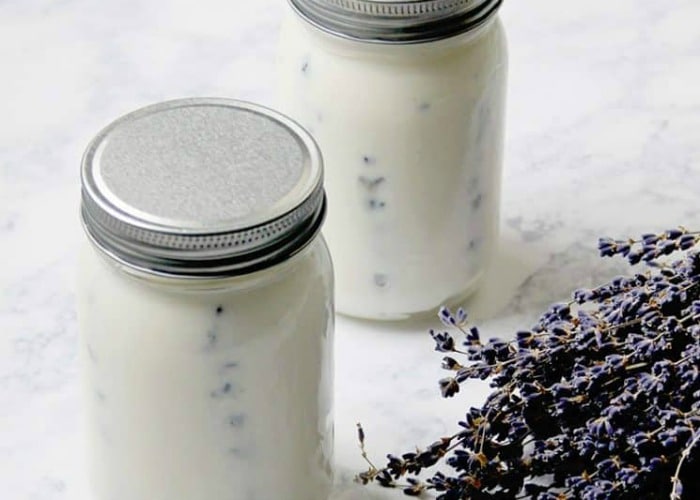 1. Pressed Flower Mason Jar Candles not only fragrance your home, but they also make a beautiful decoration! || Life 'n Reflection
2. 5 Minute Mason Jar Candles are quick and easy, not to mention gorgeous! || Hello Glow
3. Frosty Mason Jar Lanterns are made with a little bit of this, a touch of that… and dash of Epson salts! || Stone Gable
4. Floating Candles are easy and effortless and inexpensive. || bell' alimento
5. Mason Jar Citronella Candles are a really fun project that works REALLY well to keep the bugs away! || One Little Project
Mason Jar Decor Ideas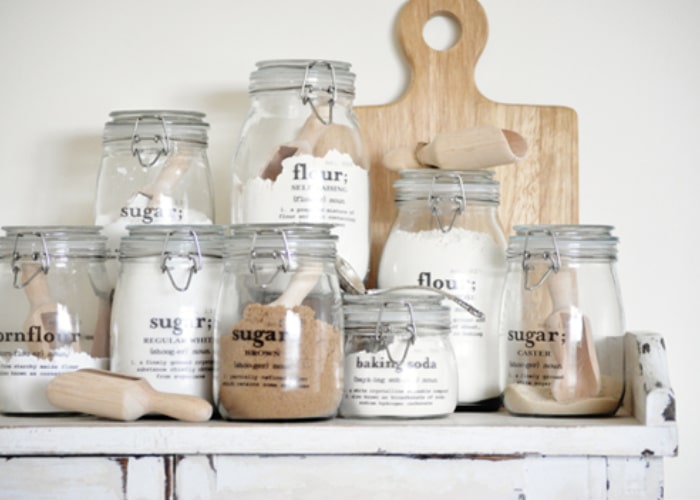 6. Gorgeous pantry labels make these jars look simply amazing! || The Painted Hive
7. Pretty Mason Jars with glass knob tops are great way to upcycle something that would have gone in the trash! || Lolly Jane
8. A mason jar is just what we need to make a tissue holder into something you'll love! || LandeeLu
9. A few different sizes of Mason jars and you can make a pretty bathroom storage and organization solution! || Mason Jar Crafts Love
10. Make your own mason jar air freshener so your house can smell pretty and look pretty too! || Eighteen25
Mason Jar Centerpieces and Vases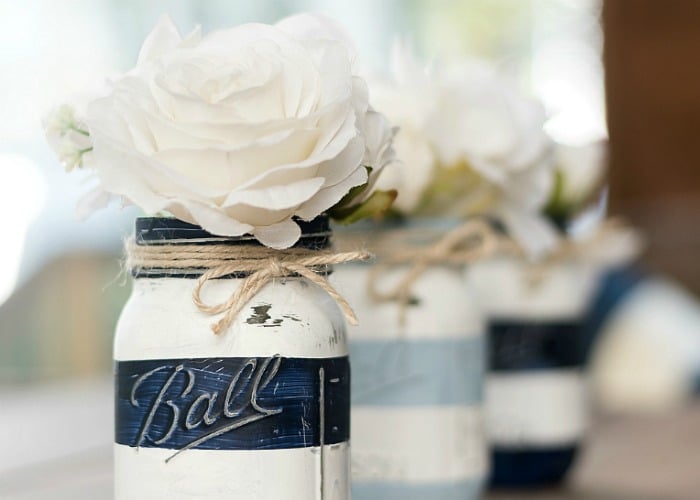 11. Nautical Striped Mason Jars are a fancy or casual way to dress up your table. || It All Started with Paint
12. Adding fresh flowers to Mason Jars with some simple ffoigoypoembellishments are the perfect way to bring spring indoors! || Yellow Bliss Road.
13. DIY Gold Mason Jar Vases add a touch of gold that is perfect for any room or color scheme you may have going. || Your Homebased Mom
14. Learn how to make Colored Glass Mason Jars with food coloring and Mod Podge. || Freut Cake
15. Metallic Mason Jars spray painted in silver & gold. || It All Started with Paint
Mason Jar Christmas Crafts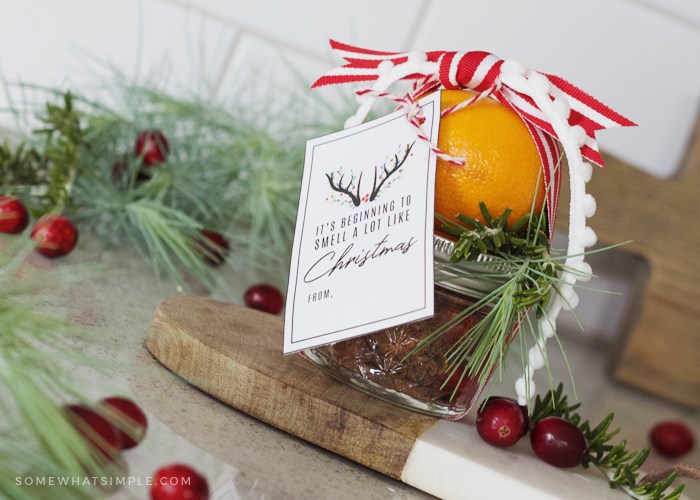 16. This Christmas Stove Top Potpourri is the perfect way to simplify gift giving this holiday season! || Somewhat Simple
17. Create these cute Ugly Sweater Mason Jars. || It All Started with Paint
18. Peppermint Bark Cookies in a Jar make darling Christmas Mason Jar Desserts! || Chelsea's Messy Apron
19. Create some fun, whimsical DIY Mason Jar Snowglobes! || The Crafted Sparrow
20. Create faux snow-covered mason jar luminaries for the holiday season! || A Pumpkin and a Princess
More Holiday Ideas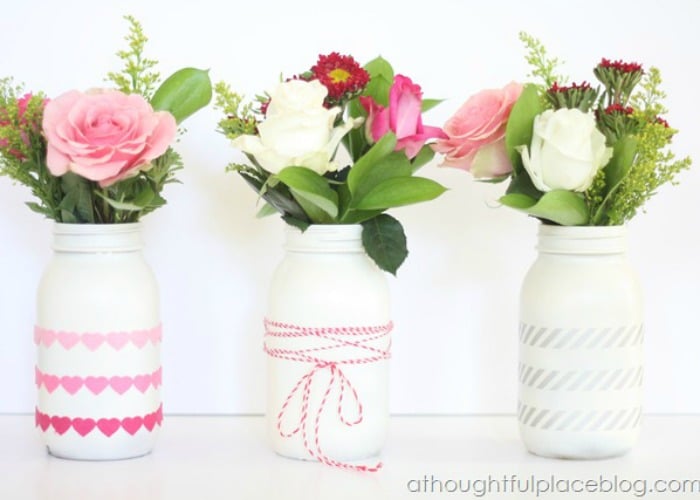 21. Valentine Mason Jar Vases || A Thoughtful Place
22. Red, White and Blue Flower Vases || It All Started with Paint
23. Halloween Ghost Jars || LandeedLu
24. Recycled Easter Bunny Jars || Weekend Craft
25. Pumpkin Mason Jars || The 36th Avenue
Mason Jar Gift Ideas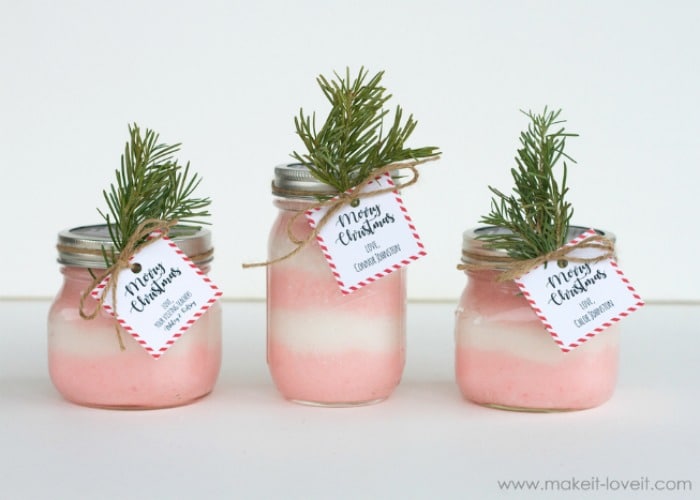 26. Peppermint Scrub with Free Printable || Make It and Love It
27. Vintage Bridal Gift in a Jar || The 36th Avenue
28. Mason Jar Gift Tags for Teachers || Somewhat Simple
29. Mason Jar Gift Tags for Father's Day || Somewhat Simple
30. Gift a jar of something delicious to neighbors and friends with these simple Mason jar gift tags that you can print from home! || Somewhat Simple
Mason Jar Craft Ideas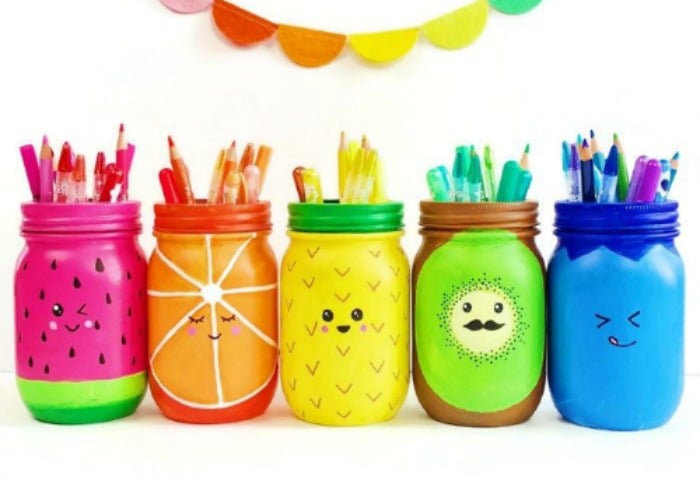 31. Painted Fruit Mason Jars || Color Made Happy
32. Mason Jar Sewing Kit || It All Started with Paint
33. Mason Jar Minions || Morena's Corner
34. Buffalo Check Mason Jars || Somewhat Simple
35. Mason Jar Craft Supplies || Color Made Happy
Food and Drinks Ideas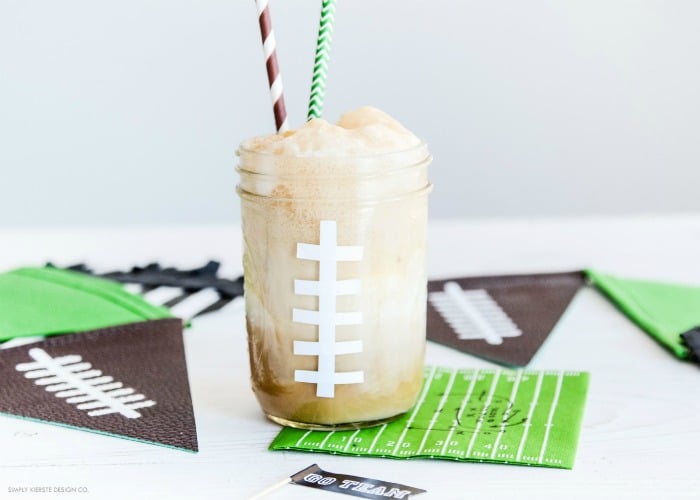 36. Mason Jar Football Root Beer Floats || Simply Kierste
37. Lasagna in a Jar || The Food in My Beard
38. Mason Jar Lemon Cheesecake Mousse || Somewhat Simple
39. Mason Jar No-Bake Strawberry Cheesecake || Somewhat Simple
40. Redneck Wine Glasses || Somewhat Simple