This is a fun, meaningful gift for dad or grandpa.  You can put this together with the kids in no time!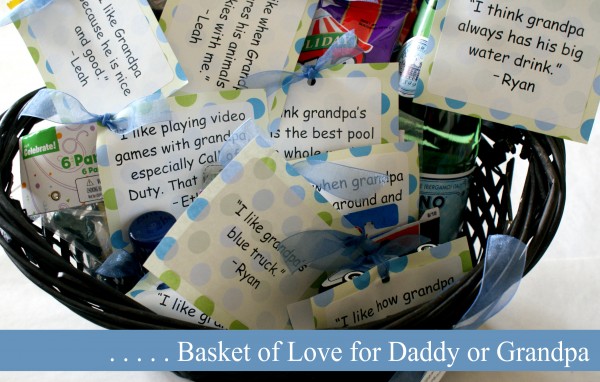 What do you get the guy who has everything?
My dad is the kind of person who buys what he wants and gets what he needs himself, so thinking of something to give him for his birthday is always quite the challenge. Last year, however, I think I hit a home run. The idea I had was awesome! Let me share it with you:
First, I asked each of my kids to think of 3-4 things they love about their grandpa. My kids were 8, 5 and 3, so their answers were cute and thoughtful, and also kind of funny.
Once you have your answers from your kids, type them up on labels (or write them out).  Then make some cute tags for each quote from your kids. I literally typed word-for-word what my kids said, so some of them were not the best English, but it made the gift all the funnier.
Once you have your tags, hit the store and buy a small item that represents each answer. For example, my dad is known for always having a bag of those frosted animal cookies in a high cupboard that he likes to share with his grandkids. So one of Leah's answers was "I like when grandpa shares his animal cookies with me" and the item we got were those animal cookies.
This one was my favorite – from Ryan, my then 3 year old.
My dad shaves his head completely bald and for some reason the kids think it is so cool! So I partnered Ryan's answer with some shaving cream and it got some great laughs!
Here are some other items for the answers my kids gave:
Once I had all the tags attached, I put the items in a basket and it was ready to go!
This idea was thought of and created all in one afternoon, and with the 12-15 items and the basket, it only cost me around $20.
Super simple, super thoughtful, and my dad loved it.
If you're looking for more Fathers Day Gift Ideas, check out our list of 50 Fathers Day Ideas!