These mini pallet Christmas ornaments are a fun holiday craft that will look so cute on your Christmas tree!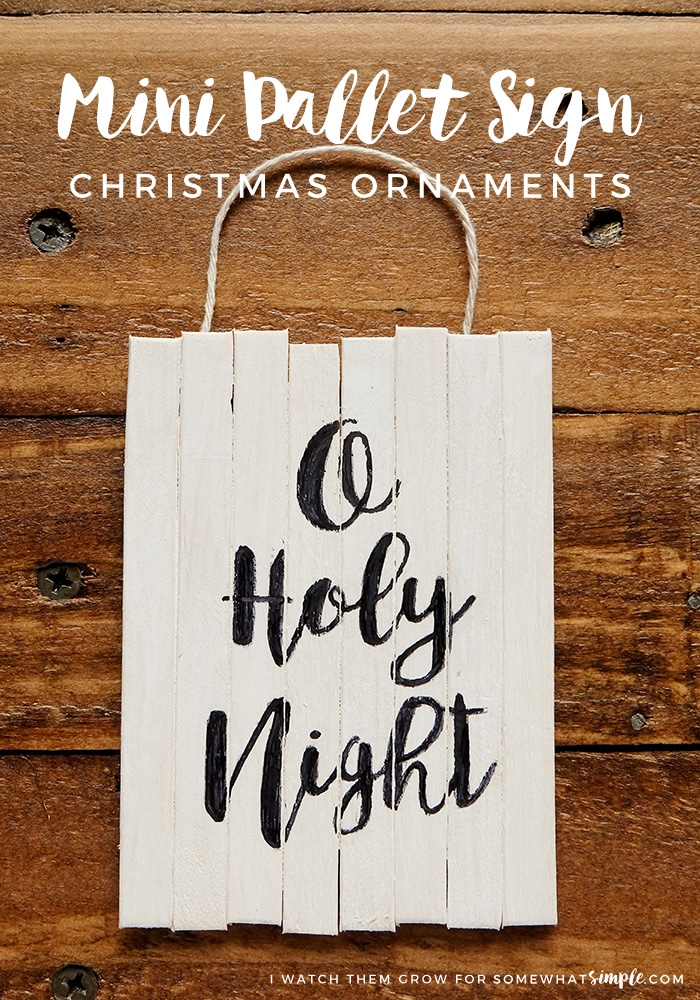 With a handful of popsicle sticks and a few basic supplies, you can make these fun mini Christmas pallet ornaments. This holiday craft is perfect for class parties or a creative afternoon. Here is how to make them:
Mini Pallet Sign Christmas Ornaments Tutorial
Follow these directions for pallet signs that are about 3×4 inches, or make them any size you wish by using more or less craft sticks and trimming them as needed.
MATERIALS:
Wood craft sticks (10 for each ornament)
White craft glue
Wire cutters
Small paint brush
White acrylic paint
String, ribbon or twine
Acrylic paint or permanent marker in your choice of color
DIRECTIONS:
Use your wire cutters to trim the rounded edges off of eight craft sticks. While cutting, cup your other hand over the end of the cutters to stop the pieces from flying away when they're clipped.
Lay the eight trimmed craft sticks down on a flat surface side by side, and clip the other two craft sticks to fit across them.
Put a line of glue along the two short sticks, and press them down across the eight assembled sticks near the top and bottom edges. Press the sides of the sticks together so they're close and straight (see the photo). Wait for the glue to dry.
Turn your mini pallet sign over and paint with white acrylic paint. (Stir a few drops of water into the paint if you want a whitewashed look.) Let the paint dry.
Cut a piece of string, twine or ribbon for hanging the ornament, and knot the ends (I did three knots on each end.)
Turn your painted sign over, put a dot of white glue on each side near the top edge, and press the knotted ends of the string onto the glue. Once the glue is dry, your mini pallet is ready for words or graphics.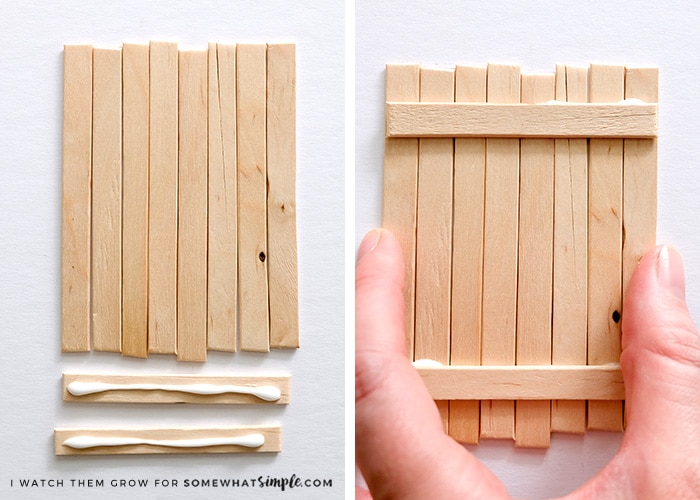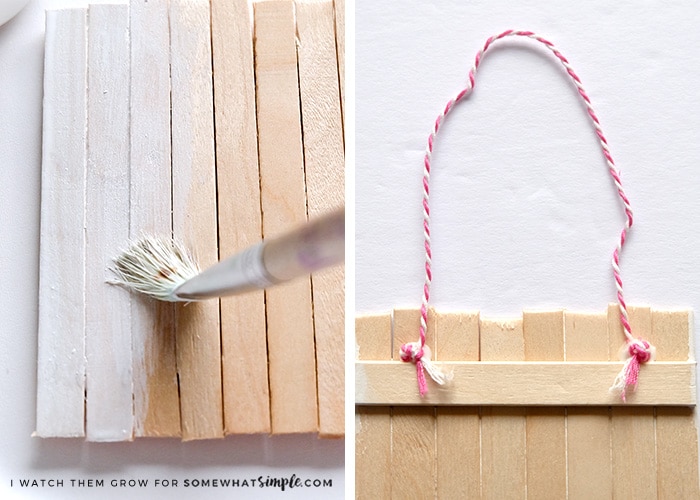 Here are some simple phrase ideas you could use for your sign ornament:
Bright and Merry
Deck the Halls
Let It Snow
Joy to the World
Peace on Earth
O Holy Night
Or you could use a simple image of a deer head, bells, stars, snowman — there are so many possibilities!
You can download and print all of the graphics that I used for my signs here.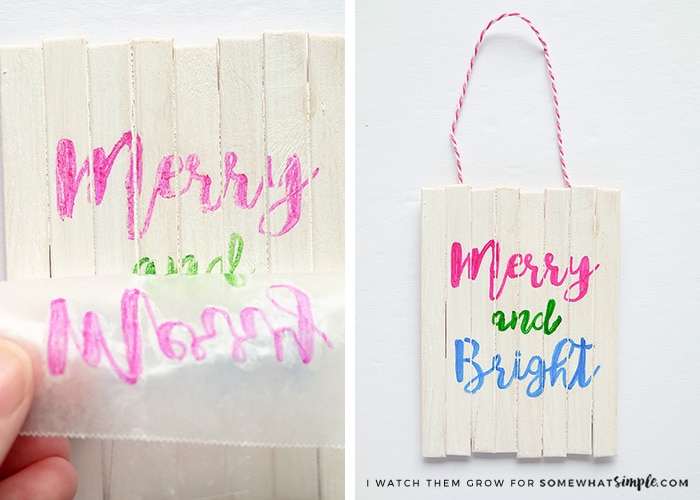 To add words or graphics to your sign, you have a few methods to choose from:
Free-hand write or paint them with a paint brush, paint pen or permanent marker
Create your own stencil with a vinyl cutter, and paint inside your stencil
Use a stamp and ink
Use the wax paper transfer method – my favorite method – perfect if you're not great at hand-lettering and don't have a vinyl cutter. (TUTORIAL HERE.)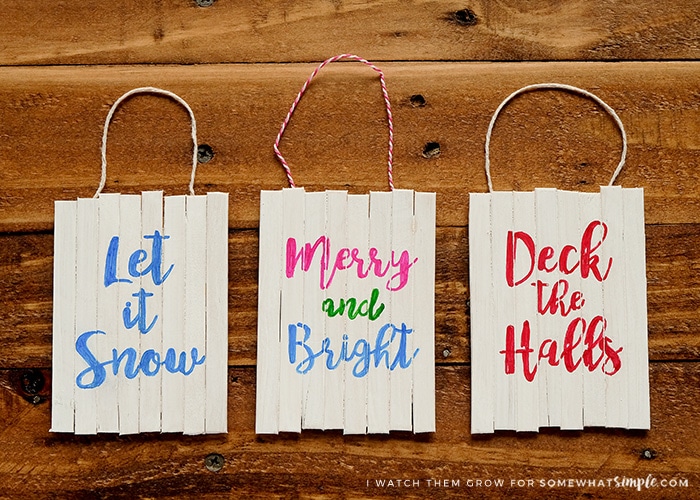 And now you have adorable mini pallet Christmas ornaments for your tree, to give in an ornament exchange, or gift to someone special!
. . . . .
You may also like:

5 Handmade Christmas Memories Tree Decorations | Printable Kids' Christmas Wall Art | 25 Photo Ideas To Capture Your Family's Christmas
. . . . .
ABOUT THE AUTHOR: Hi I'm Courtney! I'm a mom of 3 little girls and wife to my wonderful husband of 10 years. I love to share tips, printables and inspiration to help you capture the memories of your kids growing up. Come visit my blog iwatchthemgrow.com!