This simple Mod Podge Frame can be made in just a few minutes for $10 or less! It is a thoughtful gift for someone you love!
Here are a few more Mod Podge ideas we think you'll love – Wooden Photo Blocks, Sweet Bud Vase, and Cereal Box Totes.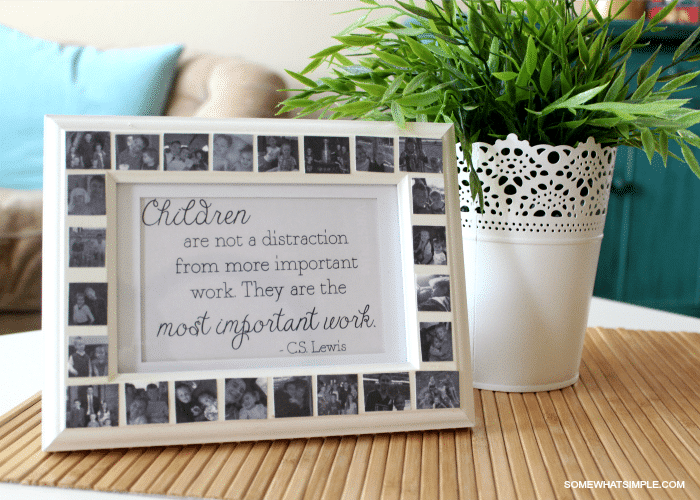 I have made several Mod Podge frames over the years to give as gifts to friends and family – they are thoughtful, personal and can totally make you look all crafty and talented! Not to mention it only takes about an hour to complete + drying time, so if you find yourself in a time crunch, this idea is perfect!
The frame I made today wasn't a gift for anyone else – it was something I made for my home. I fell in love with the following quote and I wanted a unique way to display it:
Children are not a distraction from more important work, They are the most important work.

-C.S Lewis
I wanted to use pictures of my kids with this quote to stand as a good reminder for me to focus on them just a bit more throughout my day, and this mod podge frame is a great way to do that! Here is how to make it –
How to Make a Mod Podge Frame
MATERIALS NEEDED:
flat wood frame – no grooves or fancy corners.
pictures- for my 4×6 frame, I used 24 – 1 inch images that were trimmed just slightly
Mod Podge
sponge brush
scissors
DIRECTIONS:
Gather, size, and print your images. In the past, I've just copied them into a Word document, sized them to my liking, and printed them from my desktop computer.
Cut your images to fit around your frame. Lay them out so you know exactly where you're going to glue them.
Brush a thin coat of Mod Podge onto wood and stick the pictures on top of Mod Podge.
Once your pictures are glued down, cover them with another coat of Mod Podge.
Let it dry completely and then you're done!!!
Simple, thoughtful, and cute!