If you're looking for a sweet + simple Mother's Day gift, then we've got you covered! We've teamed up with Give Bakery Because to bring you these adorable Mother's Day Gift Printables to help you let moms in your life know how much you love them!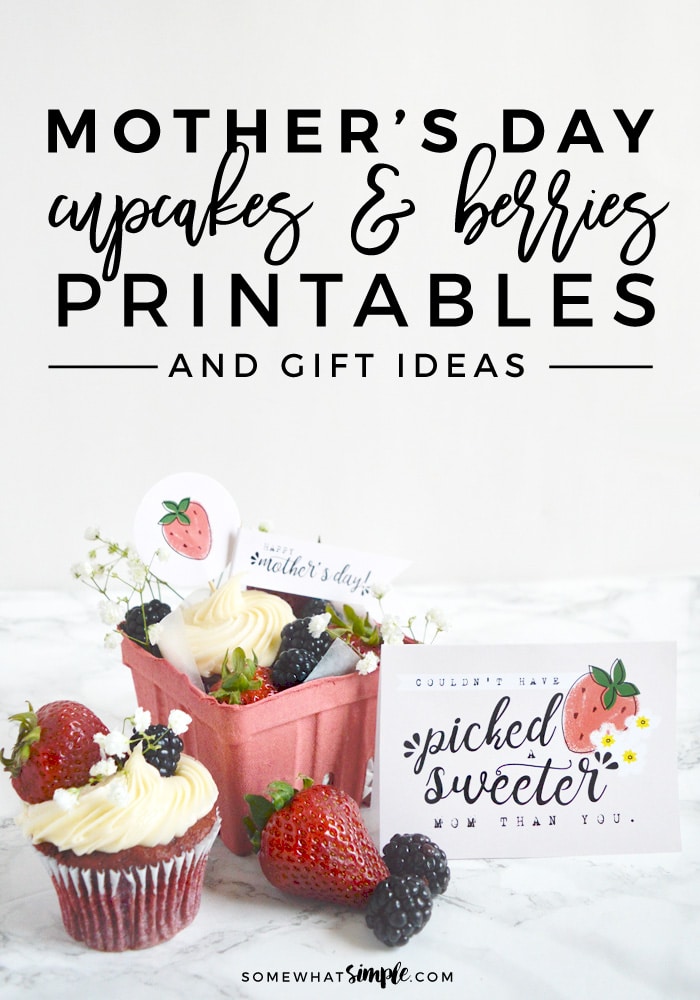 All ya'll know by now that we love a darling gift idea that can be as simple or as elaborate as you (or your budget) want! And this sweet cupcakes + berries idea does just that. We've got a few ideas for you that only require a quick trip down to the grocery store!
Mother's Day Gift Printables: cupcakes + berries
supplies
cupcakes from your local grocery store bakery
berries
small flowers
Mother's Day Gift Printables (download below)
scissors
2″ circle punch
toothpicks
tape, string, and anything else you'd need to complete your gift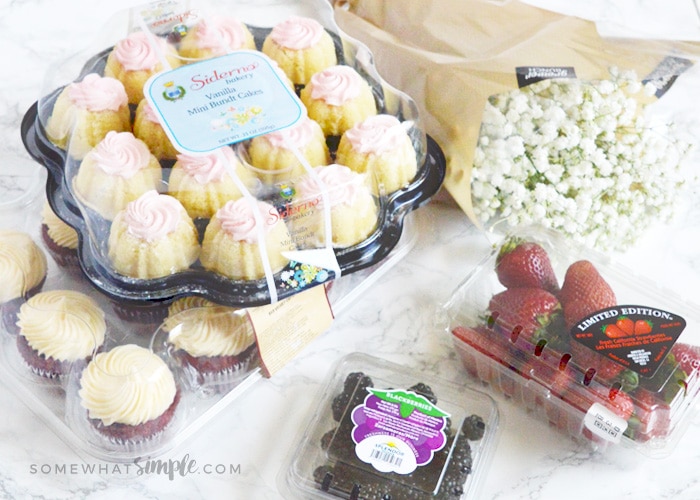 my grocery store haul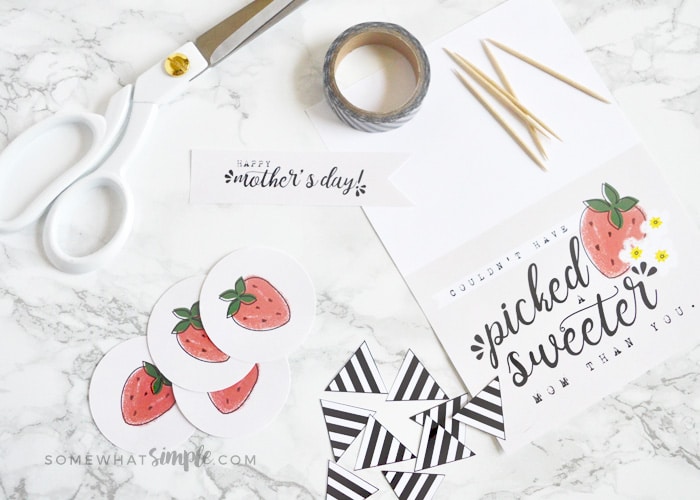 Click to download:
directions
For something quick + simple:
Print off our Mother's Day Gift Printables.
Cut out card, mother's day flag, and punch or cut out the berry circles.
Tape circles + mother's day flag onto toothpicks.
Place toothpicks into cupcakes.
Write a note in the card, and you're done!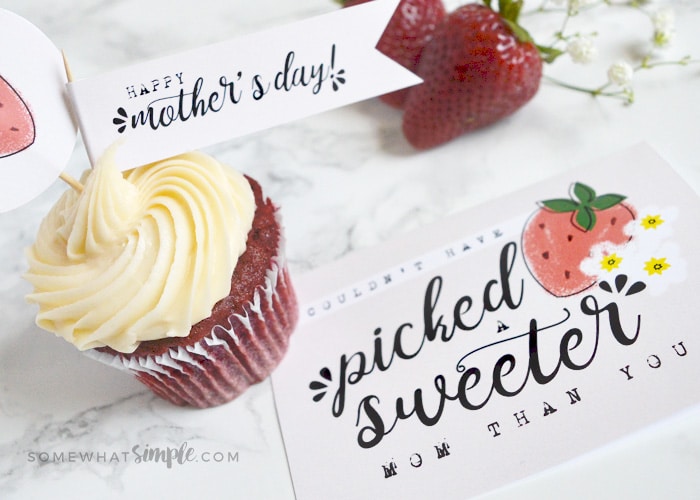 these red velvet cupcakes HAD to come home with me!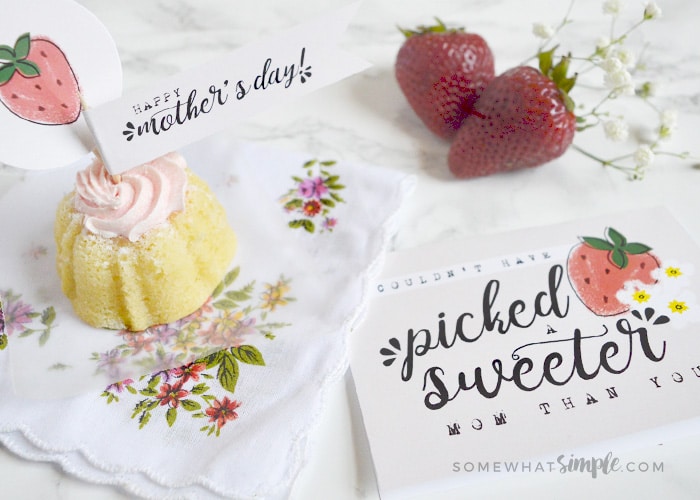 I couldn't leave these adorable mini bunt cakes behind. Naturally.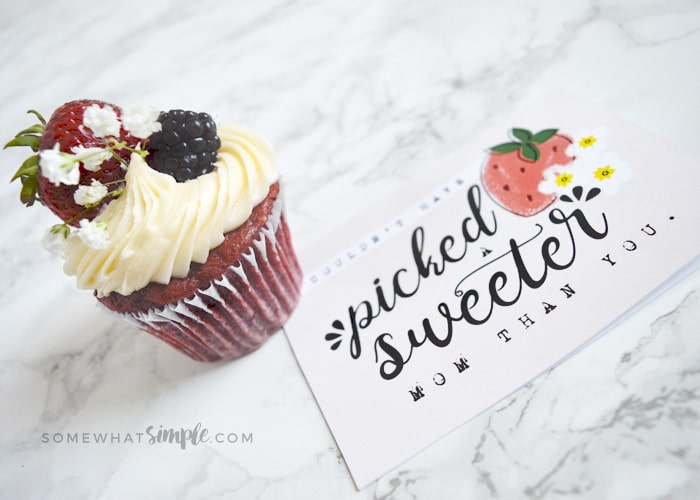 How beautiful are these bakery cupcakes with a few berries and flowers on top?!
Ready to take it up a notch?
Line a berry basket with wax or parchment paper.
Fill it with your bakery cupcakes, add some berries and flowers, and voila!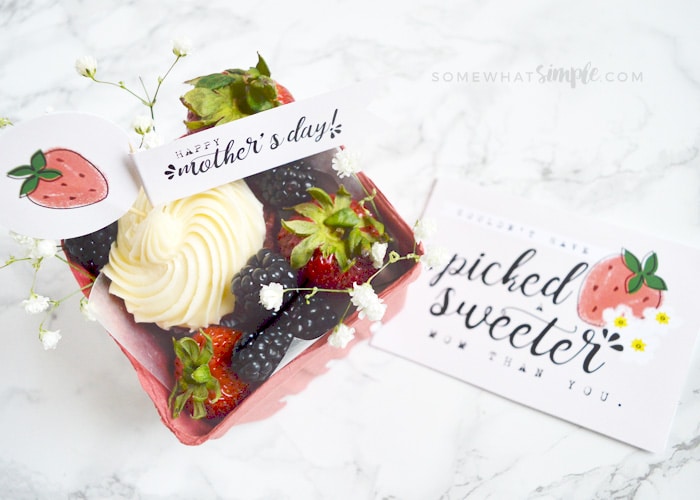 Simple + gorgeous. #perfection
But you feel like you want to step it up even more?
No worries. We've got ya covered. 😉
Grab a large basket (I found these plastic berry baskets awhile ago).
Fill the bottom with tissue paper.
Fill with your cupcakes, berries, and flowers.
Embellish with our "extras" printables, ribbon, etc.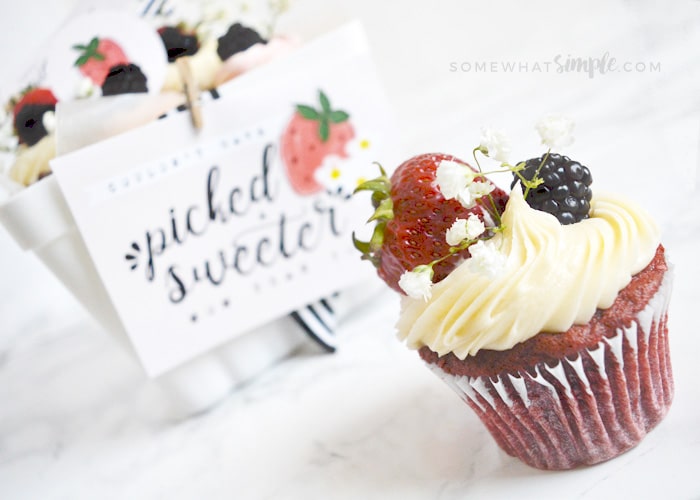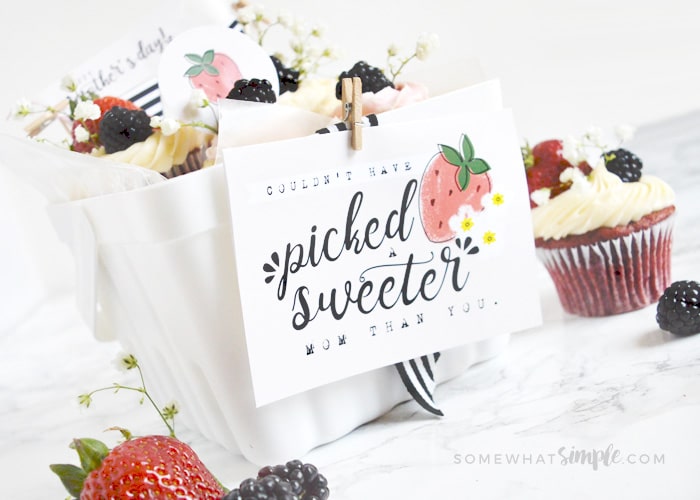 I placed berries and flowers on 2 red velvet cupcakes, and a berry circle with blackberries and flowers on 2 mini bunt cakes, then placed them in the basket.
I love how beautiful these turned out – and it didn't take me much time at all! Thanks to one simple run to the grocery store, I was able to cut down my prep time immensely.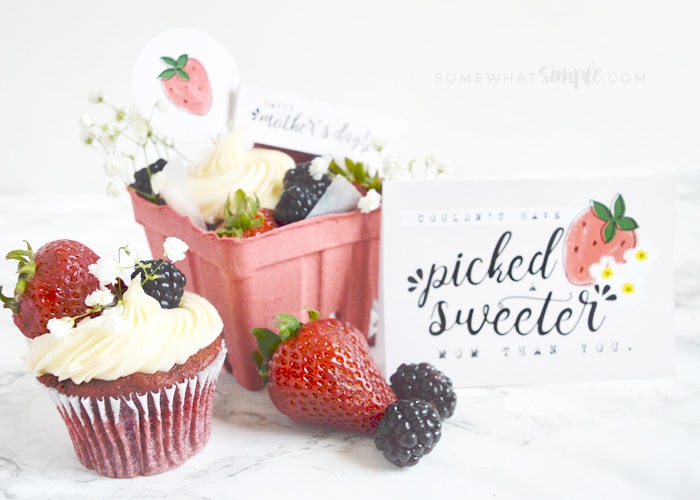 So why did we team up with Give Bakery Because? We loved their ideas of:
showing appreciation with simple, sweet, inexpensive gifts, like fresh-baked goods from your grocery bakery.
making others happy and showing we care.
celebrating life's everyday occasions and moments, using easy, delicious products found in the Bakery section of your local grocery store.
Give Bakery Because is definitely something we can get behind! Feel free to check out their Pinterest Board for more creative ways to package baked goods for Mother's Day, or any holiday, or simply just because!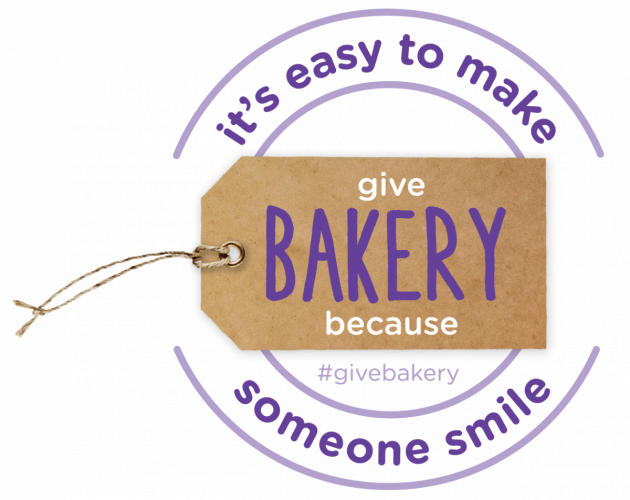 Give Bakery Because is a feel-good gifting initiative celebrating the little moments in life, using easy, delicious products found in the bakery at your local grocery store in a creative way.
Do you have any creative ways you use bakery items? Tell us below and share using #GiveBakery!
This is a post written on behalf of Give Bakery Because for Rich Products. As always, all thoughts and opinions are 100% my own.
Love this Mother's Day Idea? We have more fun ideas you can check out!