Goal setting can be tricky, so we've created this beautiful and simple Printable Goal Journal to help you make (and keep!) those New Year's Resolutions!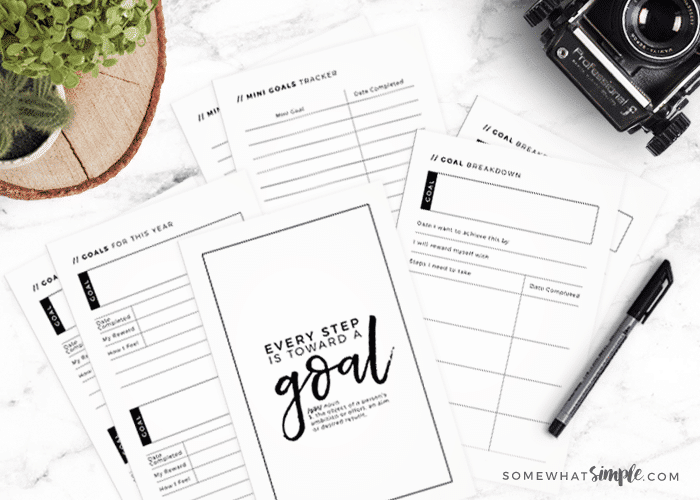 I'm great at setting goals, but I am not the best at accomplishing them! I usually make goals in my head, but that's about where it stops. Being such a visual person, I decided to create a workbook that I can SEE everyday. I also wanted something that didn't take a lot of printer ink, and I'm loving the end result!
Printable Goal Journal
workbook contents
Front and Back Covers
Goals Tracker Worksheet
Goal Breakdown Worksheet
Mini Goals Tracker Worksheet
directions
Each page will print off on 8.5 x 11 paper, then using a paper cutter or scissors, cut the pages in half.
Staple, bind, put in a ring clip, or in a mini binder like this one.
tips
Print the cover pages on card stock, then print out the other pages on regular paper as many times as you need!
I kept the design simple and b+w to keep the brain from getting overwhelmed. Which means this simple design also helps you see your COLORED PENS better! Why colored pens? Because the brain remembers colors better – especially blue (like these beauties which are my favorite). You're welcome. 😉
Ready to get started making and smashing those goals like a boss?
Do you have any tips that can help with keeping those goals better? We'd love to hear them! Let us know in the comments, and ♥ Happy Goal Keeping!