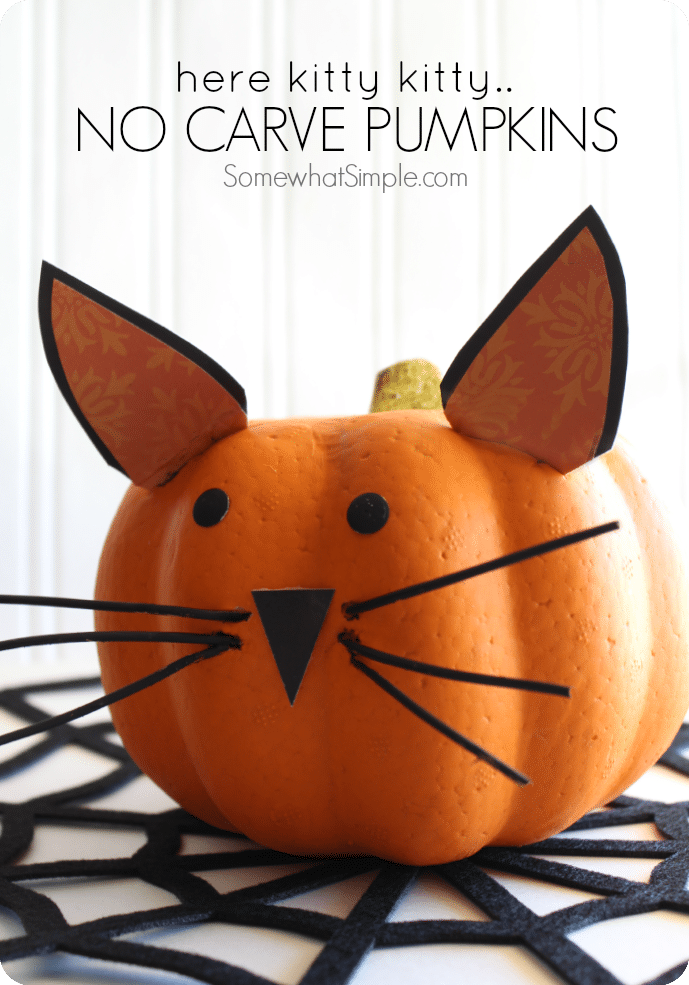 Last weekend I took the kids to Dollar Tree to grab some supplies for a few Halloween crafts. The first project we created were these darling Kitty No Carve Pumpkins- aren't they cute?!
At the risk of sounding like a Halloween Scrooge, I have to admit that I am not a huge fan of carving pumpkins. My kids don't love it either. I thought my boys would love digging in and pulling out all the pumpkin guts, but they don't have an interest in it at all. We usually carve one pumpkin a year (for the tradition of it) and then we decorate pumpkins in other ways- with silly faces and paper embellishments. Our carved pumpkin sits and rots a lot faster than our other decorated pumpkins, which is a shame because I like keeping the pumpkin decor out until Thanksgiving. (We are lucky if our carved pumpkin makes it 'til Halloween!)
Anyway, this kitty pumpkin was actually inspired by THESE Bat & Cat Pumpkins, but I changed it up just a bit.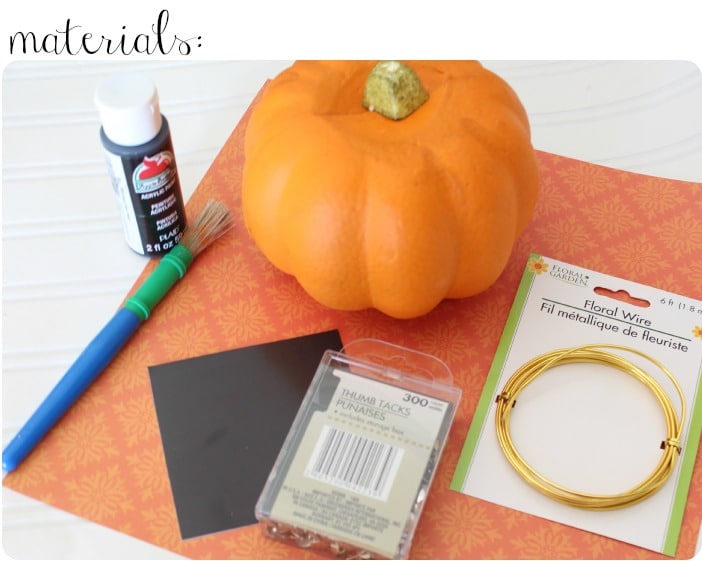 Grab a foam pumpkin, floral wire, thumb tacks, black and orange paper, black paint & paint brush and a glue stick (not shown). You will also need scissors to cut the paper and floral wire. All products necessary to complete this project are available at Dollar Tree and only cost only $1 each!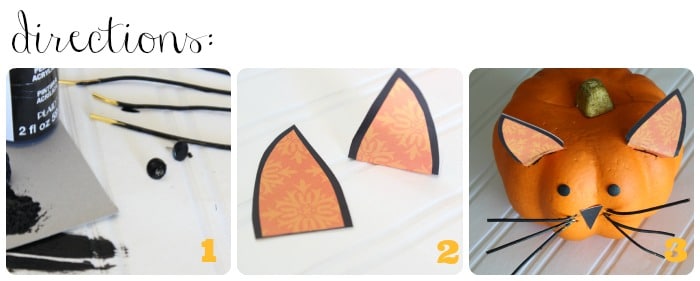 1. Paint your floral wire and thumb tacks black. Let dry.
2. Cut your scrapbook paper to look like cat ears and cut a triangle to look like a nose.
3. Assemble your cat's face onto the pumpkin: The eyes will stick in, the nose will get glued in place and the whiskers will poke through the face right by the nose. The ears can be tacked in if you bend them and stick tacks through the paper and into the pumpkin, or you can slice a small slit in the foam pumpkin and stick them in- that is what we ended up doing.
And that's it!