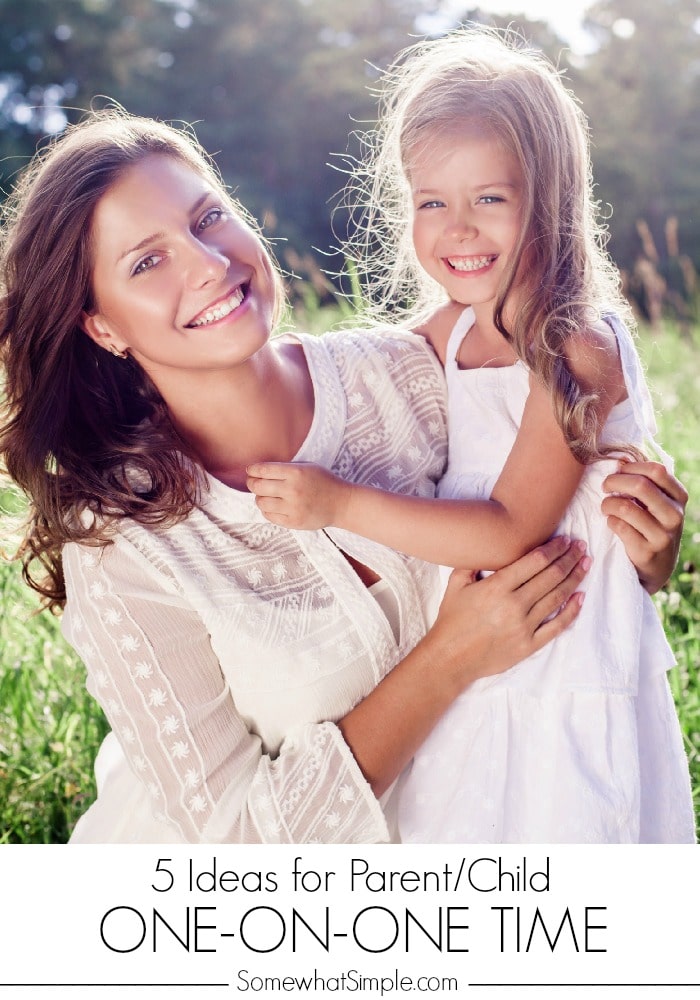 As a mom of 5 little kids, I often feel the pressure and/or guilt of making sure each of my kids feel special and loved. I don't want any of them to feel "lost in the crowd" or of lesser value than one of their siblings. To remedy any of those thoughts that might creep into their heads, I feel it is so important to spend time individually with each of them as often as possible. Taking time to talk, laugh and listen to them is a great way to show love and become their friends. Today, I want to share my thoughts on how I feel we can live our best lives- as parents- by spending time with each of our kids individually.
5 Ideas for Parent/Child One-On-One Time
Time for a Treat.
Take your child to get some ice cream or hot cocoa and sit for an hour or so while enjoying a special treat.
Car Ride Conversation.
Spend the 20 minutes in the car on the way to school or football practice without the radio on. Encourage conversation by asking them about the details of their day. Pay attention to them, be as silly or as serious as you'd like!
Break their Bedtime
Assign each child a night of the week where they get to stay up 10 or 15 minutes past their bedtime and hang out with mom and dad. I let each of my kids write in their journals with me in my bed for ten minutes. What kids doesn't love being able to stay up later than their siblings?!
Parent/Child Pen Pals
Write "confidential" notes to your child and encourage them to write back. Invite them to go with you to grab a treat or pick up their older brother from school. Secret notes can make them feel so special!
A Trip for Two
My husband and I have recently started a tradition in which I get to take each of our kids away for a weekend when they turn 12. I just returned home from a trip with my oldest son– we spent a weekend together in San Francisco and made some fantastic memories! You don't have to spend an entire weekend away with your child, but even a night away at a local hotel would be super fun! Eat out together, go see a home-game of your favorite sports team etc.
Spending time with each of our kids individually will help rid the guilt that sometimes comes with parenting and will help all of us live our fullest lives!
All over the world, people have their own unique ideas about how this looks and feels. But there's one thing we share: we each want to live the best life we can.
What is the one thing that makes you feel most fulfilled?
Traveling, cooking, learning?