With a little ingenuity and patience, you can pack for your entire trip in one little space! Here are some helpful packing tips and items not to forget in your carry on!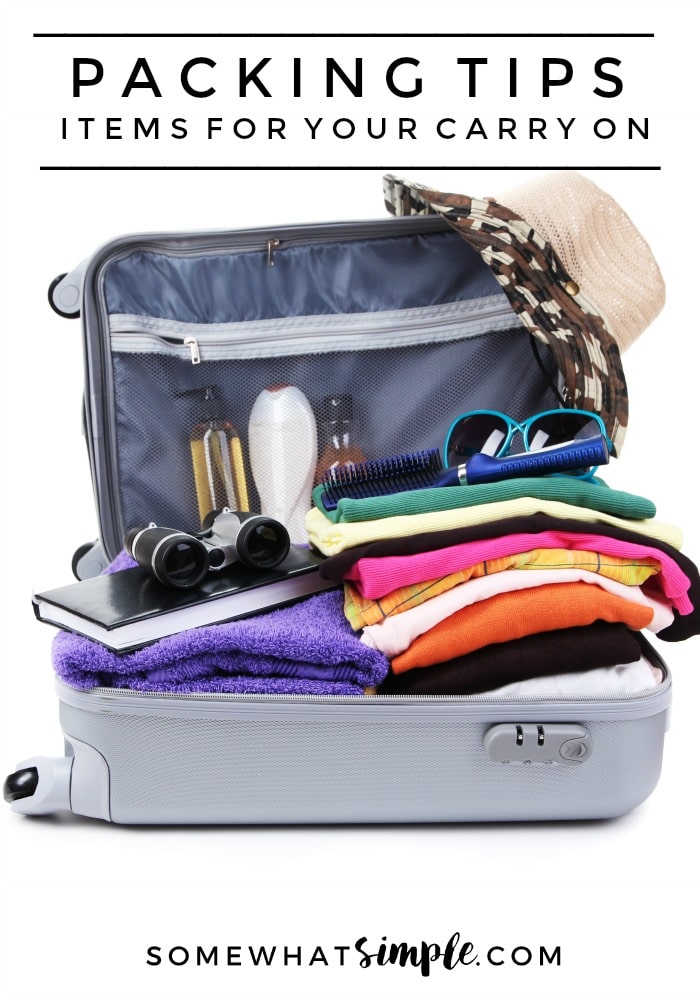 Most airlines charge for checked luggage, and that can add up to a pretty hefty cost! And have you ever gone over the luggage weight limit? They charge you for that too! Seasoned travelers are learning real quick the benefits of only bringing a carry luggage on that stays with them. Not only does it save you a ton of cash, but it also helps curb the dreaded "lost luggage" scenario.
Of course the longer your trip, the trickier packing in a small suitcase can be. You'll need your clothes, shoes, underwear, socks, and allllll your travel necessities. That can be a lot for your little suitcase, but thankfully we have you covered! Here are 8 items that you need in your carry on (besides your clothes).
Packing Tips – What to Bring in Your Carry On Luggage
1 || Your important papers.
You will need to make sure your passport, ID, Birth Certificate, etc. and all travel documents are in an easy-to-reach place in your carry on. Also, make copies of everything just in case something gets lost. You may still have a hassle trying to board the plane but it will be less of hassle then it would be if you had nothing. So make sure they are all there.
2 || Your medication.
Unless you want to make a trip to the pharmacy at your destination, make sure you have all of your medications. Sometimes the insurance won't pay for your medications out of state, and if you are visiting a foreign country it will definitely be an out-of-pocket expense. Also, keep a list of your medications, emergency contacts, doctors phone numbers, etc. in the front of your carry-on. That way, if there is a medical emergency, that information will be handy.
3 || Electronics.
These can actually go in one of two places, your carry-on or your personal bag. If you are packing a camera or laptop, I suggest putting that in your carry-on. If you have a cell phone, tablet, or small digital camera, pack those in your personal bag. Also, don't forget the batteries and/or chargers + earphones. 
4 || Valuables.
This can include jewelry, money, and electronics. It amazes me to see how most people put all of their cash and credit cards in their personal bag. Thieves are everywhere, and it only takes one split second for your personal bag to be stolen. Split up your money, credit cards, and jewelry into both bags. That way if one is stolen you are not completely helpless. Also, leave all of your credit card numbers, pin numbers, and the company customer service numbers with a trusted friend. That way if you are a victim of robbery you can call the numbers and get everything canceled. It really helps in the long run.
5 || Personal Essentials.
Pack your sunglasses, chapstick, snacks, books, hand sanitizer, etc. in your carry-on. I always get extra pairs of sunglasses at the dollar store before I travel. (I learned my lesson when I left my $150 sunglasses sitting on a bench in Disney. Needless to say they were long gone before I even knew I had lost them.) Other personal essentials can mean eye mask, inflatable pillow, and small travel blanket.
6 || Toiletries.
Pack light on the toiletries. Buy travel sizes of everything from the dollar store or  Walmart. That way at the end of your trip you can just throw it out and free up space for souvenirs. Go easy on the make-up. I always get the smallest size travel case and if it doesn't fit, it stays home. It saves room and keeps me sane. Remember, at the end of the trip you have to lug all this back. Don't forget a couple of disposable razors and a travel size shaving cream. If you are expecting a visit from mother nature that week, wait until you get to where you are going and then buy your feminine products. It may be a little higher cost wise, but will save you some room in the end.
7 || Vacuum Compression Bags.
A great way to save space in your carry-on is to pack your clothes into vacuum compression bags. (For my little kids, I use freezer zip lock bags – they work great!) It is amazing how much space you can save by packing in bags and removing the air. It flattens everything out and saves a lot of space. The only drawback is sometimes your clothes become really wrinkled. So you might want to make sure you have an iron handy.
8 || Misc. Items.
These items would include things like sunscreen, lotion, umbrella, chewing gum, pen and paper, empty water bottle, dry shampoo, etc. I always pack all my misc. items in a larger cosmetics case so they are together and easy to unpack.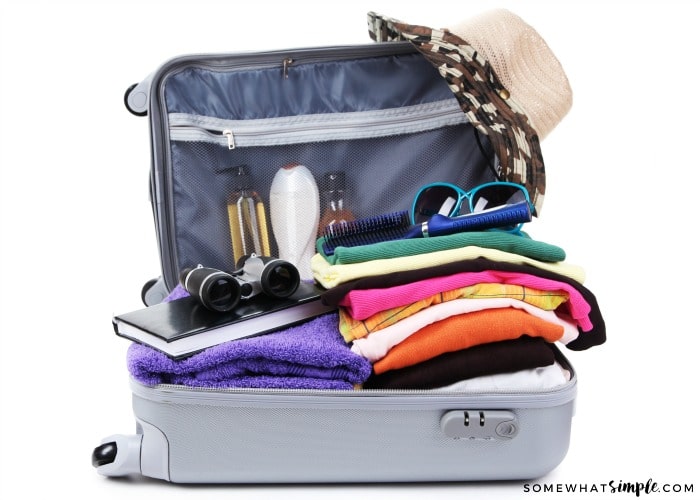 Fitting everything you need for vacation into a carry-on can be a little daunting. Just remember, every traveler gets a carry-on and one small personal bag. The best way to keep yourself from getting super frustrated is to pack a week in advance. That way you can tell what works best and rearrange things before the departure date!
Good luck and happy travels!