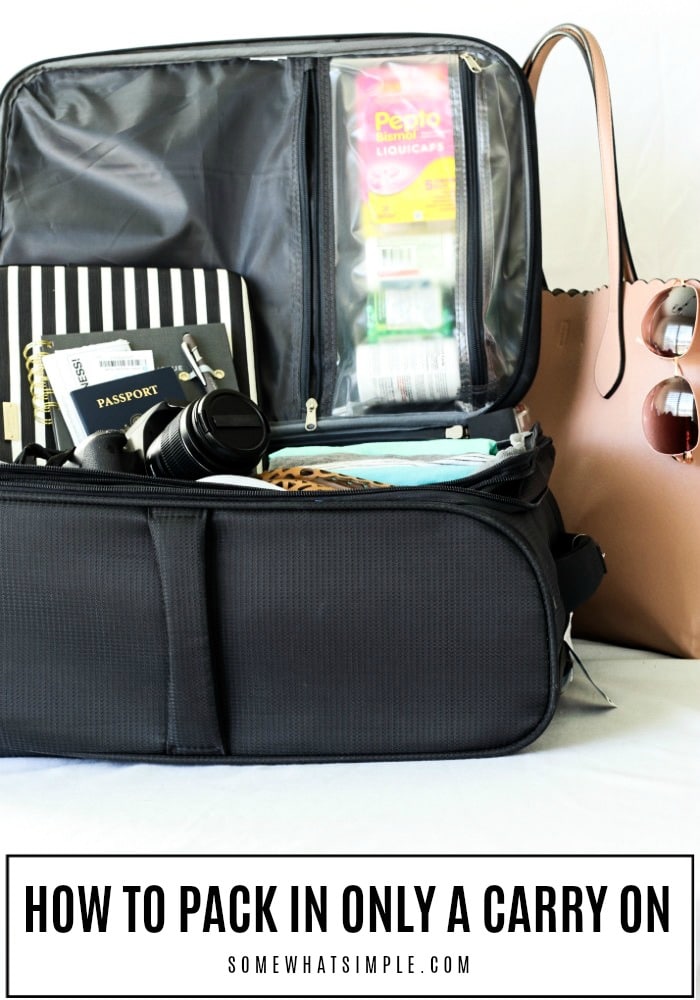 This is a sponsored conversation written by me on behalf of Pepto Bismol . The opinions and text are all mine.
With a little ingenuity and patience, you can pack for your entire trip in one little space! Here are some helpful packing tips and items not to forget in your carry on!
We partnered with Pepto Bismol to show you how convenient it is to pack for a trip using only carry on luggage. The new Pepto Bismol LiquiCaps are portable – which is great for travel – and they provide rapid relief from nausea, heartburn, indigestion, upset stomach and diarrhea… because stomach troubles rarely happen at home! Be sure to stock up before you set off on your next summer vacation!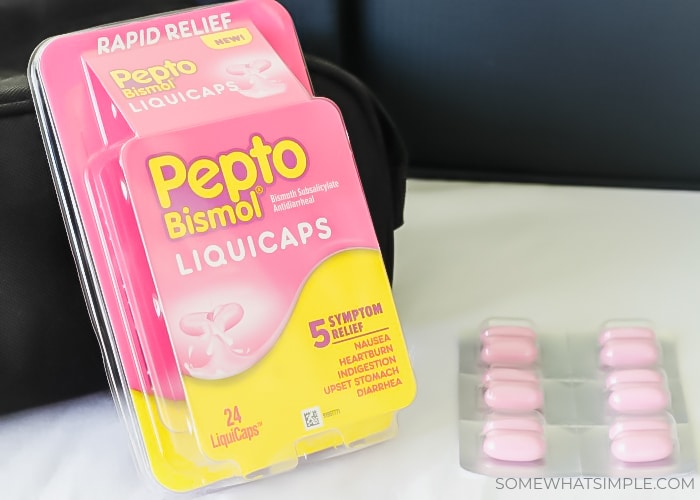 Packing Tips
Most airlines charge for checked luggage, and that can add up to a pretty hefty cost! And have you ever gone over the checked luggage weight limit? They charge you for that too! Seasoned travelers are learning real quick the benefits of only bringing a small suitcase that stays with them on the flight. Not only can it save you cash and time during the check-in and baggage claim process, but it also helps curb the dreaded "lost luggage" scenario.
Of course the longer your trip, the trickier packing in a small suitcase can be. You'll need your clothes, shoes, and all of your travel necessities. That can be a lot for your little suitcase, but don't fret- we'll show you how to do it! Here are 5 items that you need in your carry on and what you can leave at home!
How to Pack In A Carry On Suitcase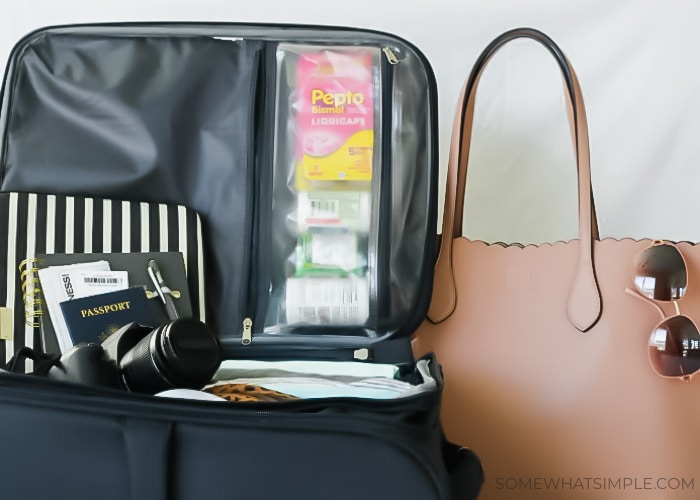 1. Clothing
Pants – Wear a pair, pack a pair.
Shirts – 1 shirt for every 2 days you plan to be gone
Shoes – Wear a good pair of tennis shoes and pack a smaller pair (even sandals). On the off chance something happens to your good pair of shoes, the sandals will be sufficient to get you to the nearest shoe store.
Socks – 1 pair for each day
Underwear – 1 pair for every 2 days
PJs – one pair
Clothing Packing Tips
If you are short on space, consider packing your clothes in gallon size plastic bags before placing them in your carry on suitcase. You'll be surprised at how much space you can save by suctioning all of the air out! Packing in bags is also useful to keep dirty/smelly/wet clothes away from the clean clothes. Plus, kids can more easily dress themselves when each outfit for them is planned and packed together. The only items that don't fit in bags are bigger kids/adult pants, but even adult shirts can save space when packed in plastic bags.
Leave all of your expensive jewelry at home!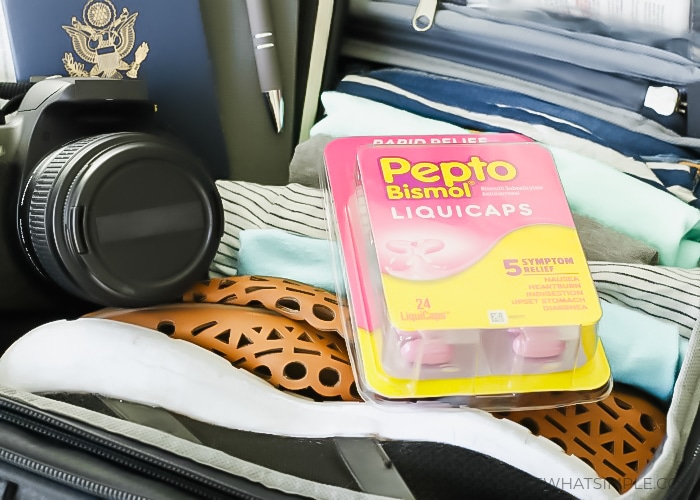 2. Medicines
Prescription medications
Vitamins
Headache/ Pain reliever
If you're traveling with kids, consider bringing children's pain/fever reducer + children's cough/allergy medicine… just in case!
Pepto Bismol LiquiCaps

Pepto Bismol can be used to provide relief for five different symptoms, including nausea, heartburn, indigestion, and upset stomach, due to overindulgence in food and drink, and diarrhea.
It's equally as effective as Pepto Bismol liquid, but the convenient LiquiCaps allow you to take Pepto Bismol on-the-go so you can take it anywhere – at work, home, or travel worry-free.
Pepto Bismol relieves an upset stomach by providing a protective coating on the stomach lining that soothes irritation and provides fast relief from upset stomach and indigestion.
Take Pepto Bismol

as directed

at the first sign of stomach upset so you get back to your normal self – fast.
Medication Tips –
Keep a list of your medications, emergency contacts, doctors phone numbers, etc. in the front of your carry-on. That way, if there is a medical emergency, that information will be handy.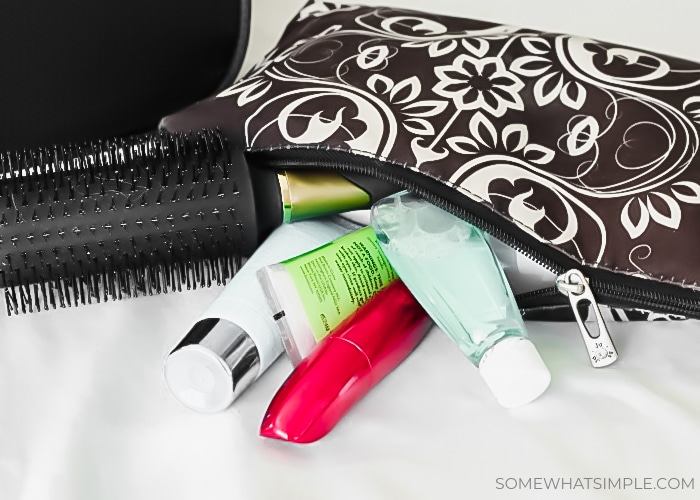 3. Toiletries
Toothbrush + Toothpaste + Floss
Hairbrush + Hair ties
curling iron / straightener – only if you can't live without it!
Travel hair gel, hair spray, or travel sized Dry Shampoo
Deodorant
Makeup – just a handful of essentials
Women's personal items (tampons / pads)- just enough to get you through 1 day. Buy more when you get to your destination.
Glasses / Contacts
Travel First Aid Kit – a few band-aids to cover cuts or blisters until you can get to the corner market is totally sufficient!
Misc. Items, if needed – Hand sanitizer, Nail clippers / emery board, Chapstick, Sunscreen
What Toiletries NOT To Pack In Your Carry On
Blow dryer – most hotels have them.
Big, expensive hair products – these take up SO MUCH SPACE!
Shampoo and conditioner – all hotels have them. If you're super worried about this, buy a travel sized conditioner and leave the rest at home.
Bath towel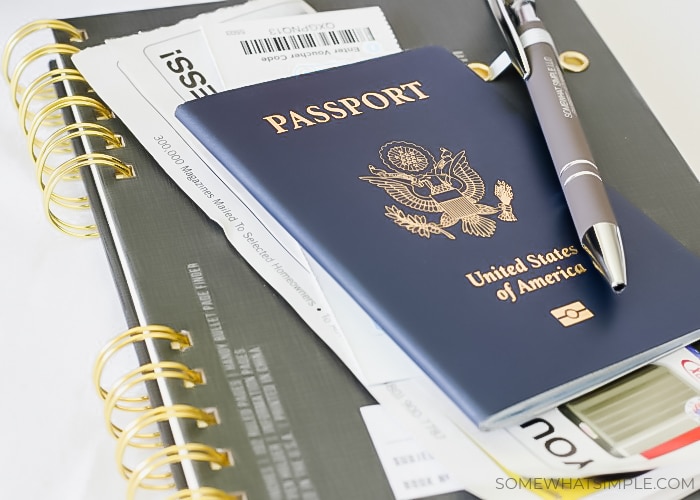 4. Documents, Money, and Travel Info
Travel Documents – any travel reservations / vouchers
Passport (for international travel) – Consider packing a photocopy of your passport to help you get replacements more quickly if the originals are lost or stolen.
Drivers License /ID – You'll always want to have ID on you, but avoid taking your passport whenever possible to lessen the likelihood of it being stolen or lost. (We leave our passports in the hotel safe while out sightseeing)
Money + Credit Card
Travel Info Packing Tips –
Keep all travel documents packed in an easy-to-reach place in your carry on.

Consider bringing a small purse or money belt that you can keep on you so it doesn't get lost or stolen.

Split up your money and credit cards into separate bags – some in your suitcase, some in your purse. That way if one is stolen you are not completely helpless.

Consider leaving your credit card numbers, pin numbers, and the company customer service numbers with a trusted friend. That way if you are a victim of robbery you can call the numbers and get everything canceled.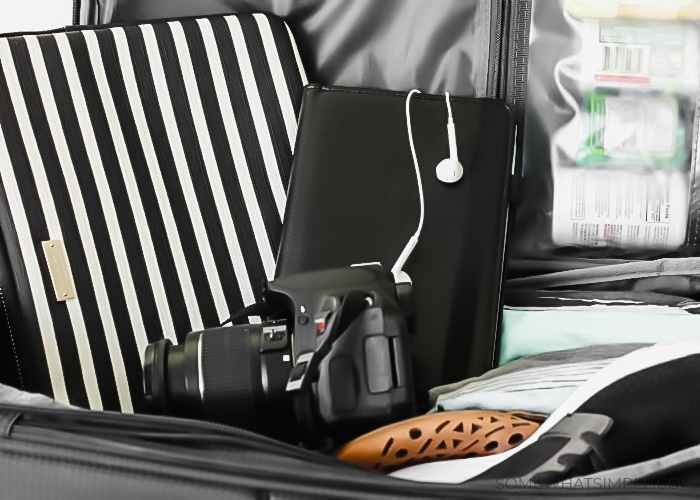 5. Electronics + Entertainment
Cell phone – Even if you don't want to pay to have cell service in a foreign country, you can keep your phone in airplane mode and use it as a camera.
Camera (if you don't want to use your cell)
Laptop
Chargers and Batteries
Portable charger
Book / magazine
iPad/ Tablet – Load up on movies and apps before you go and it will be the only entertainment you'll need!
Headphones- You can't listen to your kindle on a plane or train without it!
Don't Pack These
You don't need to pack your carry on with a ton of electronics. 1 small kindle loaded with games, movies and books is fine!
Toys and big books. Those are heavy and take a lot of space.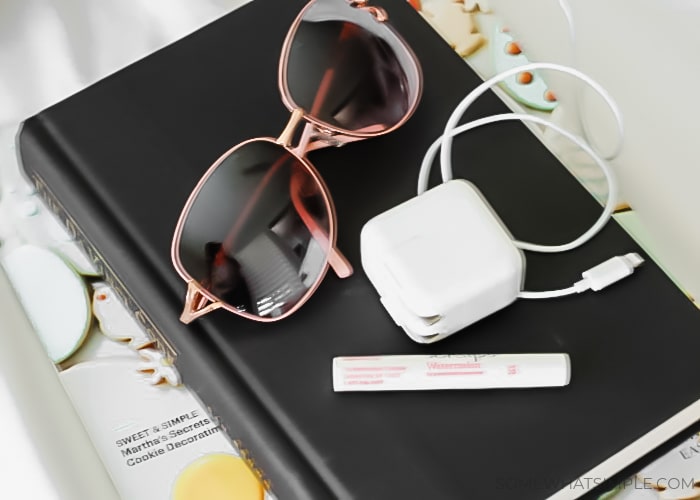 Miscellaneous Packing Tips
Not necessary, but can come in handy if you have the extra space–
Plastic bags in a variety of sizes. They a flat and pack nicely and are ideal for your carry-on liquids, snacks, wet clothes etc.
Duct Tape – Duct tape can help fix a torn bag or shoe and it offers great peace of mind in an emergency. Rather than bringing a whole roll, wrap some around a pencil to conserve space in your backpack.
Laundry Soap – I never anticipate doing laundry on vacation, but if I find myself at a hotel or apartment with laundry facilities, I like to take advantage of it… just in case! (Plus coming home with less laundry to do is always a bonus, right?) I prefer to bring just a couple laundry soap cubes, or a plastic squeeze bottle of liquid laundry soap. In a pinch, you can use hotel shampoo to wash clothes in the sink. It's better to come prepared, especially when traveling with kids!
Insect repellent – If you're venturing out on some unbeaten paths, it might be a good item to pack!

inflatable pillow / small travel blanket.
Don't Forget
Diapers + wipes + bottles + sippy cups + food and special snacks for kids.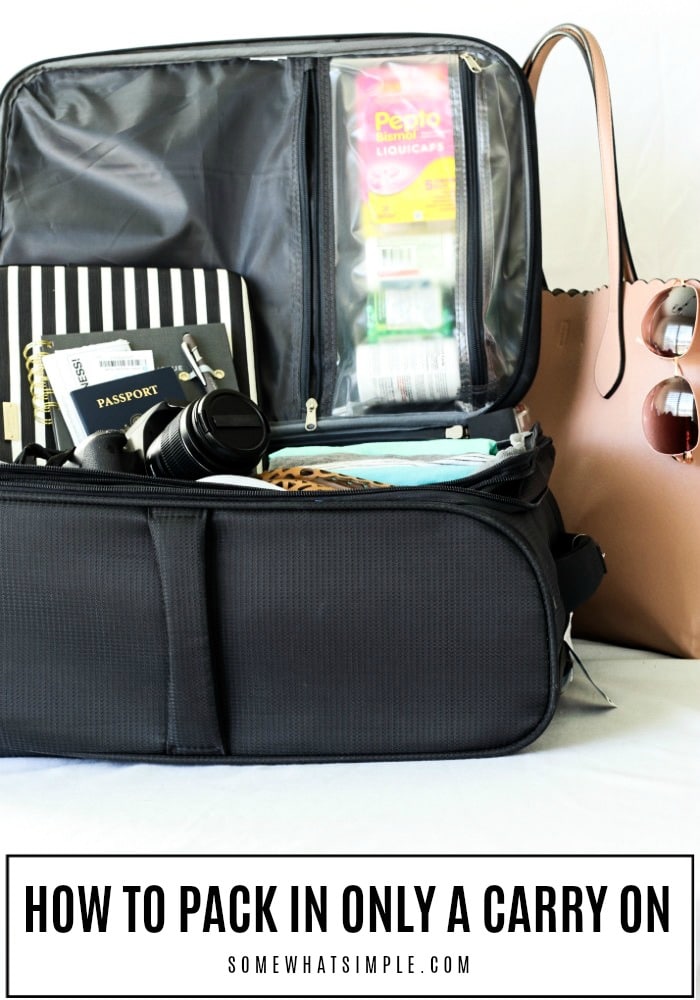 Fitting everything you need for vacation into a carry-on can be a little daunting, but pack a week in advance and rearrange things as-needed! Good luck and happy travels!