Welcome to the 1st edition of Photoshop Basics at Somewhat Simple!!
You read that right, BASICS.   Join us today to learn how to open, re-size, save, and print from Photoshop!  Have you ever uploaded your photos from your digital camera to print and the crop lines just weren't right?  Not to worry, you won't have that problem again after this lesson!
Step 1: Open Photo
– From the top toolbar select File / Open.  Choose a photo from your files and left click open.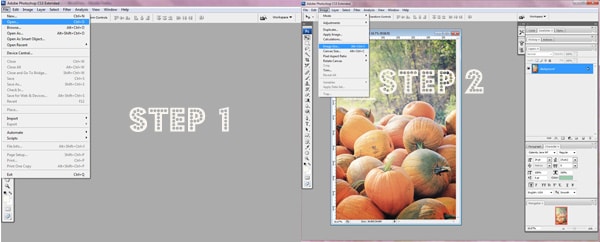 Step 2: Prepare Print Quality
– From the top toolbar select Image / Image Size. The Image Size box will open up.  Start by changing the image resolution to 300 pixels/inch for print quality photos. Next, if you photo is portrait/vertical set the width to the largest width you will need. For example if you want to print an 8×10, 5×7, and 4×6 of your photo. Type in a width of 8 inches.  Set the height to the largest size for landscape/horizontal photos.  Be sure all the boxes at the bottom are checked marked; Scale Styles, Constrain Proportions, and  Resample Image.  Left click OK when your settings are complete.

Step 3: Re-size to Standard Print Sizes
– From the top toolbar select File / New.  Select Photo in the Preset drop down box. Select the size you would like to print in portrait or landscape from the Size drop down box. Always start with the largest size you want to print first. The resolution should be at it's default setting of 300 and the background selection doesn't matter for this lesson. From the side tool bar select the Move Tool. Place it over your photo, hold down the left side of your mouse and drag the photo into the empty standard photo size box. Using the same technique position the photo in the standard photo size box to your preference. To create your own custom size, simply type in the size you would like.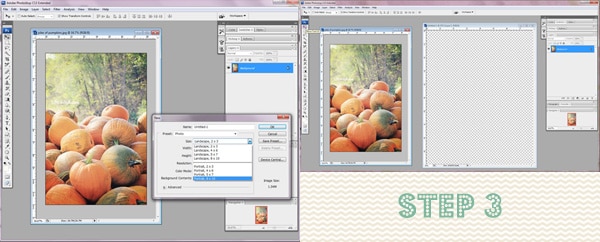 Step 4: Print & Save Photo
– From the top toolbar select File / Print and follow your normal printing steps or File / Save As to save your re-sized photo.   I recommended selecting jpeg as the file format. You can upload jpeg files to any printing company for mass printing. Repeat the steps to create any standard print size!
DON'T MISS A THING!
Sign up for our newsletter to receive our FREE Home Organization Binder Printables + weekly updates filled with creative inspiration and exclusive freebies!
---