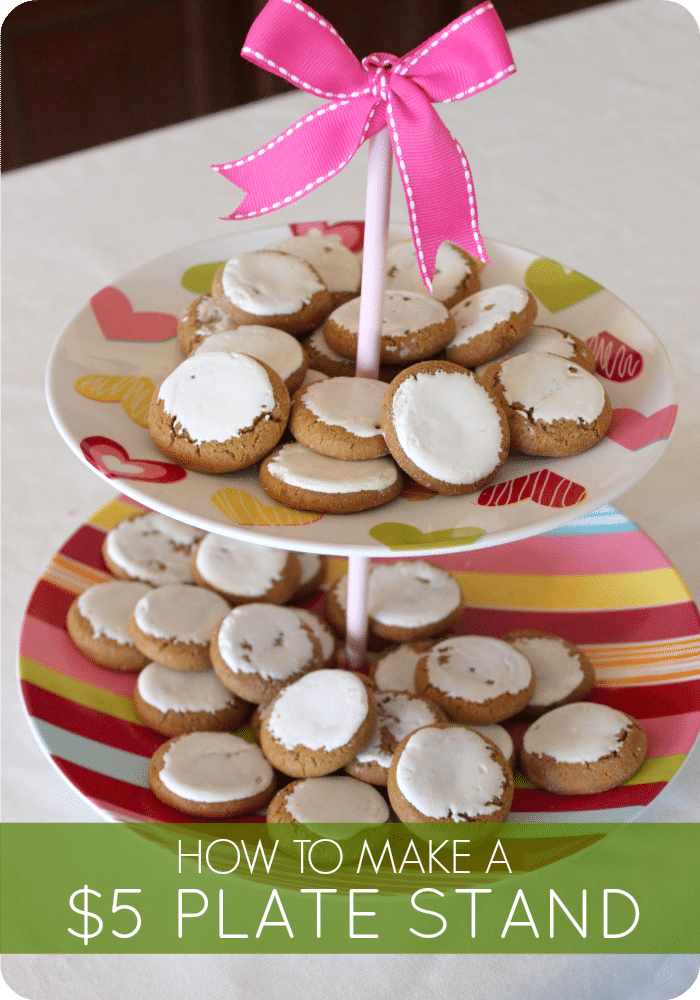 There are plenty of ways you can make a plate stand, but this version is inspired by one I saw at Target. I loved everything about it, except the price tag. It got me thinking…..could I make one myself?? I decided to give it a shot and I am so glad I did! It is a simple project that looks great and doesn't take a lot of time or money- perfect!!! Here is how I made it:
MATERIALS NEEDED:
2 coordinating Melamine plates- 1 large, 1 small
threaded rod- found at Lowes in the hardware section
4 nuts that fit your threaded rod
2 Bic pens to cover up the threaded rod
drill
measuring tape
spray paint- I chose "Ballet Slipper" by Krylon
hack saw (if you need to trim the threaded rod)
Ribbon "topper" for your stand
*Edited to add that if you find your stand to be a little wobbly, you can hot glue additional nuts to the bottom of your plates as extra "feet"
DIRECTIONS: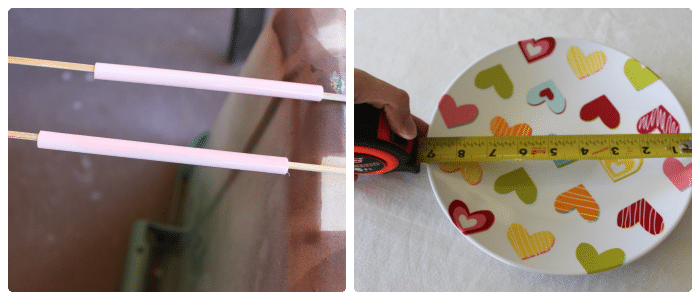 1. Disassemble your Bic pens and spray paint the body of your pen.
2. Measure your plates to find the EXACT center. Mark with a pen.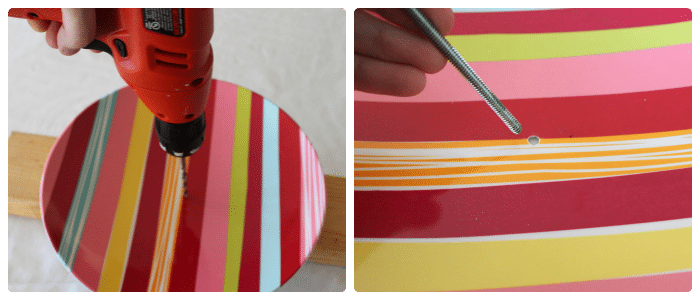 3. Place your plate on a wooden block (or surface you don't mind drilling in to), and drill a hole in your plate at the spot you marked.
TIP: Push down gently, and BE PATIENT as you drill your hole. If you apply TOO MUCH pressure, your plate will crack. If you are unsure about how much pressure to use, try drilling on a "practice plate".
4. Push your threaded rod gently into your bottom plate.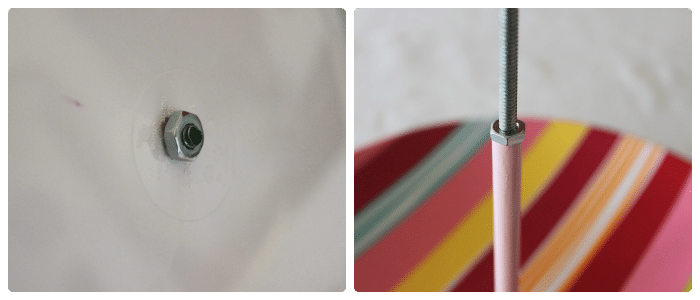 5. On the bottom of your large plate, put on a nut, and make it level with the bottom of your plate.
6. Slide on one of your spray painted "pens" over the threaded rod and top with another nut.
7. Gently slide on your smaller plate, top that with a nut, then slide a spray painted "pen" and finally another nut.
8. Time to cover up the top of your tiered stand! Trim any excess rod with a hack saw, then tie a bow ribbon with some ribbon and call it good!
Pile high with goodies, and enjoy!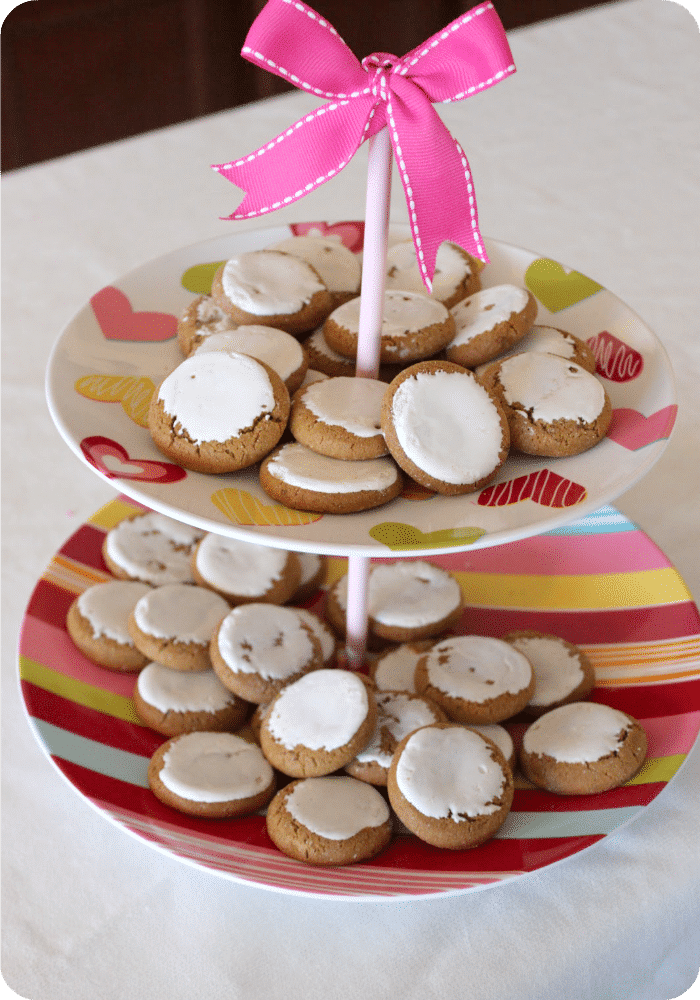 Cost Breakdown:
Melamine Plates: $3.50
Threaded Rod: $.97
Nuts: $1
Bic Pens spray paint & ribbon: FREE already had some laying around the house!
Total: $5.50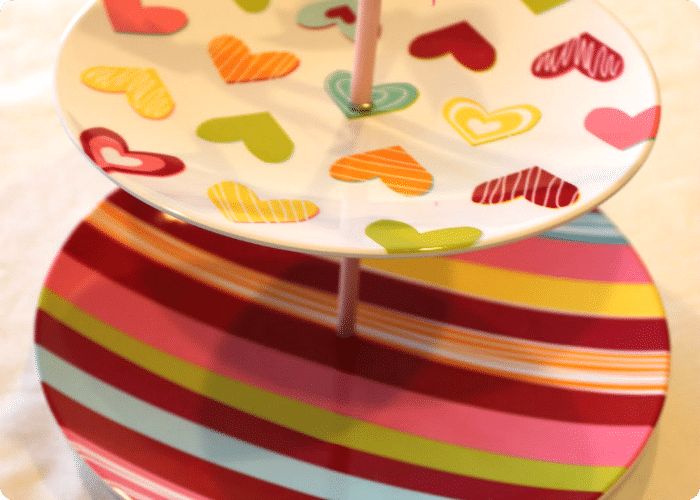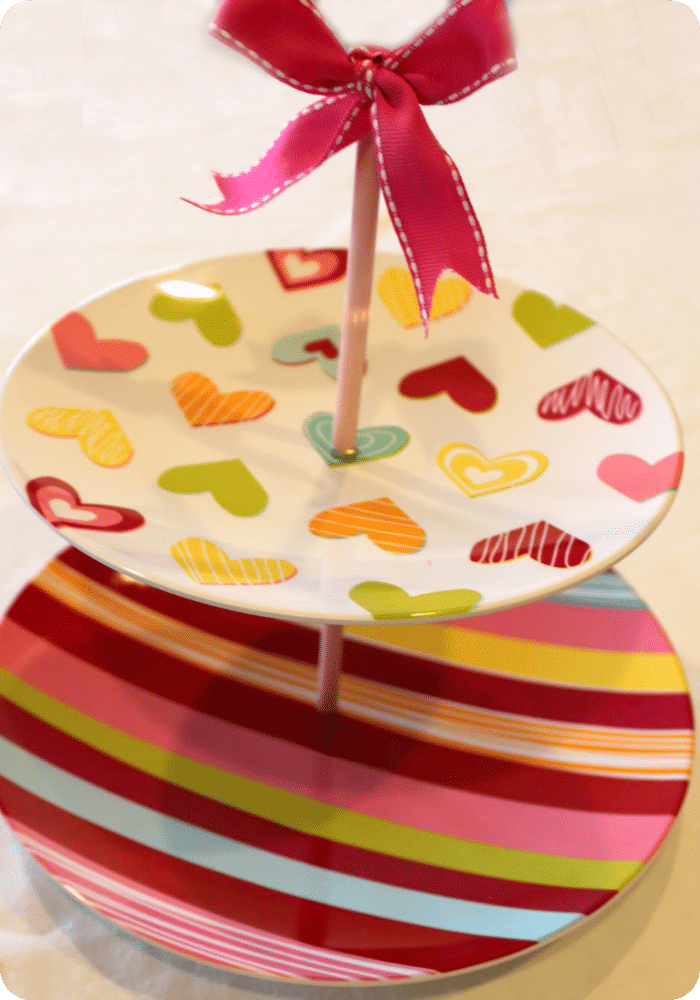 ABOUT THE AUTHOR: Sarah is the creative mom of three and the writer of the site A Little of This, A Little of That. For more creative inspiration, please stop by or follow Sarah on Pinterest.
This post was submitted as a guest post in January 2011 but was updated in October 2014.