7 early pregnancy tips that you should put into action as soon as that pregnancy test comes out positive!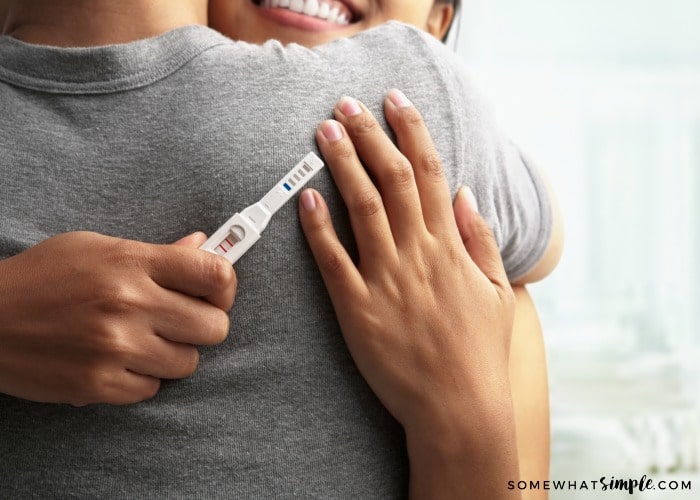 I'm currently in my 12th week of pregnancy with our fourth child; and although my pregnancies have all been really challenging, this 4th one isn't nearly as hard as my first because of everything I have learned with the previous 3. As I sit here eating plain popcorn and trying to survive the night, I thought I would distract myself by sharing some pregnancy tips with all of you: 7 Things to Do the Moment You are Pregnant
7 Early Pregnancy Tips
Start taking prenatal vitamins.

Technically you should be on a prenatal vitamin before you get pregnant, but if this pregnancy is a surprise like this one was for me, you just do your best to get on one as soon as possible. I've also noticed that taking some milk thistle takes the edge off morning sickness. It's been a lifesaver for me and several others, but as always…consult with your doctor.

Start an Amazon Baby Registry.

Starting a registry now might seem a little early, but people are going to start telling you about all the latest and greatest products, and a baby registry is a great spot to save all the fun recommendations. Plus, Amazon has something called a universal registry which allows you to add things from your registry that are on other sites other than Amazon (Think Etsy, Babies R Us, etc.). See this post on creating an Amazon Baby Registry to learn all the ins and outs of creating your registry, as well as how to get the free Welcome Box with lots of free baby stuff.

Don't go hungry.

This is probably one of my biggest tips of things to do the moment you are pregnant, especially if you are already starting to feel sick. With my first pregnancy I was so sick I was never able to leave the couch. I threw up every time I moved. Each pregnancy has gotten a little bit better and I think it comes from learning this trick. No matter how much your stomach is telling you that you don't feel like eating ANYTHING, force yourself to eat some kind of snack every few hours. This will be key to not getting sicker.

Don't give in to all the myths.

There are plenty of rumors that get spread around during pregnancy, some of them true, some of them not. Always ask your doctor if you have questions about anything.

Make your own plan.

Remember this is YOUR pregnancy, and although there are many outsider opinions, ultimately decisions involving this pregnancy should be made between you and your spouse. Many will tell you not to announce your pregnancy until a certain week, but when I had my first miscarriage I was really glad that some close friends and family knew about my pregnancy so that I had a support group. We've also decided by our 4th pregnancy not to share our baby name ideas, because everyone has differing opinions when it comes to baby names. You will also get many opinions when it comes to natural birth vs. epidural, breastfeeding vs formula, and every other decision under the sun. Start now and make your own plan, according to what's best for you and your family.

Set up your first OB appointment.

Some doctors are popular and have longer waits than others, so start researching who you want your doctor to be and schedule your first appointment. Facebook is a great place to poll your friends for doctor recommendations, and your doctor can be a great resource if your morning sickness is overwhelming or you have other concerns or questions. Whatever you do, don't rely on Google for all of your pregnancy concerns. Other mom's horror stories or unique situations could leave you stressing over something you don't need to stress about.

Keep your spirits up.

Depression in early pregnancy can be a real thing for many moms, especially if you are extra sick. Try to find things to do, something to plan, or positive things to think about that will keep your spirits high. If you are too sick to exercise, try to at least get in a short walk or some yoga for some healthy endorphins.
I hope you found these tips helpful, but most of all I hope you take time to enjoy the miracle of growing a baby!
Is there anything you would add to our pregnancy tips list?