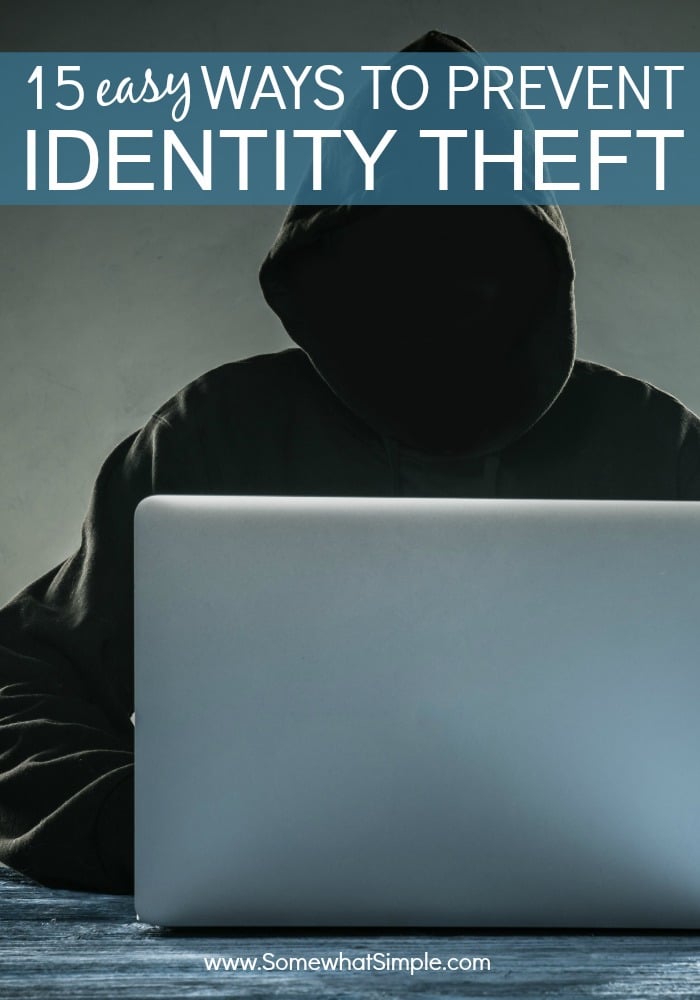 Advances in technology can be both scary and exciting all at the same time! I love the use of digital devices, but it is also easier than ever for criminals to steal identities and personal information. Identity theft is the fastest growing crime in America. The FTC says that there are around 9.9 million identity theft crimes occurring each year- that's about 19 people every minute!
In light of the recent Anthem security breach, which could affect as many as 80 million customers, I did a little research on ways to protect our homes, our families and our valuable information from data breaches. (I quickly realized that I am definitely not being as safe as I should be!) There are some simple yet valuable ways to prevent identity theft that everyone needs to consider. Take a look:
IN PUBLIC

1. Carry What You Need. There is no reason to keep every credit card you own in your wallet. Keep one or two with you so that if your wallet is stolen, you have less accounts to worry about checking in on. Never carry your passport or social security card on you, and be wary of carrying your checkbook with blank checks. These checks have your account and routing numbers on them.
2. At the ATM. Be on the lookout for people standing too close while you're at the ATM or checking out at the register. Always cup your hand around the numbers of the keypad when entering PIN information.
3. Ditch the Debit Cards. Where possible, use a credit card and then pay it off right away. Credit cards come with more protection and they don't use a pin that could be stolen. Plus, if a stranger maxes out your credit card, at least it won't leave you stranded with $0 in your bank account until the problem has been resolved
4. Keep Your Purse & Wallet Safe. Make sure that your bag, purse or wallet are zipped closed and never unattended. I am guilty of leaving my purse in the front of my grocery cart while shopping, or hanging on my chair at a restaurant. <— This is not good! Men should carry their wallets where they can feel them- not in a deep, loose pocket.
ONLINE
5. Passwords- Change your passwords often! Use a password with uppercase, lowercase letters and numbers and use a different password for everything Bank, PayPal, Amazon, Credit Cards etc.
6. Email- Do not store personal information in your email. If someone gets into your email, all it takes is a quick search of a word like "account" to access all your bank information.
7. Be Safe– Don't share any public information when you are not on a secured network! Using Wifi at a public location (Starbucks and McDonalds) is convenient, but anyone could hack into that network at any time and see everything you're working on! Also, remember that sometimes virus' are downloaded completely on accident. Play it safe by installing a Firewall, by blocking pop ups, and by installing an anti-virus program.
8. Hacked Email– I get at least one email a week from a friend or associate who has their email hacked. NEVER, EVER EVER click on links in these emails! Also, never give any account information via email from someone claiming to be your bank or PayPal- no matter how real the email looks. If you ever have a question, log in directly to your account and do not click the link they sent you in the email- this can be a false website set up to look exactly like your bank website. If you still have questions, call PayPal or your bank directly.
9. Shopping Online– Try to use as only 1 credit card for purchasing online. This way, if your information is stolen, you only have to worry about that one account. You might even consider purchasing a gift card for the stores you most frequently purchase from and ditch the credit card all together.
AT HOME
10. Shred It- Criminals like to dumpster dive. They are looking for bank statements and financial information with your account numbers, social security number etc. They are also looking for your junk mail- those credit card pre-approvals that they can actually use to apply for a credit card in your name. Shred these documents before they get tossed in the trash! You can also opt out of credit card and insurance offers for 5 years or permanently HERE.
11. Outbound Mail- Don't put your outgoing bills in your mailbox. Instead, drop them into a box that is locked by the post office
12. Monitor Your Accounts- My husband is WAY better at this than I am- and he has caught a handful of unauthorized charges over the years that would have otherwise gone un-noticed. Sometimes there are mistakes from companies who charge you more or charge you twice. Don't just shrug your shoulders when you see charges (big or small) that you don't remember making- look into it! Often times criminals will make a small charge first to see how closely you are watching your bill. If you aren't paying attention, they are likely to keep on spending!
13. Monitor Your Credit Score- Watch for red flags by monitoring your credit score quarterly.
14. Watch for Data Breaches- I was one of the millions of Target shoppers affected by their recent system breach and by the time they contacted me to tell me this, my information had been unsecured for weeks! So pay attention to data breaches and take action immediately.
15. Protect Yourself with LifeLock– Studies show that individuals who receive a data breach notification letter are more than four times as likely to become victims of identity theft. LifeLock can help. LifeLock offers a comprehensive identity theft protection to help safeguard your finances, credit and good name. In today's always-connected world, that's more important than ever.


The new LifeLock Ultimate Plus program offers several new activity alerts that will alert you to data breaches right away, adding peace of mind against identity fraud in a digitally connected world. Packages start at less than $10 a month. Anyone who has ever had their identity stolen would agree that $10 a month is worth every penny! It takes 3 minutes to sign up and protection starts immediately.
With LifeLock you can live free knowing they're searching over a trillion data points every minute of every day looking for potential threats to your identity.
When they find something suspicious, they'll let you know immediately through the Identity Alert® system.
If you do become a victim, LifeLock Member Services Agents are available 24/7 and a Certified Resolution Specialist will handle your case every step of the way!