Your bedroom is a retreat, so it should be inviting, comfortable, and a little indulgent. Here are the ABCs of primary bedroom design to help you can create a space you love!
This post is in partnership with Nolah Mattress. All opinions are 100% my own.
Here are a few more room designs we think you'll love – 10 Sewing Rooms, 10 Ways to Decorate with Benches, 10 Creative Window Treatments, 5 Coffee-Table Styling Tips, and Decorating with Yellow and Gray.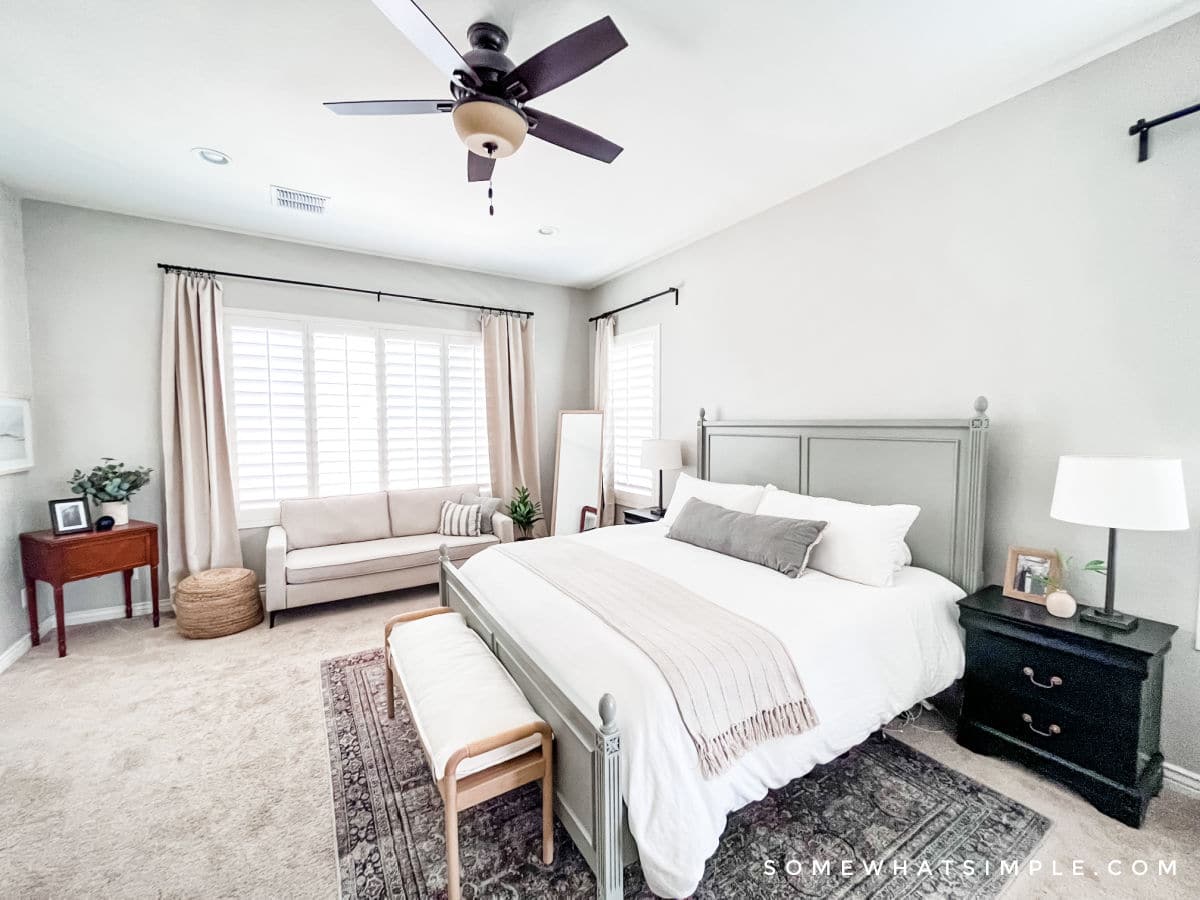 Designing my master bedroom was one of the first projects on my list when we moved into our home. I couldn't wait to ditch our old furniture and update the space to something more light and fresh.
…but then life happened, and kids' bedrooms and other living spaces took priority because no one, except me and my husband, sees this room so it was an easy project to put on the back burner.
Fast forward 4 years and that 17-year-old furniture decided it was done serving a purpose one day, and the wood where the headboard met the side rail SPLINTERED beyond repair. (I am sure it had nothing to do with the giant teenager of mine who decided to do a Superman jump on the bed during our first week of lockdown in 2020!)
At any rate, it was the push I needed to get this makeover project in motion, and it all came together even better than I imagined!
Here's what my bedroom looked like just one month ago –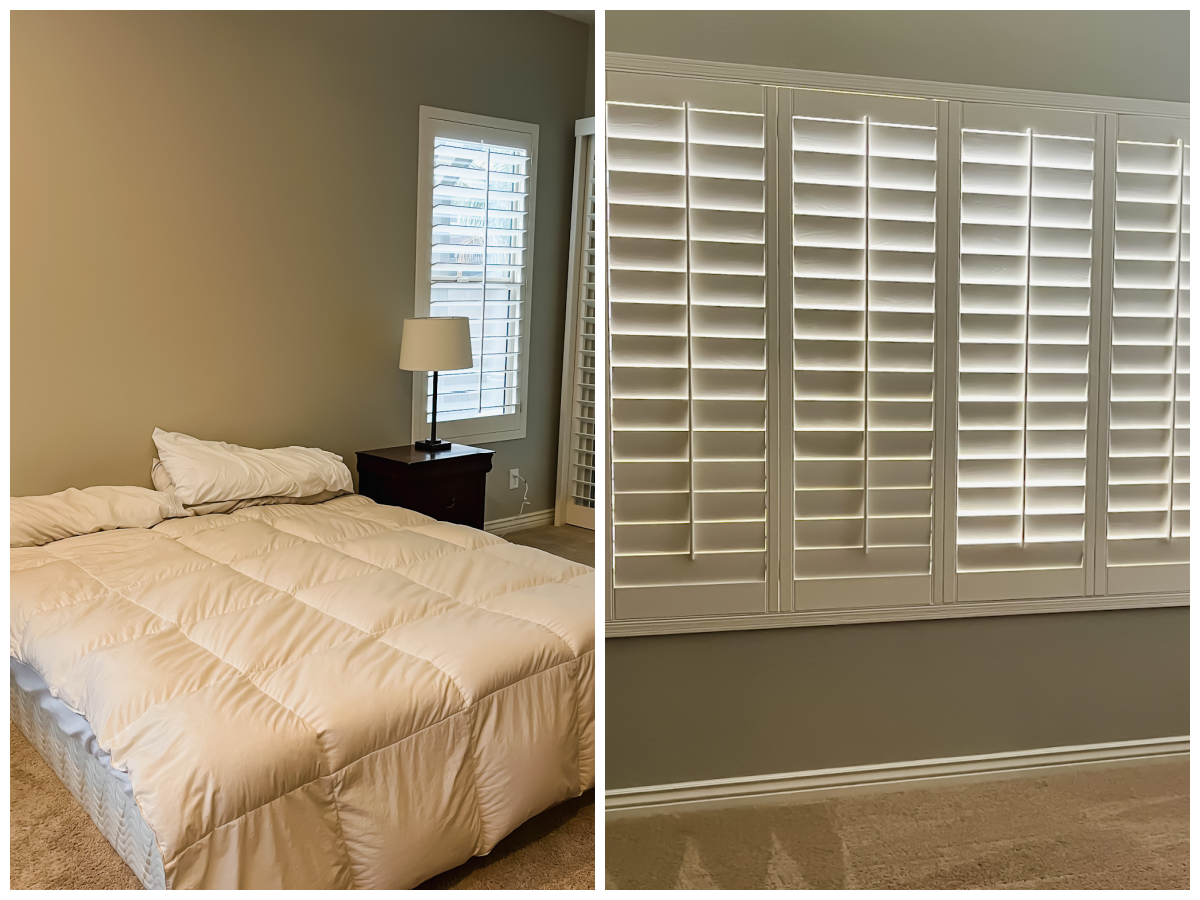 Sad and drab, right?
When designing a bedroom there's a simple "formula" I follow that I like to call The ABCs of Design. I'll share all the details of this formula, and I'll give you the grand tour of my newly refreshed primary bedroom!
Take a look –
Primary Bedroom Design
* The real estate industry has started to promote a shift in language when it comes to referring to a Master Bedroom. It's now common to hear the main bedroom of a house be referred to as the primary bedroom, owner's suite, owner's bedroom, en suite, or principal bedroom.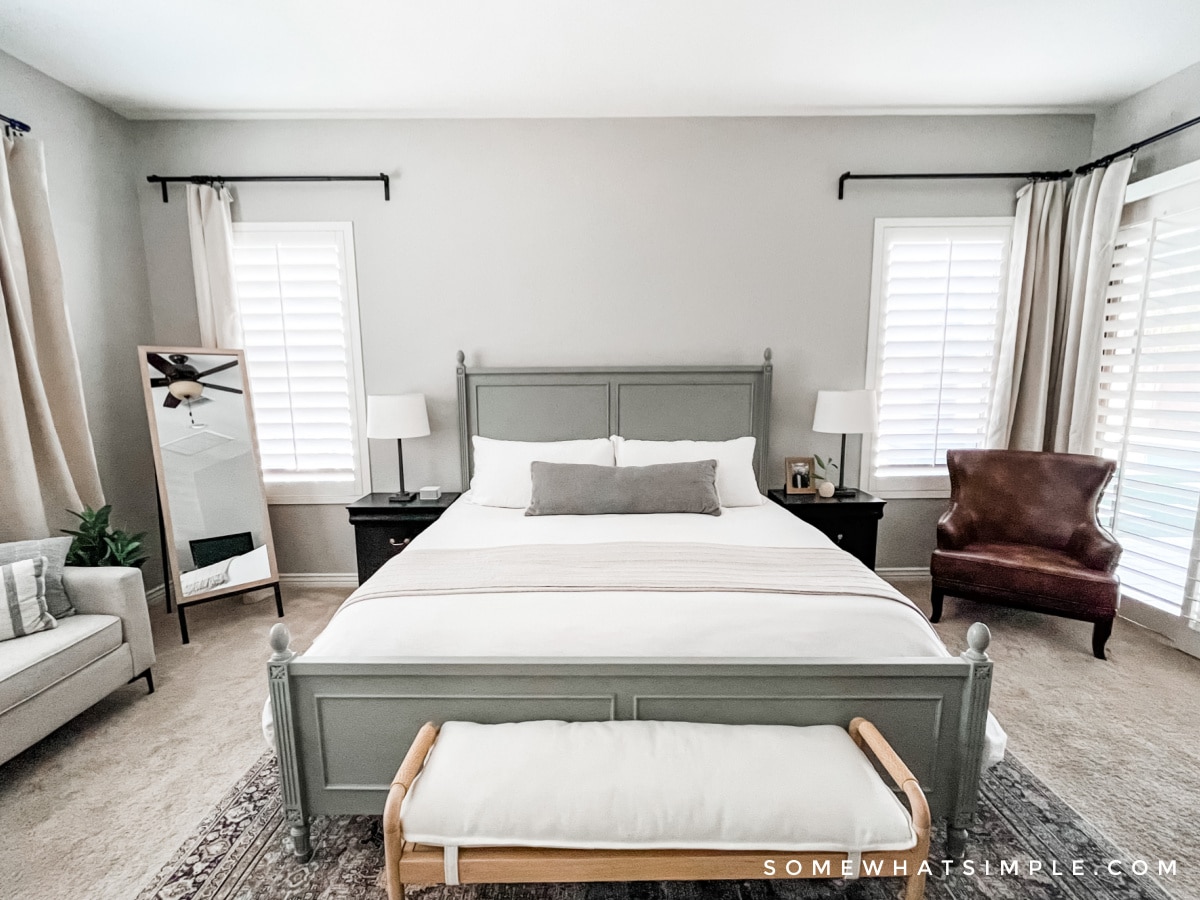 A is for Aesthetics + Atmosphere
The first thing to decide when designing your bedroom is how you want everything to look and feel. What is your style? Modern, traditional, farmhouse, vintage? Is there a color trend or certain type of furniture you'd like to see in your space?
For my room, I wanted a traditional style with clean lines, fresh accessories, different stained woods to add warmth, and mixed metals to add color and texture.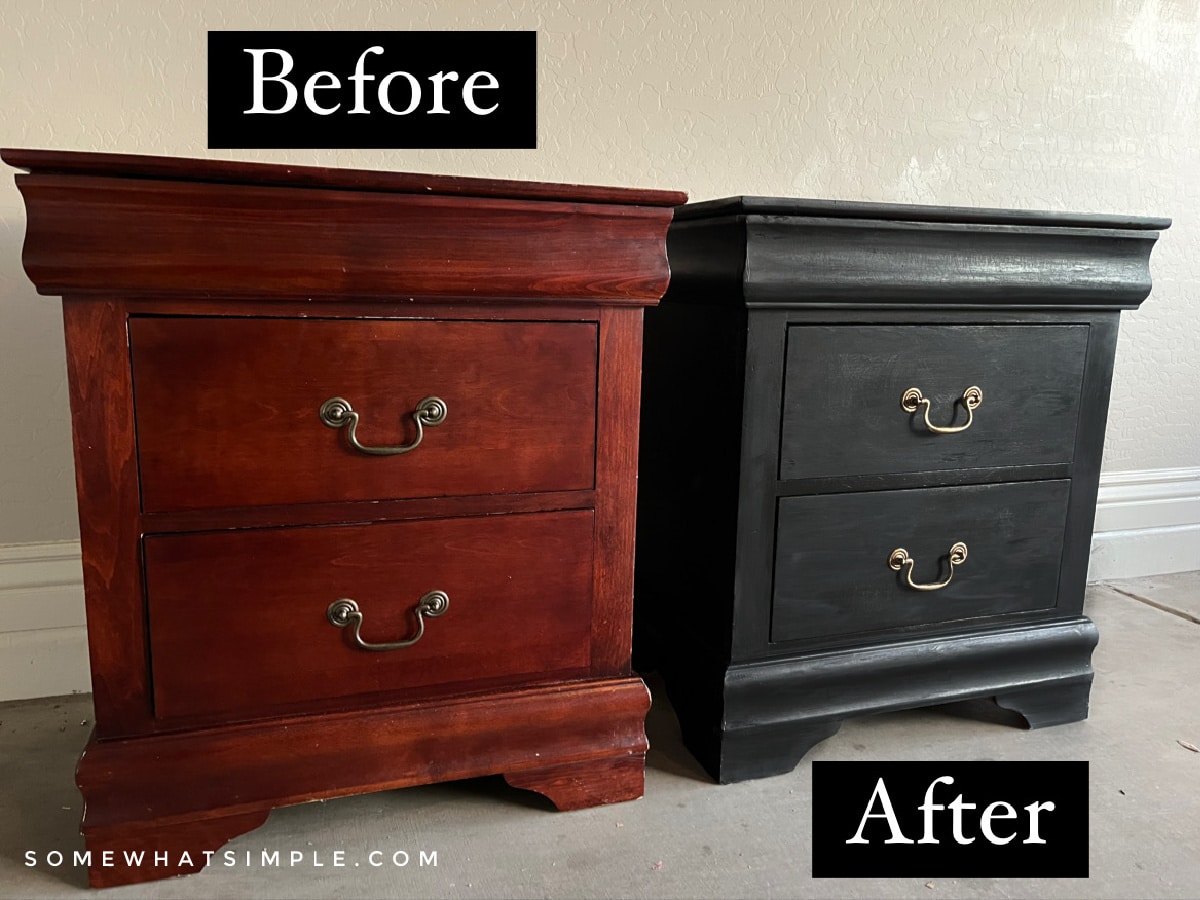 To save a few pennies, I painted my old nightstands black and brushed the hardware with antique gold Rub n' Buff. The black against the gold looks so much better than the cherry wood and brushed nickel! It was an update that took me just a few hours, and cost me less than $20!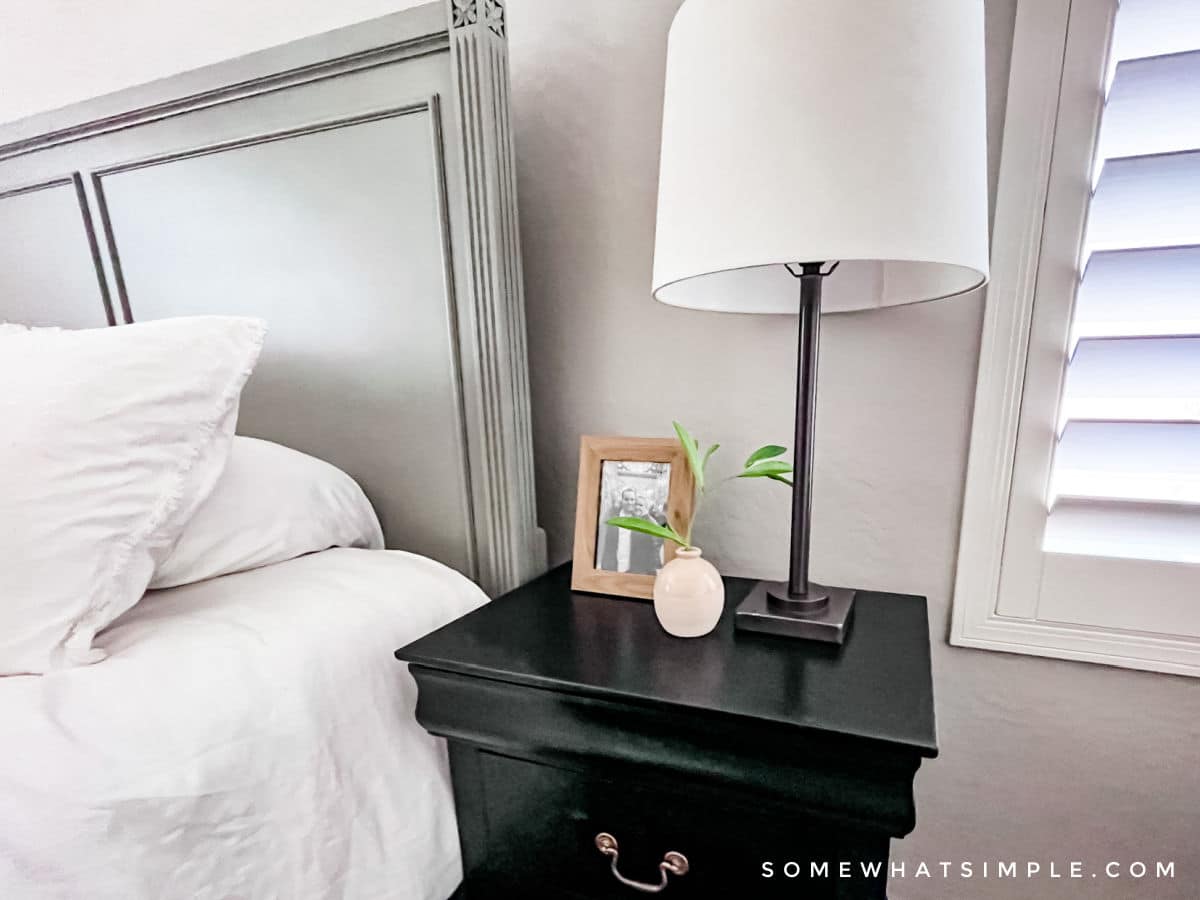 I kept the tops of the nightstands very minimal, and I love how clean it looks!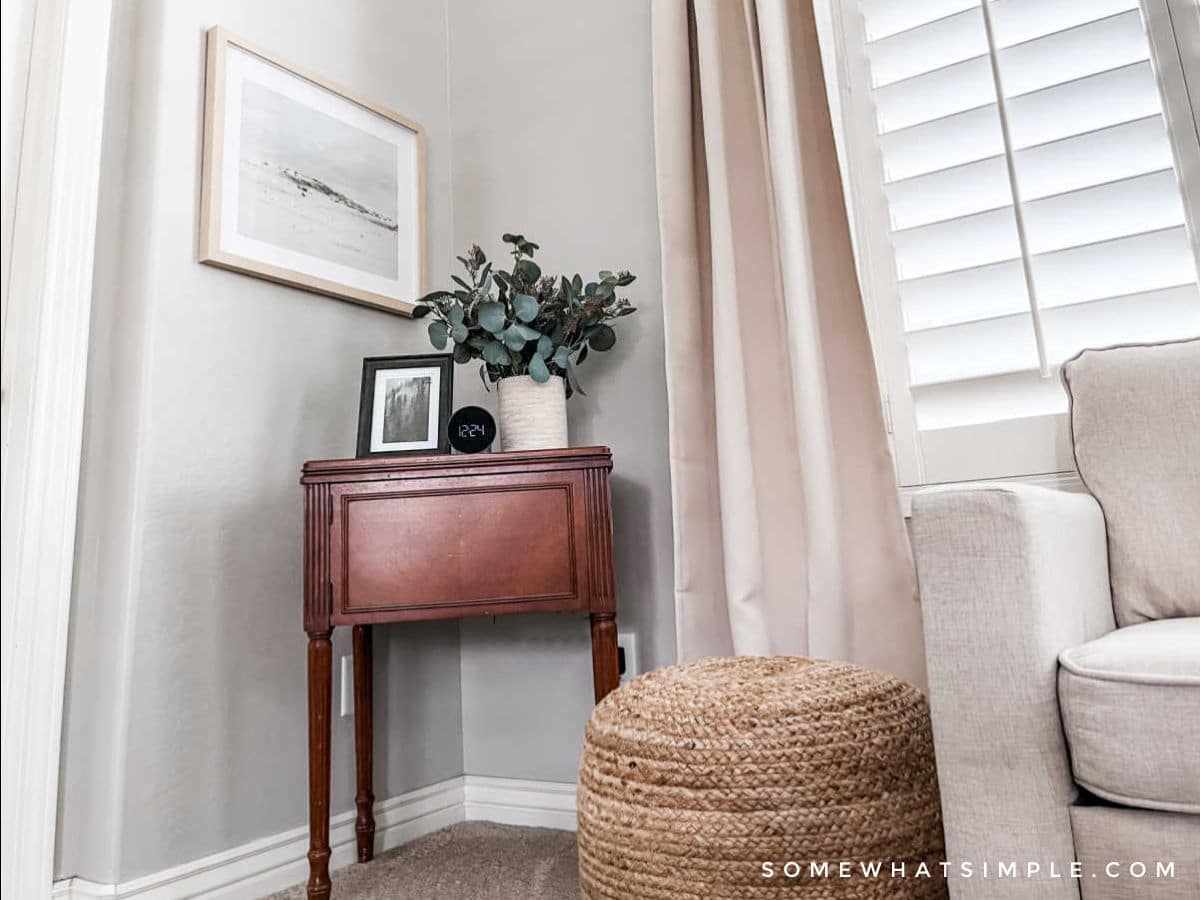 I wasn't sure if this antique sewing table that belonged to my husband's grandma would be the right color for this corner, but after trying it out I fell in LOVE with how it finishes off this space. The rich cherry wood color and sweet family history definitely warm everything up, and I love that it brings in some meaning and sentiment.
In keeping with the theme of mixing woods and metals, I chose a lighter wood dresser that matches the bench at the end of our bed. I think going with light woods and fabrics for bigger pieces of furniture help keep things light and fresh.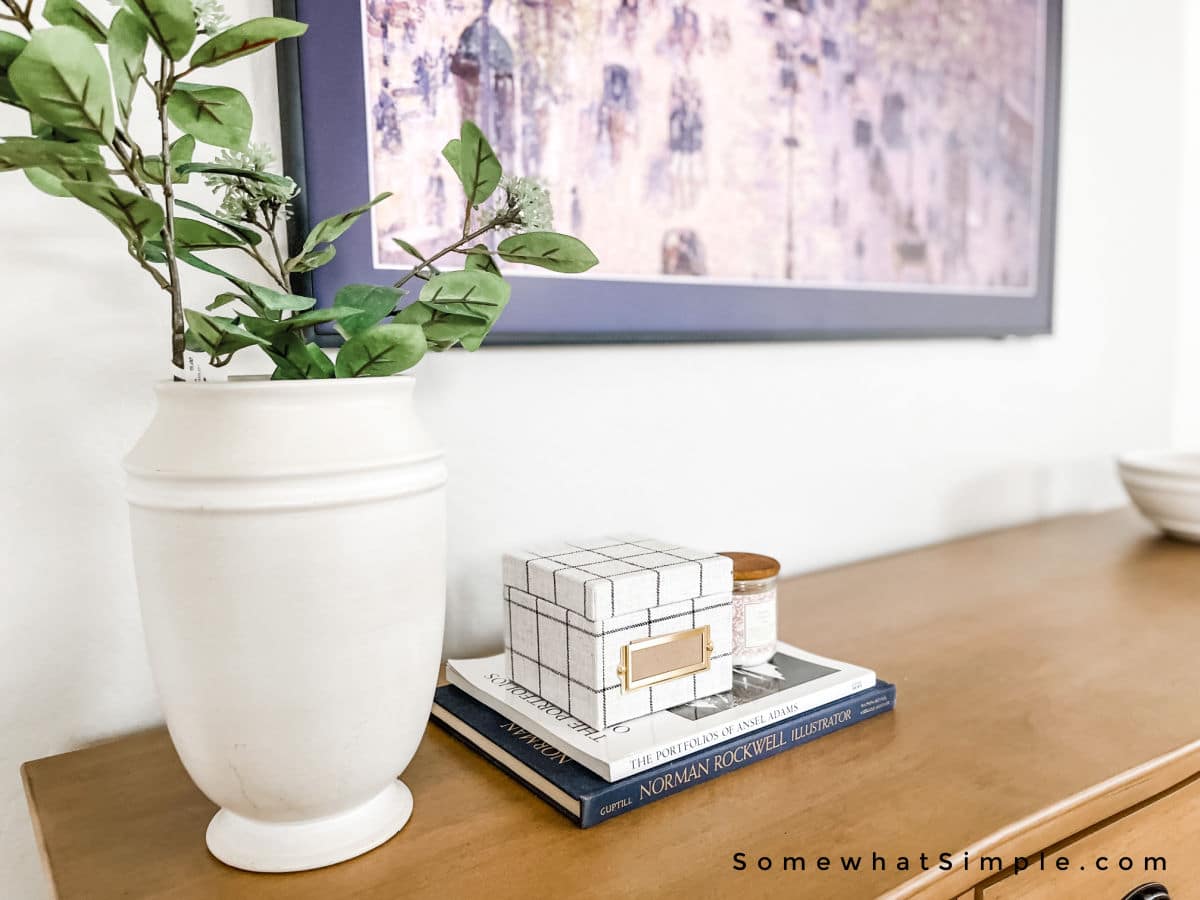 We hung a Frame TV on the wall behind our dresser that looks like art, but lets me stream all my favorite shows! (I'm pretty happy about this!) The top of the dresser has simple decor that is functional, too. I love the big white ceramic bowl for Rob to use as a drop zone. It hides so much more than our last thin tray did.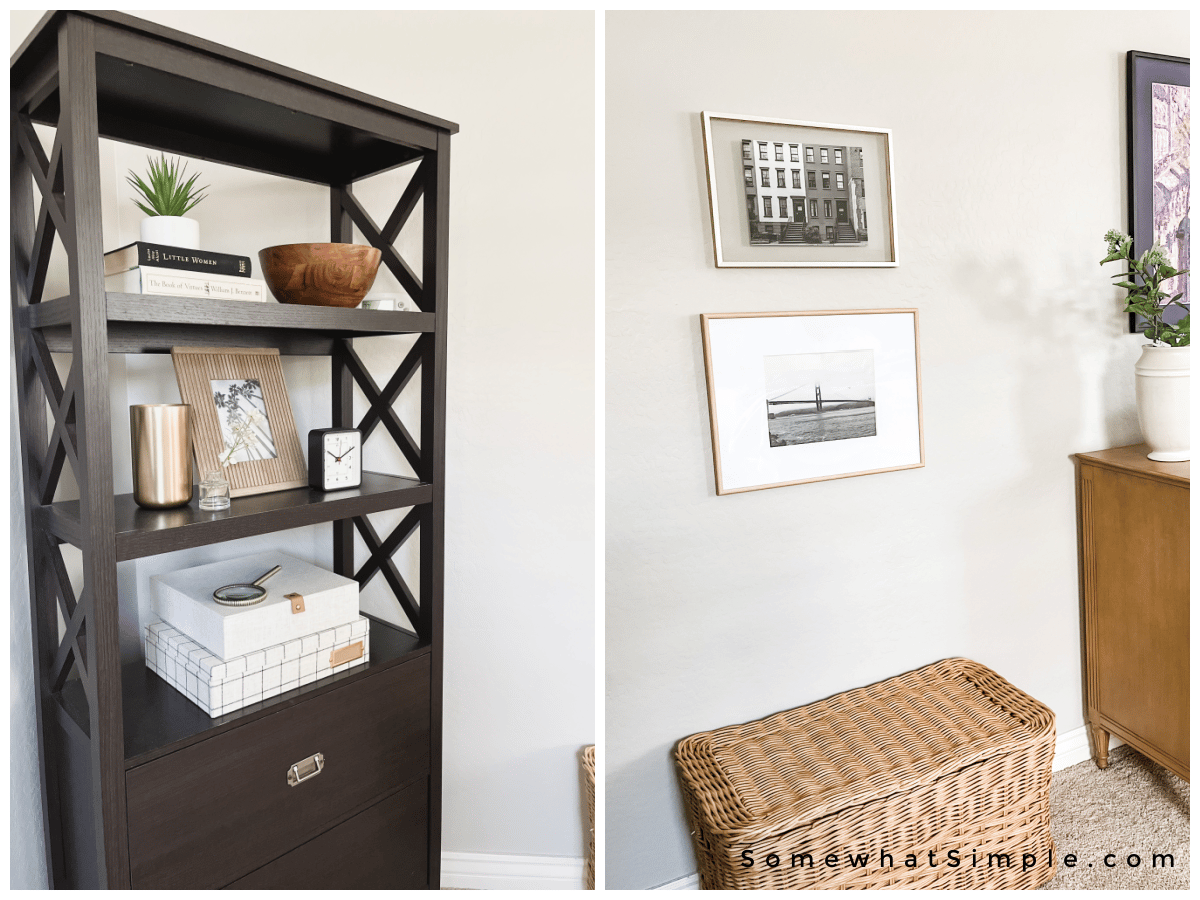 In the corner, I added a dark wood (almost black) shelf that used to be in our laundry room. I didn't want to bring in a bunch of books and decor just to fill the space, so I went with intentional pieces that I can use for storage. Those 2 drawers on the bottom are an extension of our dresser, and the lidded boxes hold my jewelry and personal items.
Between the shelf and the dresser is a lidded basket full of blankets that the kids use when watching TV, and two frames above it to fill the space on the wall without overcrowding it.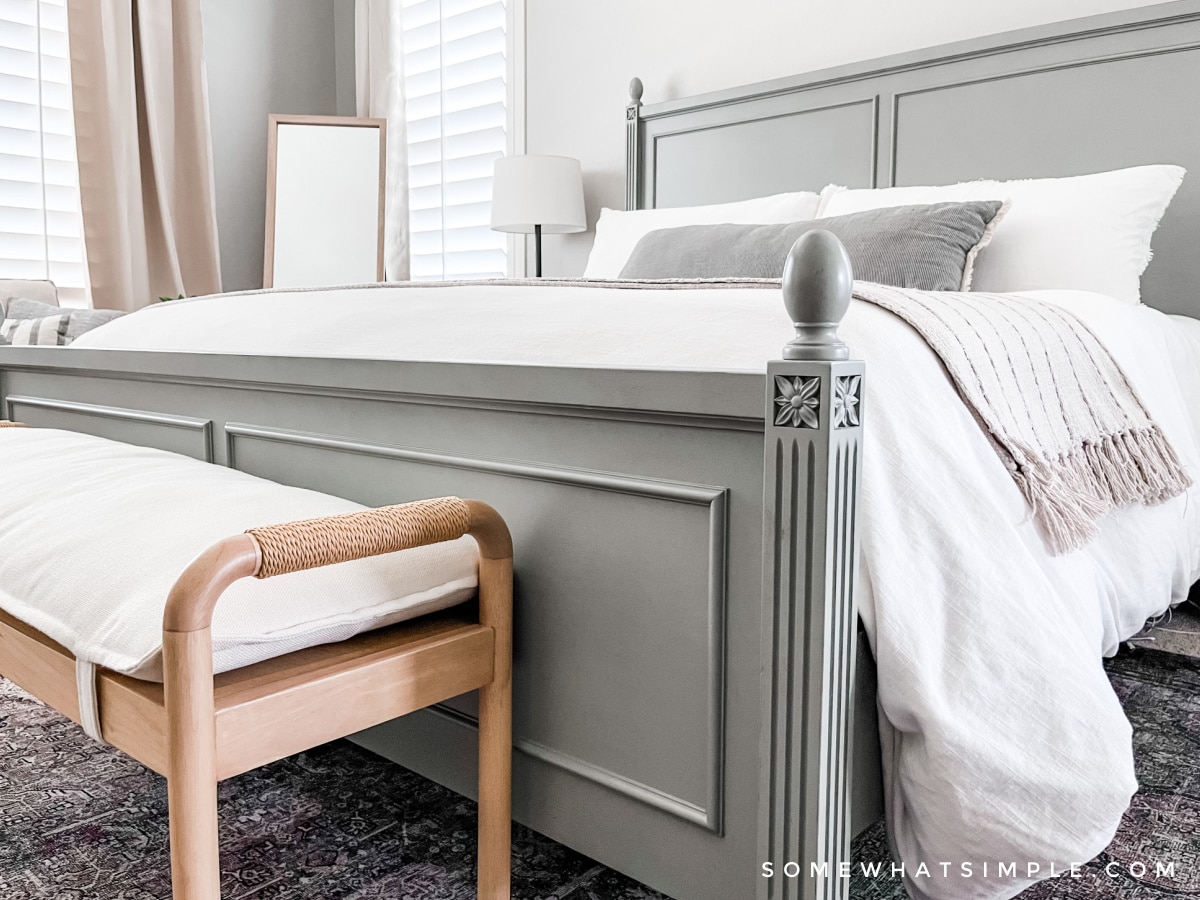 B is for Bed + Bedding
The next piece of the puzzle when designing your bedroom is settling on furniture and linens. Furnishings can be the most expensive part of any room makeover, but they're also the most important!
Once our old bed broke, we slept on a "temporary" mattress and box spring on the floor for 2 years. It was uncomfortable and unattractive, and I couldn't wait to change it up!
After two years of shopping, I finally found a bed that looks amazing in my room, and I got a mattress that makes going to bed my favorite part of the day!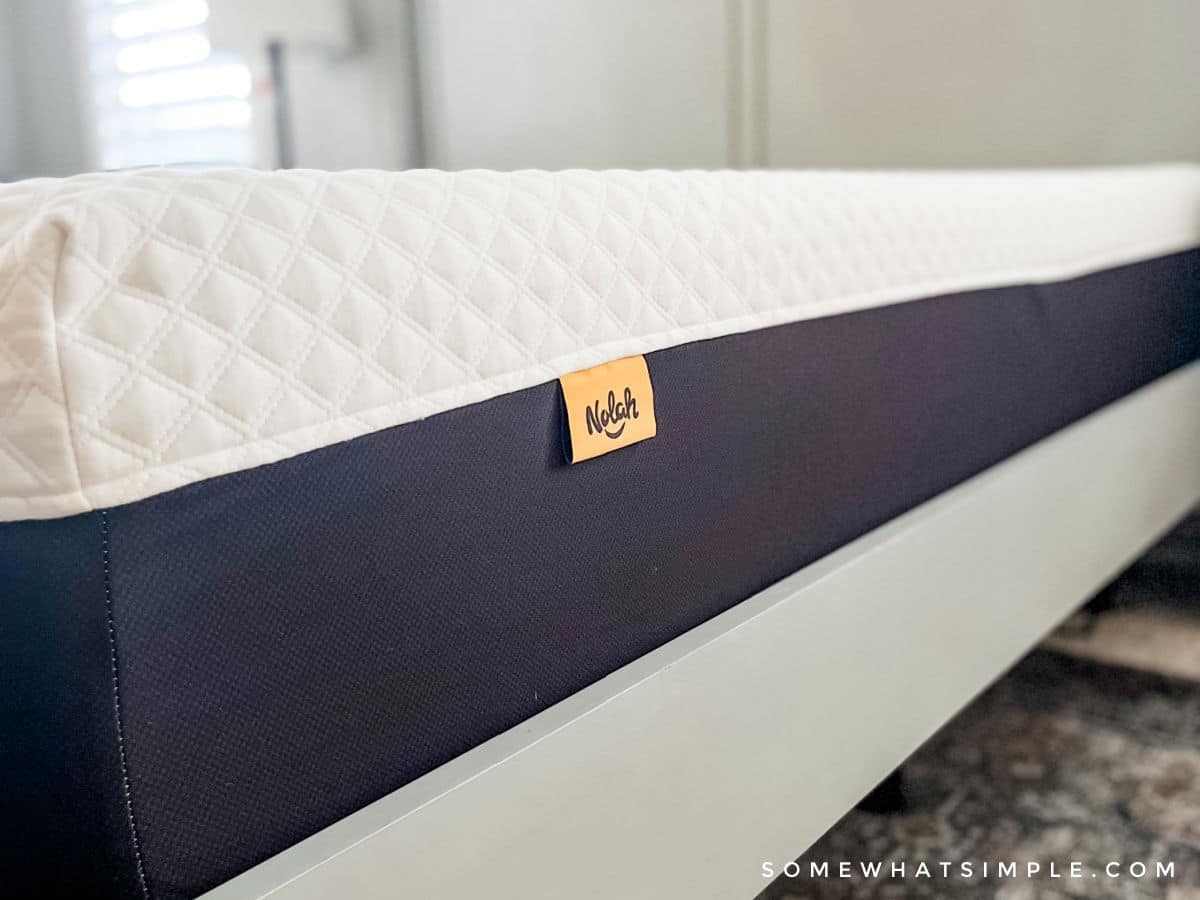 This is the Nolah Mattress, and it is the most comfortable mattress we've ever owned! Our last mattress was so hard and uncomfortable, so we decided to go with the 12″ Nolah Signature because it's advertised as the plushest mattress in the Nolah product line, and perfect for side-sleepers (that's me!).
This mattress is amazing!
I don't think my husband could care any less about the decor updates I've done in our bedroom, but he still tells me every couple of days how much he loves this mattress.
Climbing into bed feels fantastic when you have a mattress that provides the perfect amount of body contouring. Waking up with back pain isn't a problem for us anymore!
Nolah mattresses are made with 100% temperature neutral foam guaranteed to sleep cooler than any memory foam mattress. Compared to memory foam mattresses, Nolah's AirFoam™ provides 400% less pressure on the sleeper's hips and shoulders, which helps remove pains from sleeping on your side and back. All mattresses include a 120-night trial, lifetime warranty, free shipping & returns, and are 100% made in the U.S.A.

www.nolahmattress.com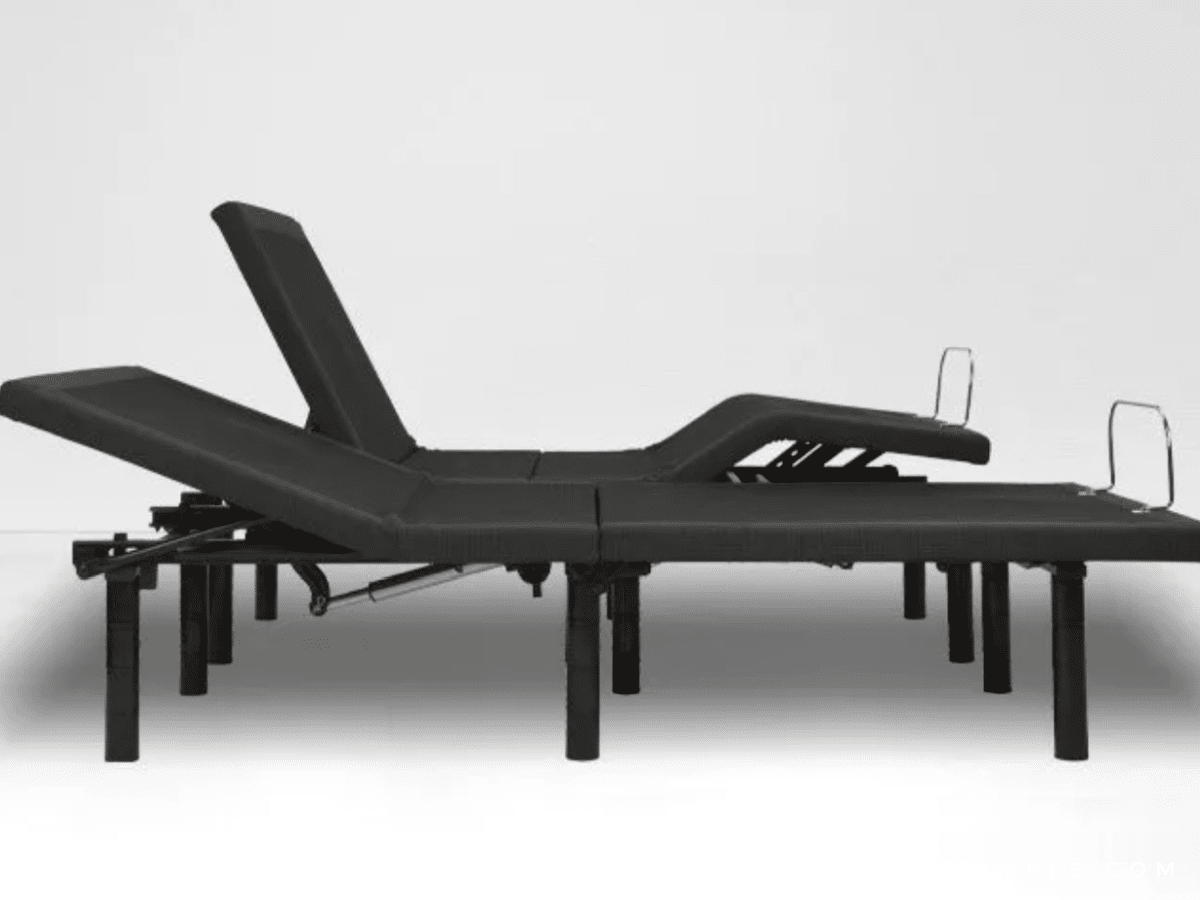 In addition to our mattress, we also got a Nolah Adjustable Base that fits perfectly with our new bed. This adjustable base comes with so many features! Built-in head/foot massage, weightless Zero-G position, dual USB chargers, and a nightlight underneath the bed.
Our bed has become a place for the whole family to hang out and watch movies. The option to elevate the head and foot of the bed is everyone's favorite feature!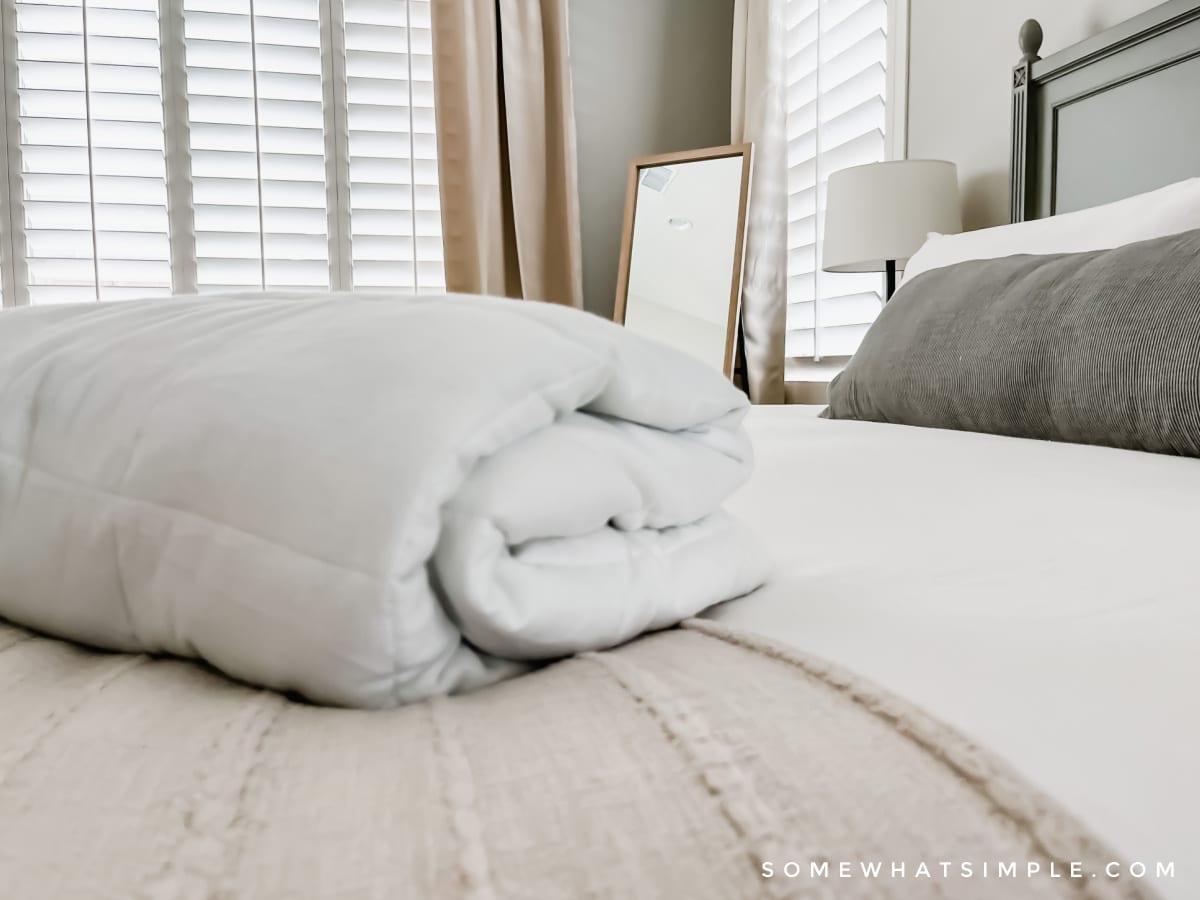 In addition to mattresses and bases, Nolah also sells pillows, mattress toppers, and bedding. I love a good weighted blanket, and the Nolah Weighted Bamboo Blanket is my new favorite! The silky-smooth bamboo cover is soft and cooling, and the weighted infill is calming and comfortable.
For more details on our new Nolah mattress, visit the Nolah Website and follow Nolah on Facebook, Instagram, and Twitter.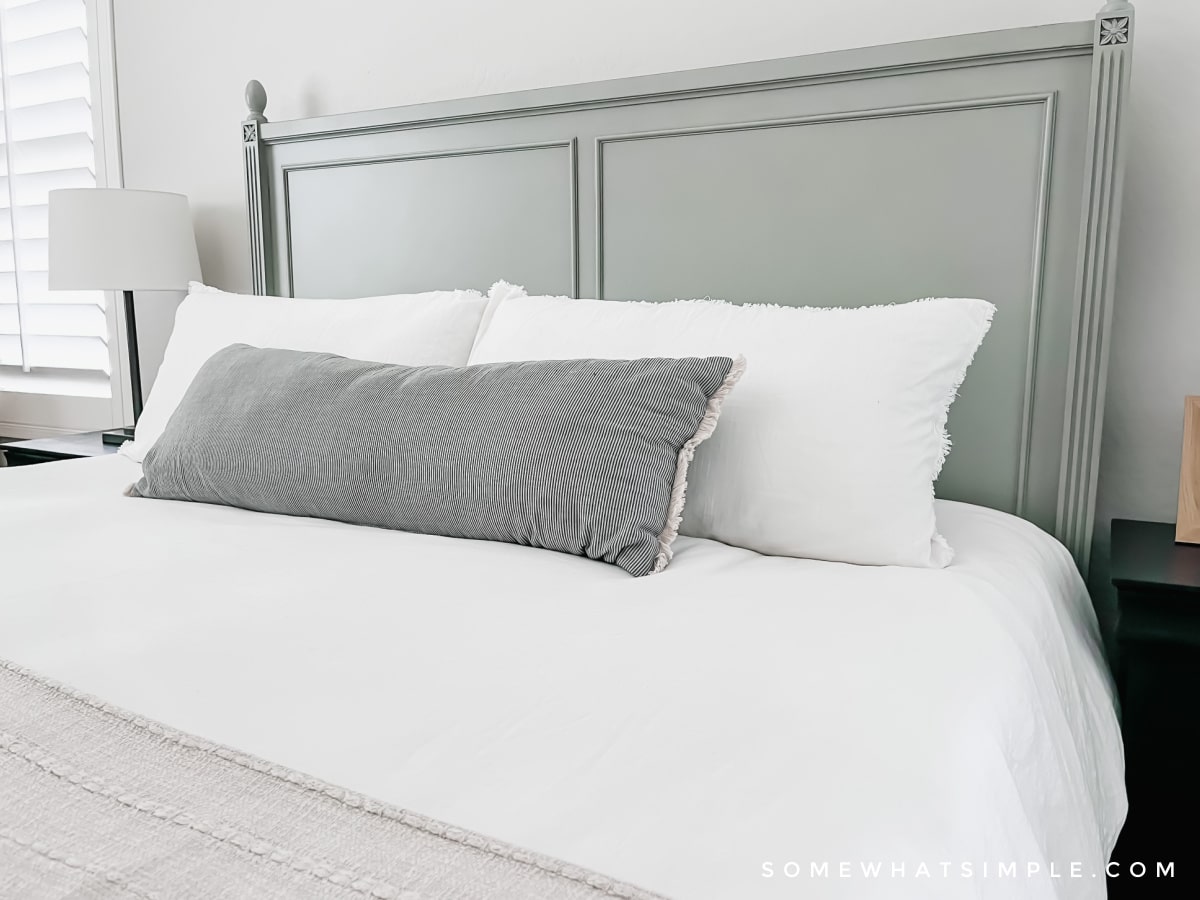 I've always loved white bedding because I find myself getting tired of a certain print or color quite often. It's easier (and more affordable!) for me to add color and design via throw pillows than it is to swap my duvet every time I want a change.
The white duvet cover I'm using is so soft and beautiful! It is crisp and clean, but the linen texture totally softens up the look so it feels fresh, but not cold.
Another design trend I find myself moving away from is the use of too many pillows. On my bed now are the 4 pillows we sleep with, and one long body/ throw pillow to break up all the white bedding- that's it! I love the simplicity of this arrangement – and my husband doesn't tease me about all the unnecessary pillows on our bed anymore! 🤪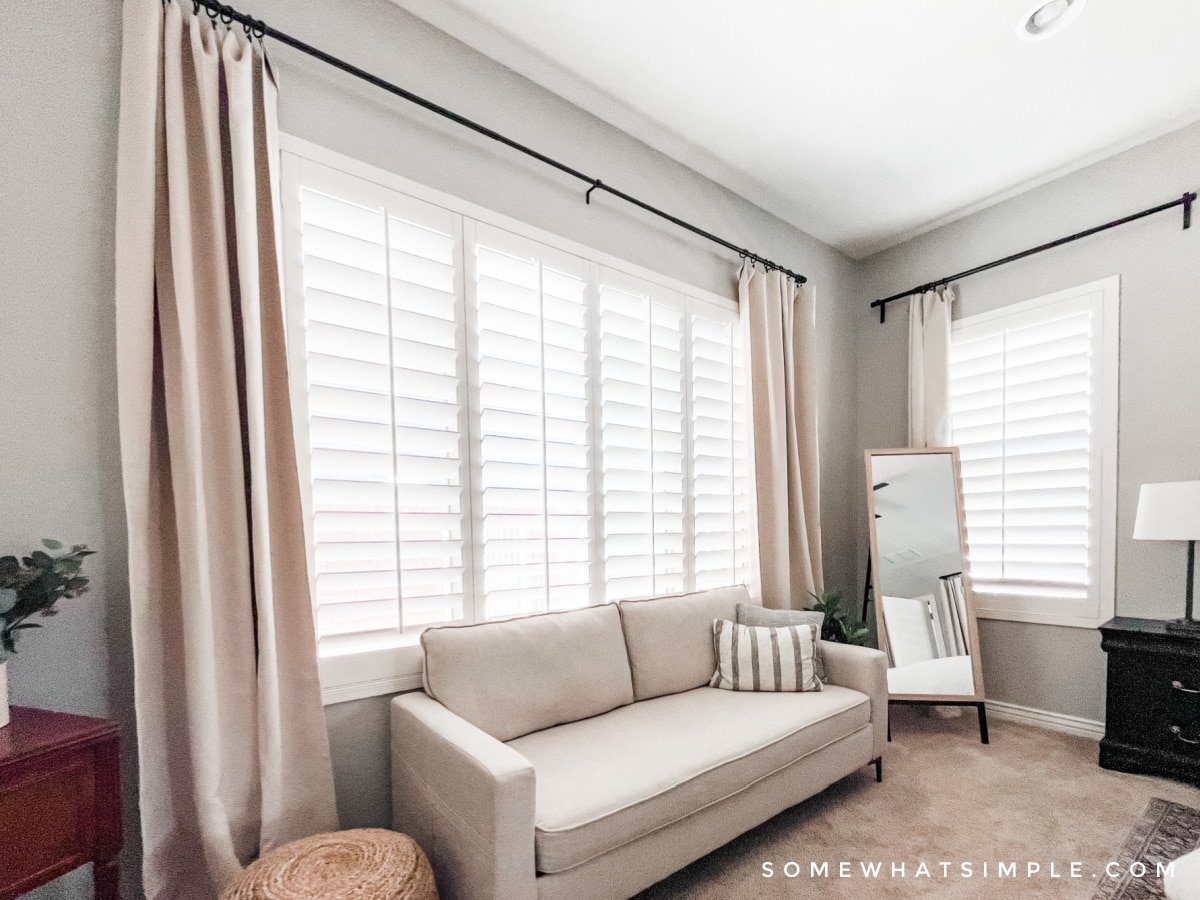 C is for Composition + Comfort
The last thing to consider when designing the perfect bedroom is composition (the layout) and comfort (all the things that make this space a place you'll want to get cozy in!)
This can often be the trickiest part of the design process, but it's also the one that I think is the most fun! Here are some helpful tips to consider-
Balance

+ Symmetry – Make sure your room has a balance of furniture + decor on each wall. You don't want an empty corner across from a corner stacked with heavy furniture – spread it out. Likewise, a room with furniture on the floor and nothing on the walls can feel bottom-heavy. Consider adding artwork, a statement chandelier, and/or curtains to balance the floor and ceiling. (I couldn't believe how adding some simple neutral curtains elevated my room and finished it all off. It looks amazing!)
Blank Space – It's important to give your eyes a chance to rest, so don't fill every inch of every corner with "things" if you don't have to! Take time during the design process to purge anything unecessary, and get rid of all the clutter you possibly can. A clean room is much easier to relax in.
Check the Flow – Furniture and decor placement should feel natural and not like a barrier. Does your door open into a bulky dresser? Are you constantly stubbing your toes on a nightstand? Is your bed hard to get into because there is too much "stuff" surrounding it? Make sure you have enough room for everything, and get rid of anything that doesn't fit or feel right. Try rearranging your furniture to see if a new layout functions better. You mught be surprised at how moving something from one corner to another can make your space feel bigger and more open.
Here are a few ways I added COMFORT to our primary bedroom: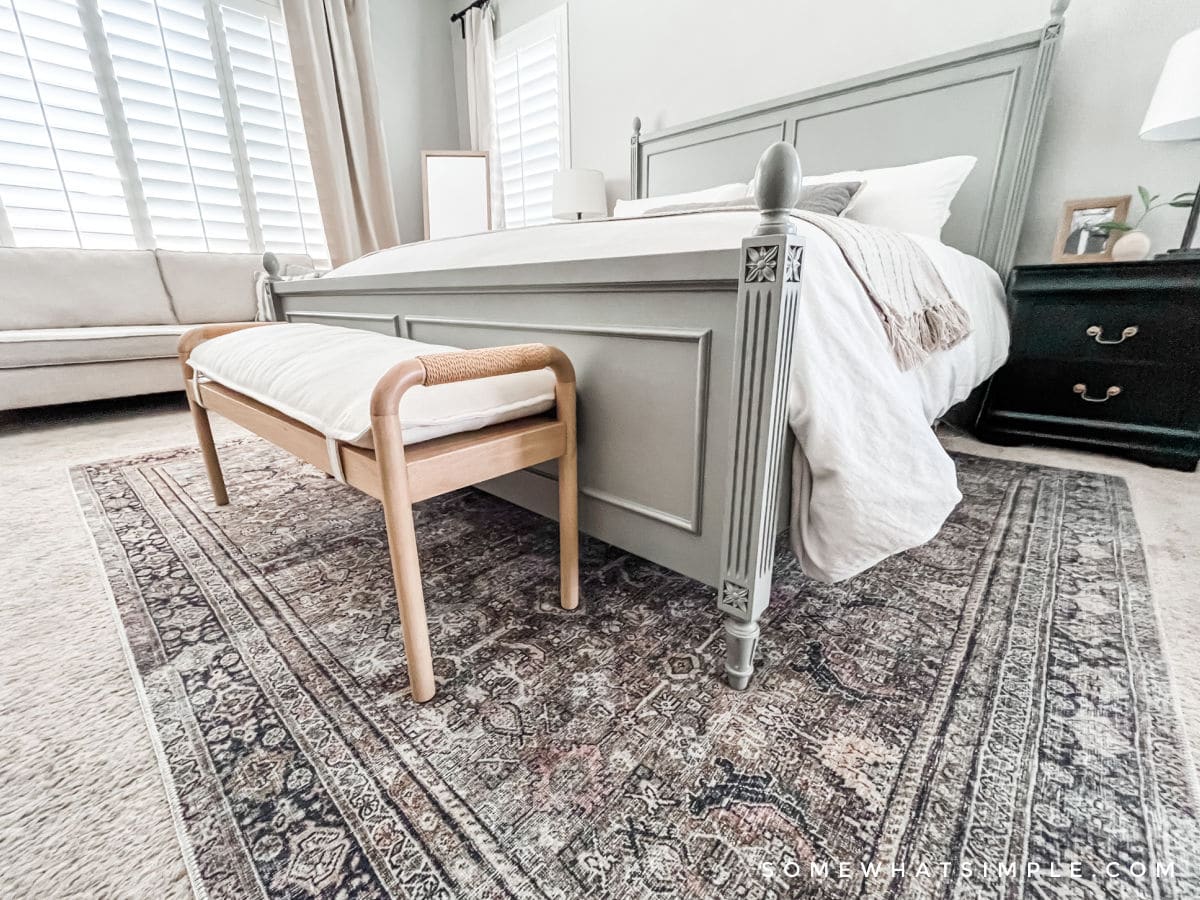 Our bed sits on top of a beautiful area rug that is not only comfortable under your feet but also adds some color and dimension to an otherwise neutral area. I think every bedroom should have one!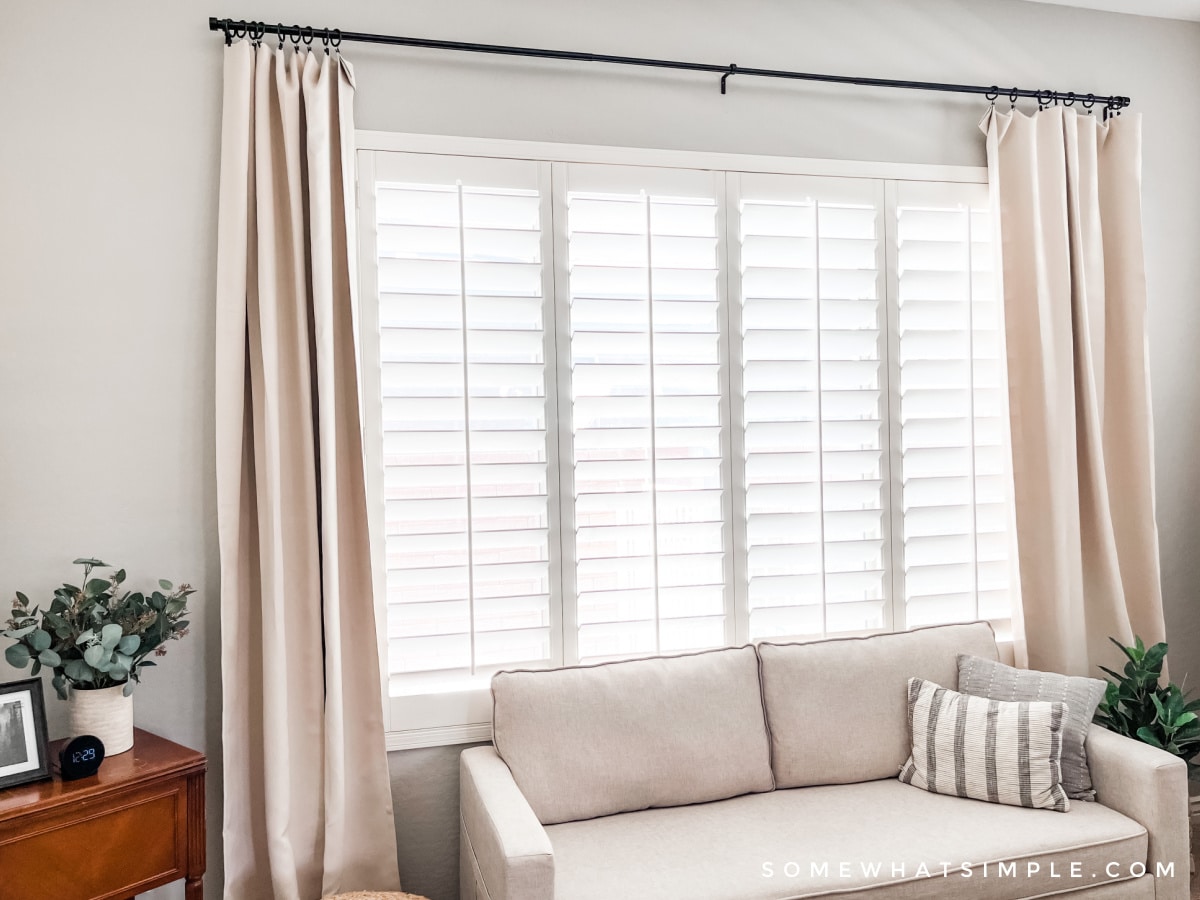 I added a neutral-colored couch under our large bedroom window to fill the space and add a cozy seating area where we can kick back and relax.
This couch has also served as a bed for my younger kids when they come into my room in the middle of the night after a bad dream. (Much better than them sleeping on the floor, right?)
Shop this post
Here are affiliate links of the exact, or similar, products I used in this primary bedroom –
for the first half of the room –

for the second half of the room –

This primary bedroom is an important part of our home and I LOVE the way it has come together. It's also proof that you don't need to spend a fortune to create a masterpiece where you can relax and unwind!