Today is the anniversary of one of the most devastating days in American History.
Anyone who was alive to witness this day will never forget what they were doing and how they felt when those spineless killers attacked our great nation.
I was a newlywed working full-time while Rob was finishing his degree at BYU. I got into work just after 7am and watched the 2nd airplane hit the World Trade Center on CNN.com with my coworker.
My stomach was sick, I was sad and I was scared.
Minutes later, my entire office shut down and we all went home to be with our families.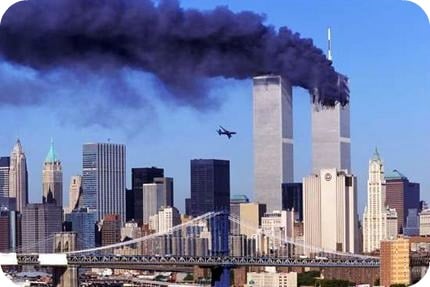 I spent that day glued to the television, sitting right by the phone.
The rest of my family was still in California and I felt so far away from home.
LAPD called up all their officers and prepared for disaster as speculations of an attack in LA grew.
I was never so worried about having my dad be a police officer as I was that day.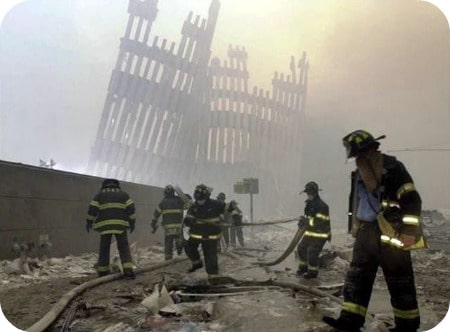 The images of the devastation in New York burned deep in my mind.
Grown adults sobbing over the piles of rubble that once formed the peaks of the city's skyline.
Firefighters and service men who were made heroes that day- saving perfect strangers, helping the wounded and witnessing the loss up close and personal.
All the families who said goodbye to their loved ones that morning, not realizing it would be their last chance to hug them, to kiss them, and to see their smiles.
The sadness was overwhelming and I spent a long time fearful of what was going to happen next.
That selfish group of men took away our nation's sense of security.
They forced FEAR into tearful eyes.
They put WORRY into wounded hearts.
They added DOUBT into clouded minds.
It was all a part of their plan and in their eyes–
they were winning.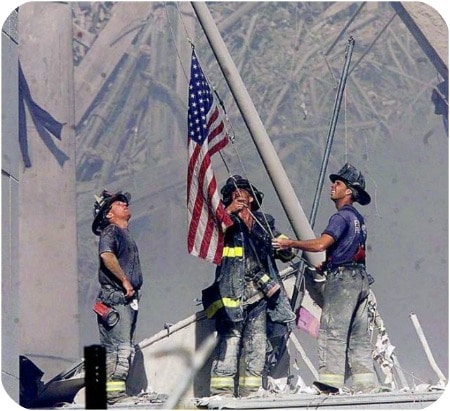 Yes, their selfish acts would forever change our nation,
but what they didn't realize is that they were making us stronger.
They put our country through a refiners fire–
adding a protective PRIDE to our teary eyes,
a sense of  UNITY to our healing hearts,
and a feeling of  HOPE  to our clouded minds.
Americans came together stronger than I had ever witnessed.
There was unity, their was strength, their was pride and there was healing.
One Nation under God, Indivisible.
…
I'm completely in love with this design, made by my sweet friend Lara from Less Cake More Frosting.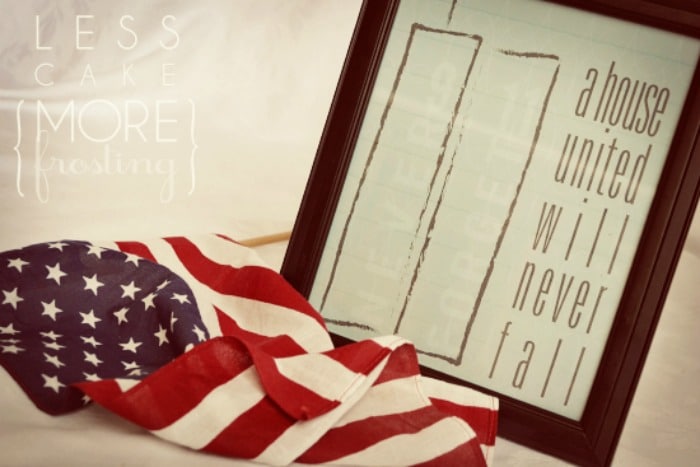 It's inspired by Lincoln's speech "A House Divided" in 1858 at the Illinois Republican National Convention.
She is offering this printable as a a free download on her site. What a great way to remind us all of the anniversary of that day and instill a sense of pride and unity every time you see it!
…..
In memory of those who sacrificed all they had,
in honor of those who fought for our freedom
and in tribute to ALL Americans–
who united together and were triumphant over tragedy,
I will never forget.