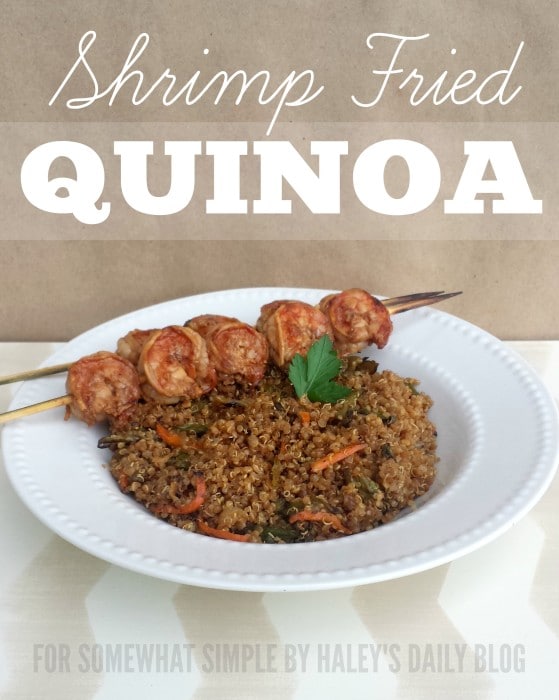 Shrimp Fried Quinoa….my favorite new favorite alternative to traditional fried rice. It fills any take-out cravings you might have, it tastes just as good and it is actually healthy! And let's talk shrimp. This shrimp is totally delicious enough to stand on it's own. If you don't eat shrimp, you could use pork instead. And if you don't eat any meat, forget about the Shrimp Fried Quinoa and just have Fried Quinoa! Either way, your taste buds are going to fall in love!
Shrimp Fried Quinoa
INGREDIENTS FOR THE SHRIMP:
1 1lb. shrimp- peeled and deveined
1/3 cup. hoison
2 tbsp. oyster sauce
2 tbsp. soy sauce
2 tbsp. honey
1-2 tbsp. sriracha
DIRECTIONS FOR THE SHRIMP:
Mix all the liquid ingredients in a zip top bag and add the shrimp. Marinate for at least 30 minutes.
Skewer the shrimp and cook on the BBQ, until just cooked through. It will only take a few minutes on each side. Set aside.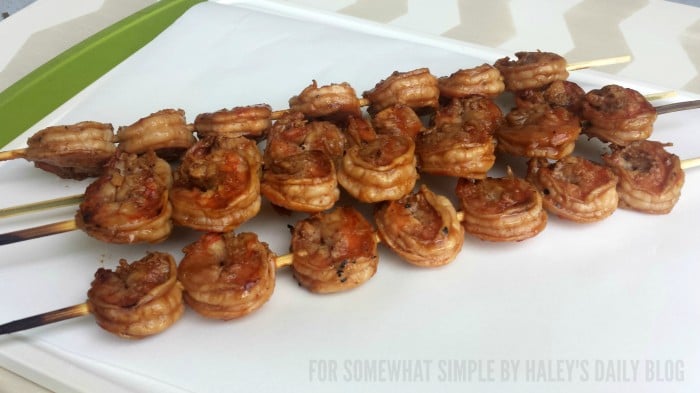 INGREDIENTS FOR THE VEGETABLES & QUINOA:
2 cups of dry quinoa, cooked according to package directions*
1 onion- finely chopped
1 large carrot- thinly sliced into 2 in. strips
1 bunch asparagus- thinly sliced on the bias (diagonally)
1 bunch green onions- thinly sliced on the bias
3 tbsp. hoison
1 tbsp. oyster sauce
1-2 tbsp. sriracha
1-2 tbsp. olive oil
salt & pepper, as needed
*For a little extra flavor while cooking your quinoa, use chicken broth instead of water and you can add a few tablespoons of hoison and a tablespoon of sriracha.
FOR THE VEGETABLES & QUINOA:
Toss in all vegetables and stir-fry over high heat. Season with salt and pepper. Make sure you don't crowd the pan or the vegetables will get too soft.
Once the vegetables are all cooked, remove from pan and add a couple tablespoons of oil and heat to high.
Add the cooked quinoa to the pan and stir-fry for a few minutes.
Add the hoison, oyster sauce and sriracha and mix in. Cook until the quinoa starts to get a little color and crispy.
Add the veggies back to the pan and cook for just a minute until the veggies are heated through.
Serve with the shrimp skewers or some store-bought spring rolls & ENJOY!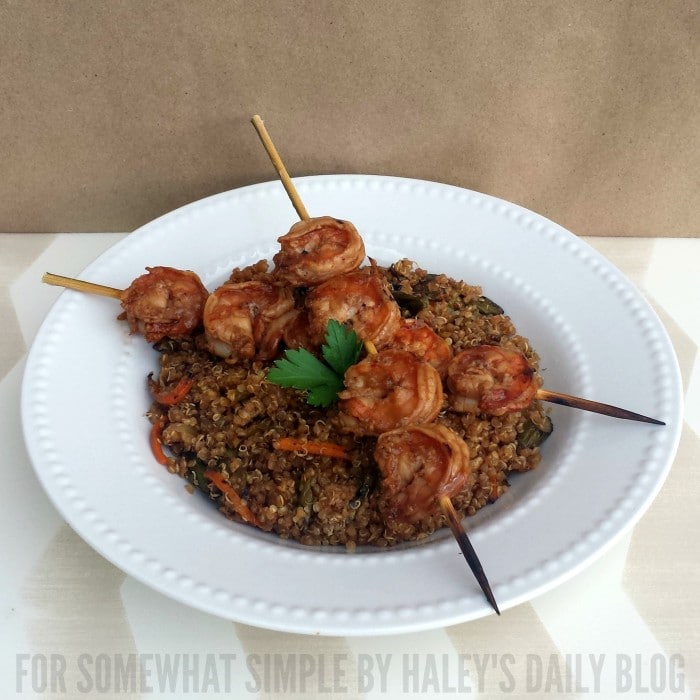 This meal is so full of flavor! I hope you like it!
. . . . .
If this recipe looks good to you, be sure to try my DIY Sushi California Rolls. And for more easy, delicious, better than take-out recipes, stop by my site, Haley's Daily Blog.