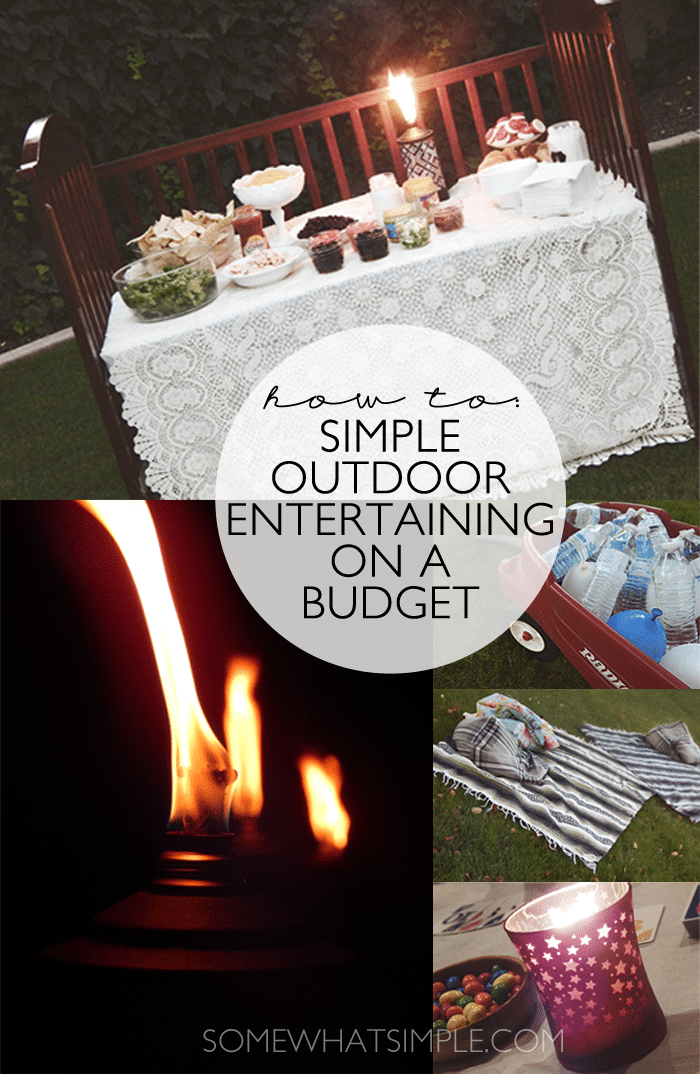 Anyone else get the itch to eat outdoors when the weather starts to warm up? I'm seriously so obsessed with outdoor gatherings on beautiful nights. However, entertaining outside can get a little overwhelming, and pricey. So here's a few ideas for simple outdoor entertaining that are inexpensive and stress-free!
Remember, most people love to munch and mingle. You don't need anything elaborate, just a place to eat and visit! Your guests will more likely remember the fun they had visiting with you + friends, verses whether or not you sprung for the $50 organic fruit platter, or threw together some fruit in a bowl.
So here are the basics you want covered:
· Food/Drinks
· Lighting
· Seating
· Games
· Bug Control
Let's get started!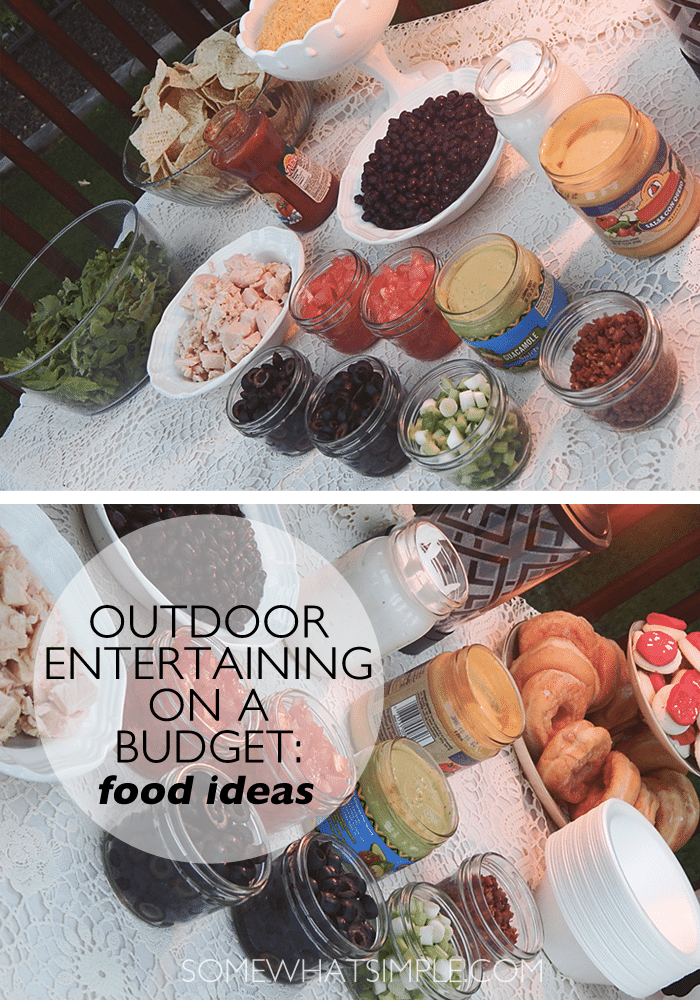 FOOD. This can get pricey, very quick. So don't be afraid of the ever-successful potluck. You can make the assignments, or just go with the flow! Other ideas are to check the ads for sales to determine what you'll serve, go with a food "bar" theme, do a pie or dessert night, or have a BBQ where you supply the burgers, and everyone brings a side. Just keep it simple. You'll thank yourself later.
Step it up a notch: Get creative with your food 'station'. Grab some old furniture, don't be afraid to bring indoor furniture outside, like I did with this old crib: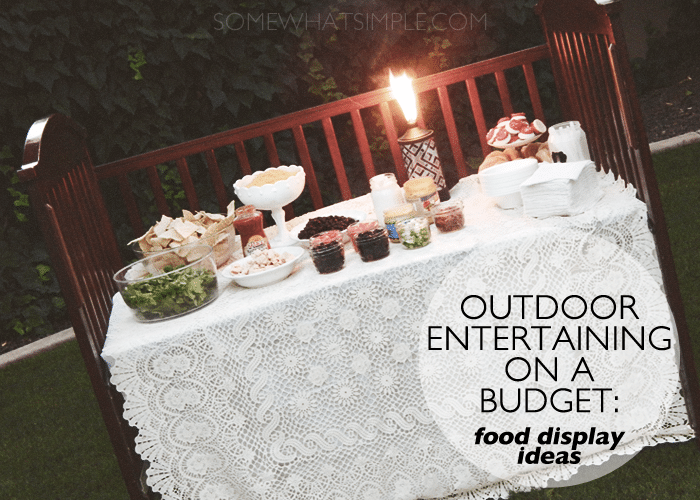 Mason jars are the workhorse of the kitchen, most of us have a bunch already (or are fairly inexpensive to buy brand new), and come in all different sizes. Consider using them to serve condiments, toppings, hold your cutlery, etc.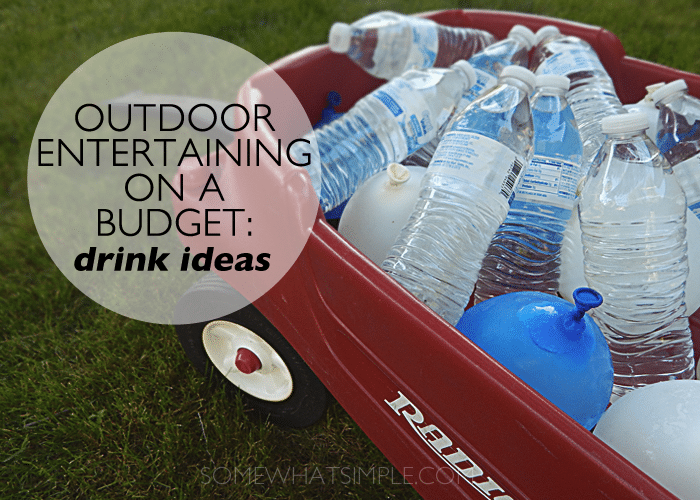 DRINKS. Especially if you're serving yummy food, you're gonna want to make sure there's at least water to drink. You can throw a bunch of water/juice pitchers together and serve lemonade or lemon water (make sure you have cups available). Or just grab a bunch of water bottles + sodas and throw them in a large container.
Step it up a notch: Look around your house, garage, and yard for a large container. Throw your drinks in a wheelbarrow, wagon, kiddie pool, or flower box with some ice, and you've got instant awesomeness! Freeze some water in balloons, and you've added instant class and color to your drink 'station'.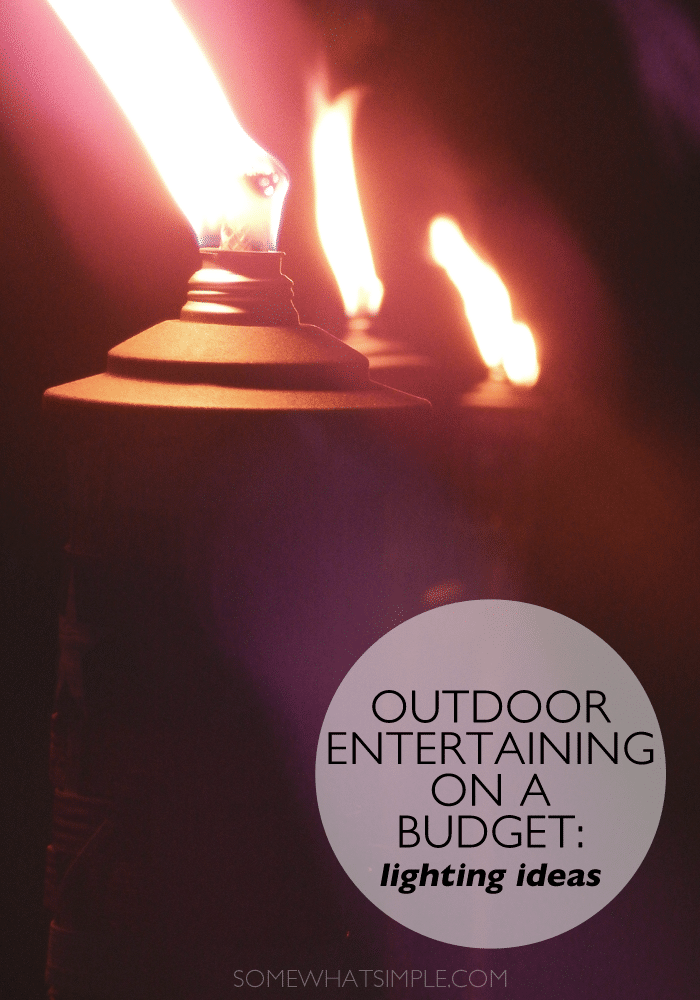 LIGHTING. Because you never want to have a conversation go like this: "Hey, Marge! So how's that rash healing?" "I'm not Marge. And she has a rash? Oh my gosh! I had no idea!". That would be awful. So make sure your guests can see, so they're not divulging sensitive information to the wrong person. 😉 Make sure those lightbulbs are all working there on the back porch.
Step it up a notch: Grab some old white Christmas lights and string them around the yard or porch. Another great way to add light is using candles. Hurricane Candles + Wax Buckets are perfect for tables, while the TIKI Torches are perfect for staking around the edges of your outdoor space.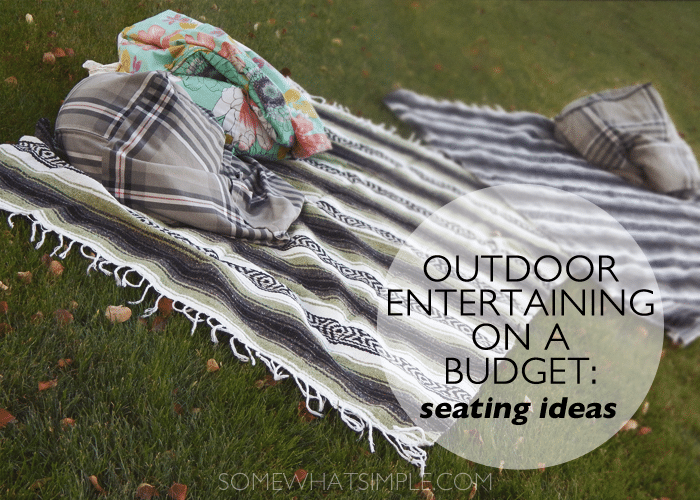 SEATING. You want your guests to be comfortable. And even though you might not mind standing around and chatting, there might be others who do. So make sure you've got enough seats for your guests.
Step it up a notch: Look inside your home. Don't be afraid to bring out those dining room chairs, the piano bench, or bar stools. If you've got grass, lay out some blankets or sheets. Throw some pillows or poofs on them to up the comfort level. Also, if you're the responsible type, borrow from the neighbors. 😉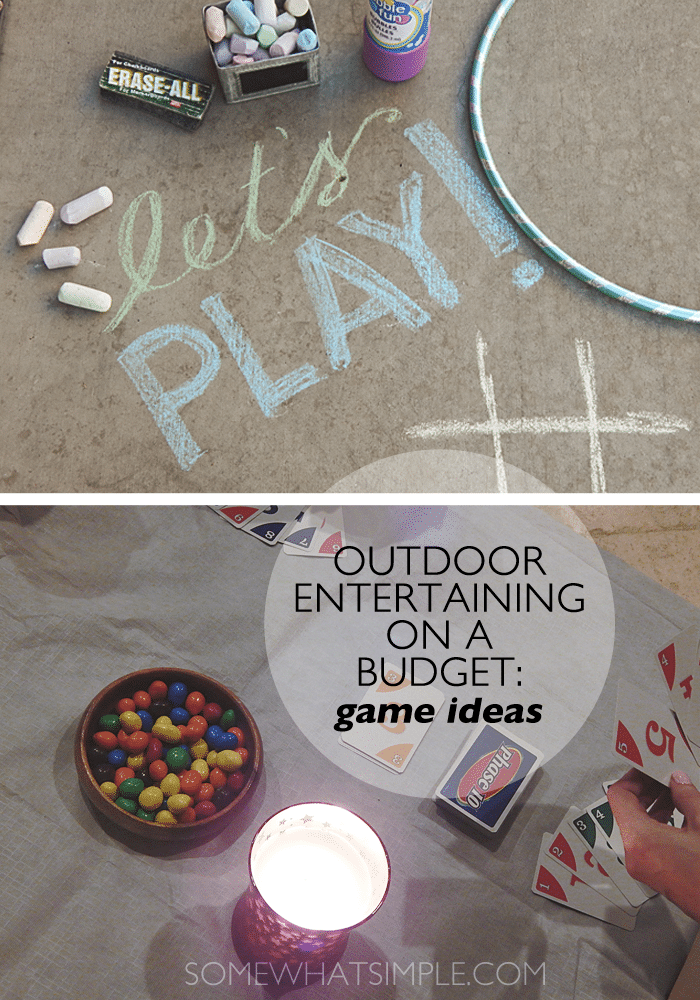 GAMES. There's no need to go out a buy a brand new croquet set (unless you've yearned for an excuse to buy one). There's games like charades that require just a little preparation, or just have some card games at the ready. If children are attending, perhaps a basket of frisbees, footballs, hula-hoops, sidewalk chalk, or bubbles wouldn't be a bad idea to have available.
Step it up a notch: Have packs of different card games, with small bowls of candy on the table for your guests to enjoy!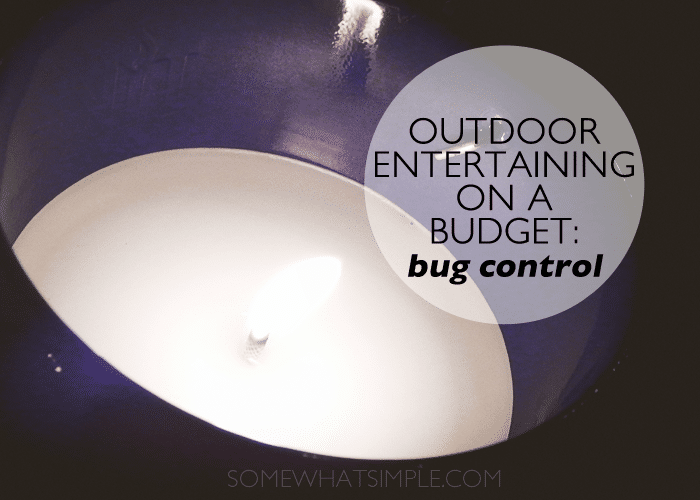 BUG CONTROL. Seriously. Nothing ruins a night of fun + games like the pesky mosquito and his band of buggy brothers. Having TIKI Brand candles + torches lit during your backyard bash is a must! I love that they pull triple duty: they're decorative + look nice, they provide lighting to avoid awkward conversations, and they help keep those pests away! (By pests, I mean bugs. Not the neighbor's over-enthusiastic, bark-happy, chihuahua. Sorry.)
Step it up a notch: Actually, you don't need to. TIKI Brand has you covered with their trendy designs! *fist bump*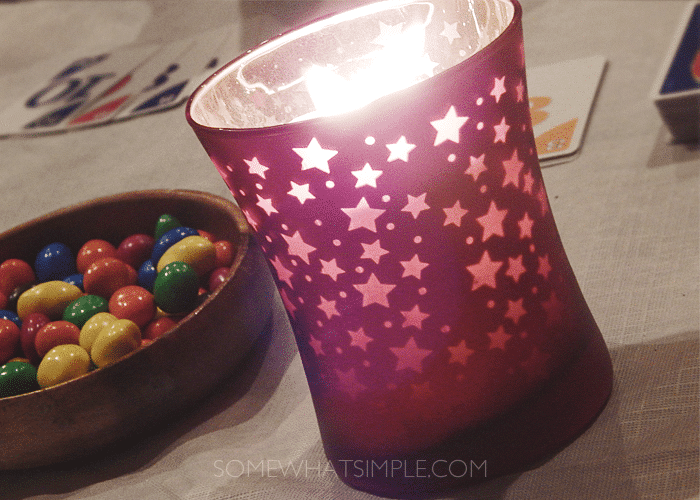 ***
Ready to start planning your next budget friendly, low-stress, Outdoor Event? We'll help you get started!