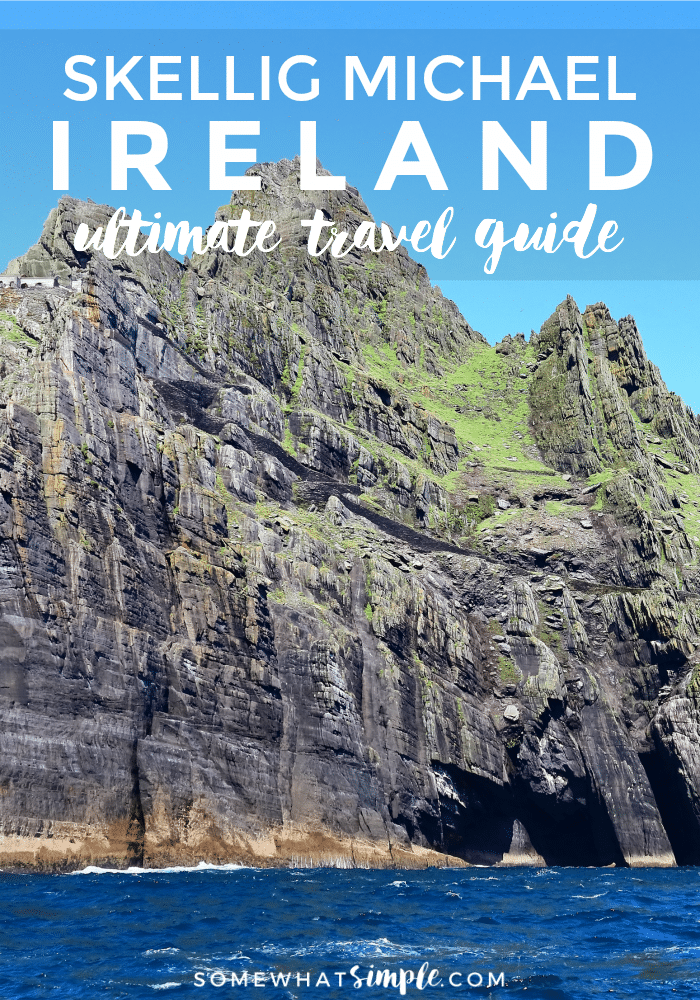 Skellig Michael in Ireland is one of the most amazing places I have ever been. If you ever have the opportunity to travel to Ireland, this has to be on the top of your list of things to see while you're there.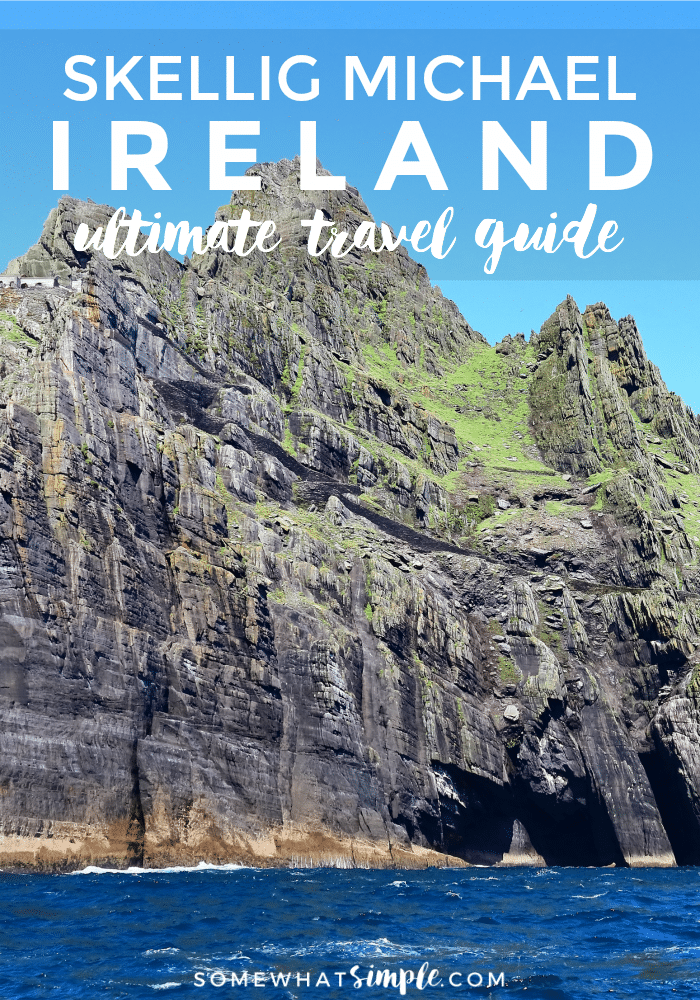 Skellig Michael is an island located about 8 miles off the coast of Kerry, Ireland. Skellig Michael was recently featured in two of the Star Wars movies and has quickly become a popular tourist destination. (But you don't have to be a Star Wars fan to enjoy this spectacular island – just ask my wife!) On our trip to Ireland we had the opportunity to visit this incredible place and it was easily the highlight of our trip.
While the video doesn't do it justice, it will give you a better idea of what you will experience when you visit the Skellig islands.
Skellig Michael Tours
Ireland has limited the number of people who can visit Skellig Island each day. The only way you are able to visit Skellig Michael is by booking a Skellig Michael landing tour with a company that is authorized to dock at the island.
There are several companies that offer tours around the island so you can see it up close, but they are not be able to drop you off. When you are booking a tour, be sure that it is a "landing tour".
There are approximately 8 boats that are allowed to dock each day and each boat only carries 10 people. Because of the Star Wars movies, these tours fill up extremely fast and you will need to book them months in advance. My advice would be to book your tour tickets the minute after you buy your plane tickets to Ireland. Keep in mind that these tours only operate between the months of May through September.
Click HERE to book your Skellig Michael Tour
Almost every tour company leaves from the small town of Portmagee around 9am. There are a few lodging options in Portmagee; however, we decided to stay in Killarney the night before. If you stay in Killarney, plan on giving yourself an additional 90 minutes in the morning to make the drive to Portmagee.
Skellig Island
The boat ride from Portmagee to Skellig Michael takes about an hour and the ride can be choppy. If you get motion sickness, be sure to take medicine before you go or bring a plastic bag. Don't let the ride out discourage you though, it is more than worth it! You will be greeted by this amazing view when you arrive.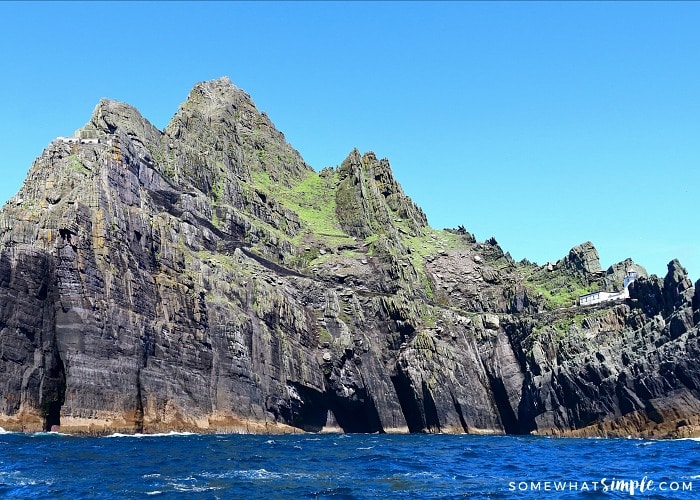 Skellig Michael was inhabited by monks dating back to as early as the sixth century. These monks built stone staircases that start at the base of the island and reach all the way to the top where they built a small settlement. Once you arrive you will climb over 600 ancient stone steps to the top.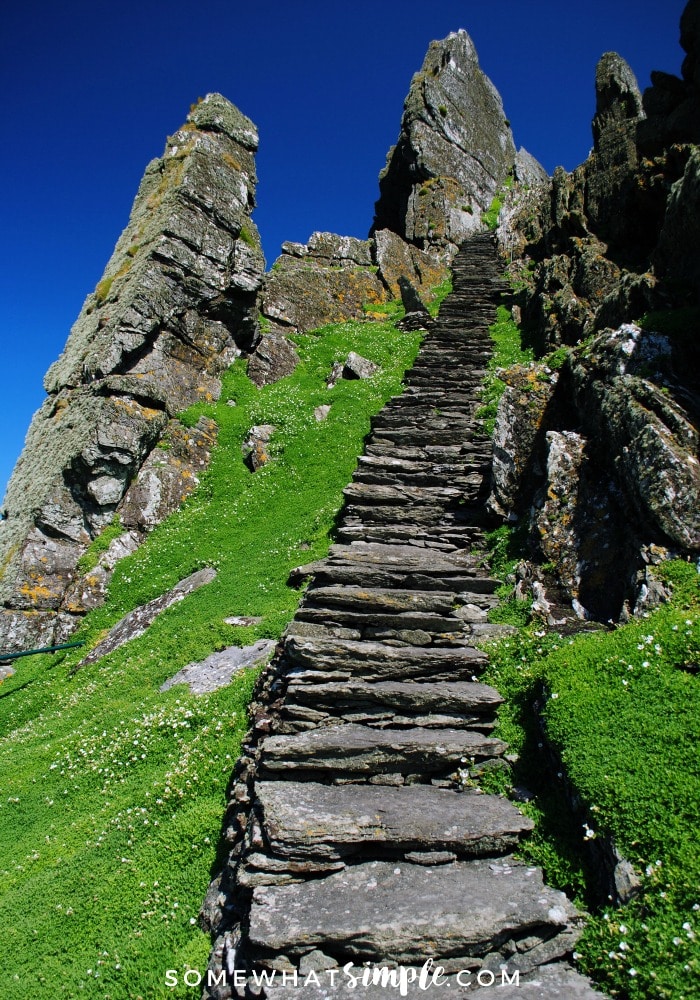 There will be plenty of time to reach the top, so take your time and be careful. The stones can be very slippery, especially if it has been raining. Along the way you will see thousands of puffins flying around and nesting along the cliffs. This is one of the few places in the world where you will get to see these birds up close.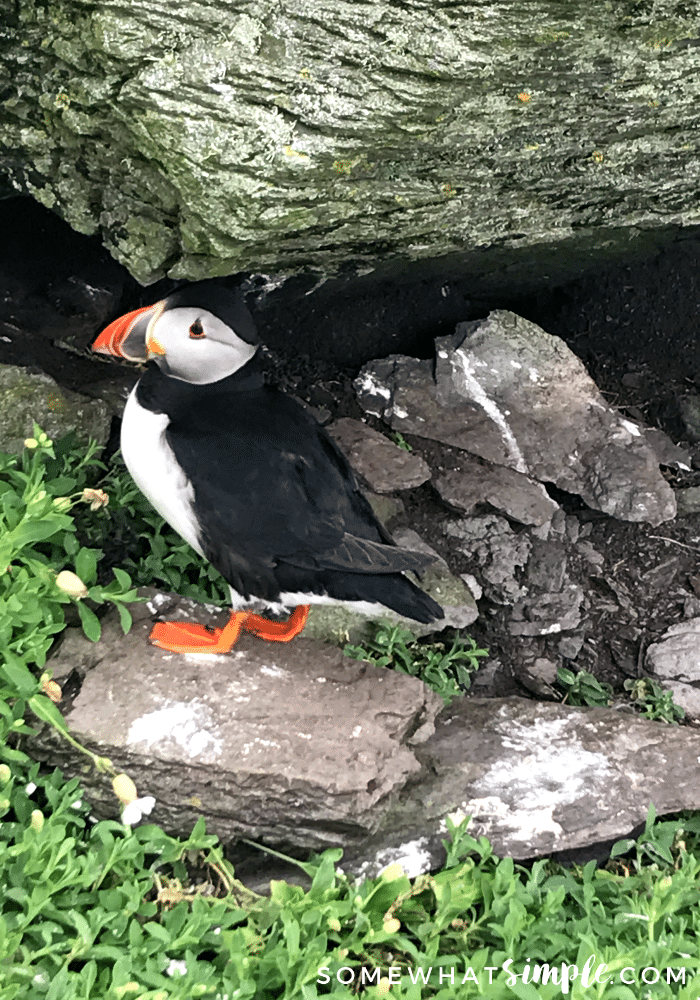 Breathtaking Views
Once you get about two-thirds of the way up you will arrive at the spot where they filmed scenes from Star Wars: The Force Awakens. From here the views are absolutely breathtaking!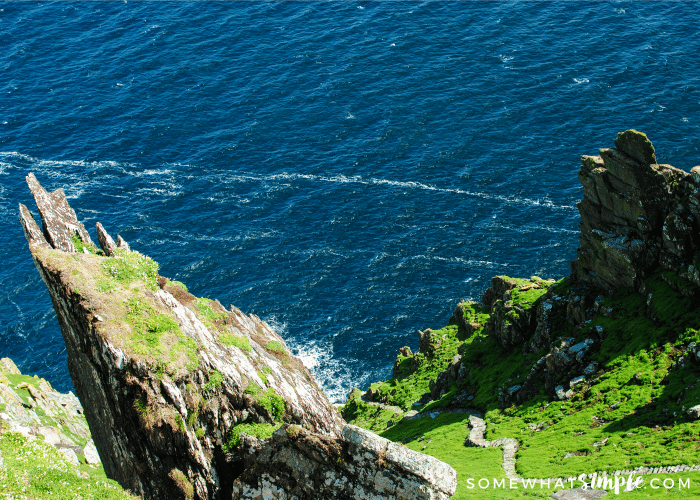 After you catch your breath and enjoy the scenery, there's one final staircase to climb to reach the top. At the top you will find a few small houses and buildings constructed by the monks over a thousand years ago. It's incredible to think about how they built these structures so long ago. It's amazing they have survived hundreds of years in such a remote location.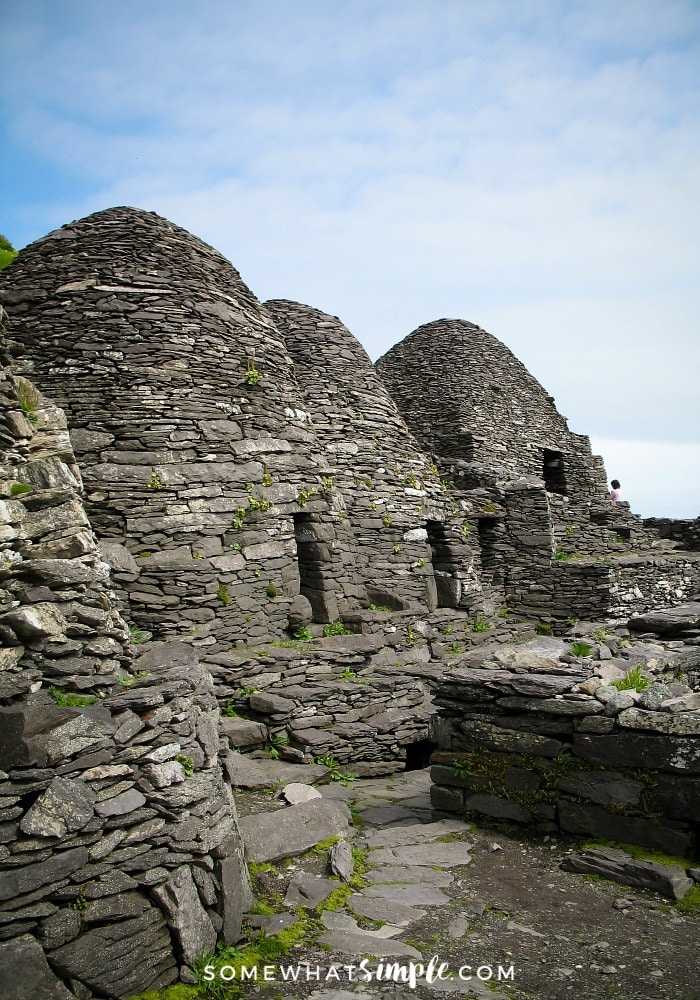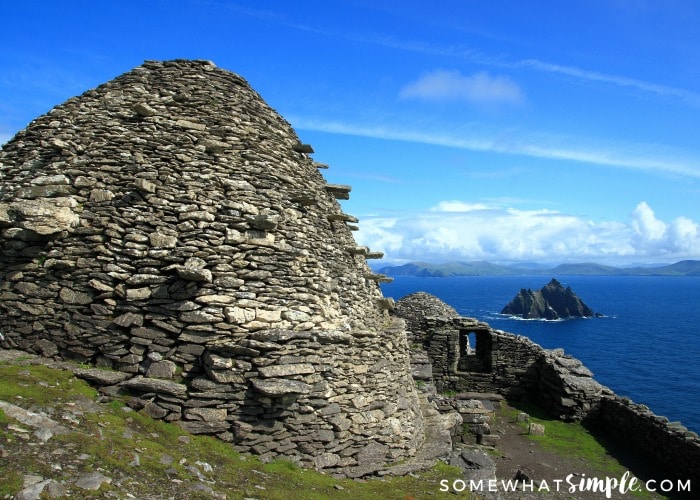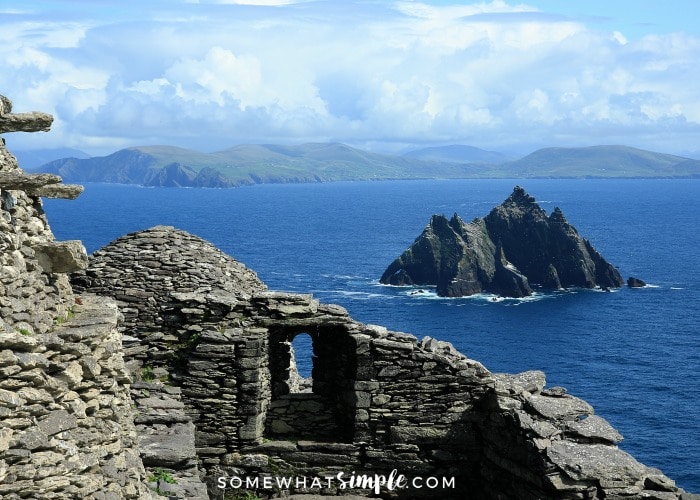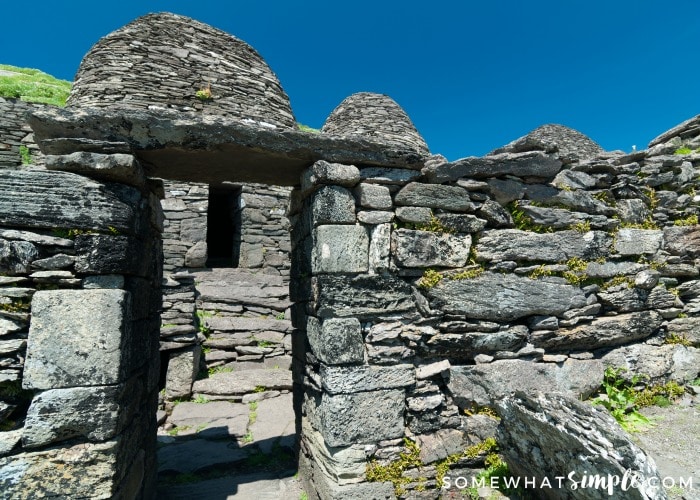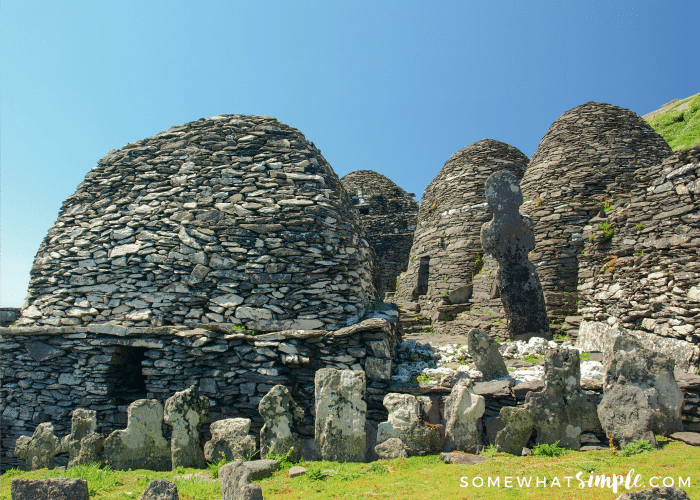 Skellig Michael was absolutely an amazing place to visit and should be added to everyone's travel bucket list!