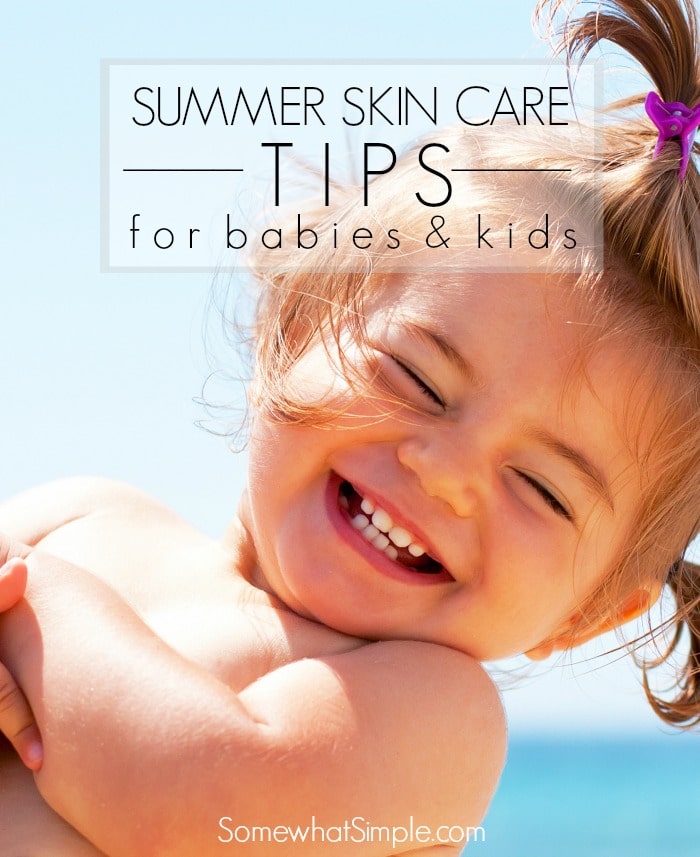 Is there anything better than the soft feel of a baby's skin?
Babies are born with silky soft skin that naturally smells sweet. But their skin is also very sensitive and prone to rashes and infections- which is why you should take preventative measures to help avoid damage and irritation. With a little bit of care and attention, you can help your baby maintain great skin all their life! Here are 12 Summer Skin Care Tips for Babies.
1. Leave the Sand on the Shore
I grew up in southern California just a few miles from the beach. One of the tricks my family used to ensure the sand didn't travel home with us was to sprinkle baby powder on our legs and feet before we got in the car. Baby powder is like Kryptonite to sand! It causes the sand to fall right off your body and also leaves your skin super soft!
2. Combat Buckle Burns
One way to help your seat belt from getting SCORCHING hot is to buckle it when you leave your car. Keeping it from direct sunlight has saved us from many burns! You can also pack around some ice packs and leave those on car seats to keep little buns from burning.
3. Stop Sticky Skin
Popsicles are a summertime must, but sticky hands are the worst! Next time you let your kids raid your freezer, poke the stick through the center of a cupcake liner and catch those drips before they touch their skin!
4. Bugs be Gone
Did you know creamy baby oil can repel mosquitoes? Way more affordable, better for your skin AND it doesn't smell horrible.
5. Sunscreen Safety
Whether you plan to be in direct sunlight or not, get in the habit of applying sunscreen to yourself and your kids every single day- year round! Here are some things to consider-
Apply sunscreen 15 minutes before your leave the house.
Reapply every 2 hours, or more often if you're swimming or sweating. Set a timer on your phone if you need a reminder!
The sun can and will burn your skin through the windows of your car.
Make sure your sunscreen is labeled Broad Spectrum, which means it protects against UVB rays AND UVA rays.
Don't skimp on the amount. If you're covering a child from head to toe, you should be using 2 heaping handfuls of sunscreen.
Never spray sunscreen on anyone's face. Instead, spray it on your hands and rub it on.
Don't forget to cover your lips too!
The higher SPF, the better! The lotion I put on my face every morning is SPF 15, but kids need more protection than that! Go as high as you can!
6. End Excessive Exposure
Even when you're following all the sunscreen tips above, it's still a good idea to limit the amount of time you spend in the sun. Stay in the shade, wear light-weight clothing etc. And remember, the sun's rays burn the brightest and hottest between 10am and 2pm, so swim before lunch and play outside after naps if you can.
7. Baby Bath Time
I love getting my baby ready for bed after a bath. Clean, soft skin and wet hair that smells like baby shampoo is the best! Here are a few tips to keep their bodies clean while helping to prevent their skin from losing its natural moisture:
Bathe your baby two or three times a week.
Use a shampoo that is specifically labeled to use for baby.
Wash your baby's skin with lukewarm water and a gentle soap.
Dry your baby using natural cotton towel that is clean and soft.
8. Product Protection
When possible, choose products that are natural and free of any chemical additives. Fragrant-free products are often the safest to use on sensitive skin. Make sure the products you use are designed specifically for babies to avoid rashes and other skin irritations.
9. Permanent Marker Problems
Remove permanent marker from skin by rubbing the skin with hand sanitizer, sunscreen or insect repellent. The ingredients in these products help dissolve permanent marker. Apply a generous amount to the marked skin and rub it in with your fingertip in a circular motion. Continue the process until all the marker is dissolved. Rinse off the remaining product and ink with warm water.
10. See 'Ya Splinters!
If pulling a splinter out with tweezers isn't working, grab some baking soda! Simply mix some water with 1/4 tsp of baking soda to make a thick paste. Apply the baking soda to the infected area and cover with a band-aid. Wait overnight or up to 24 hours and remove the bandage. The baking soda will make your skin swell, which will push the splinter out so you can grab it easier than when it was when embedded under the skin.
11. (Don't) Feel the Burn
For minor sunburns, try a some of these soothing sunburn hacks:
Sprinkle cornstarch on your sheets to ease the pain of a sunburn while sleeping.
Fill a spray bottle with equal parts apple cider vinegar and water. Spray over your sunburn to relieve the pain and alleviate inflammation.
Apply cold, plain yogurt on your burn. Let it sit for 10 minutes, then wipe off gently with a cold, wet wash cloth. The probiotics in yogurt will help your skin heal faster.
Put some aloe vera lotion in the fridge before applying. This not only feels great, it will also bring your skin temperature down and prevent it from peeling.
Put a cup of oatmeal in your blender to grind up, then add the oatmeal to your bath to calm itchiness.
Place a baby wipe on your sunburn to cool the area. They are gentle enough on the skin and can add temporary relief. (We suggest Huggies® Natural Care Wipes Plus)
12. Diapers Duty
A good diaper could make all the difference between irritated, rashy skin and skin that is soft, clean and fresh.
Change your baby's diaper often and definitely as soon as it gets wet or stinky. Letting them sit in it for too long can cause infections and irritations.
Get the right size diapers. Anything too small or too tight is not only uncomfortable, it can also cause big messes and preventable clean-ups.
Find a diaper that keeps moisture off the skin- the more absorbent, the better! (We suggest New! Huggies® Little Snugglers Plus)
Most baby skin problems only last a short time and can be resolved fairly easily- but sometimes they may be a sign of infection and require special care. Please consult with your pediatrician for advice and treatment on any infection or rash you feel requires additional care.