This fun and easy to make Snowman Bark is fun for the whole family. Cute, festive and tasty, you'll fall head over heels for this chocolatey bark!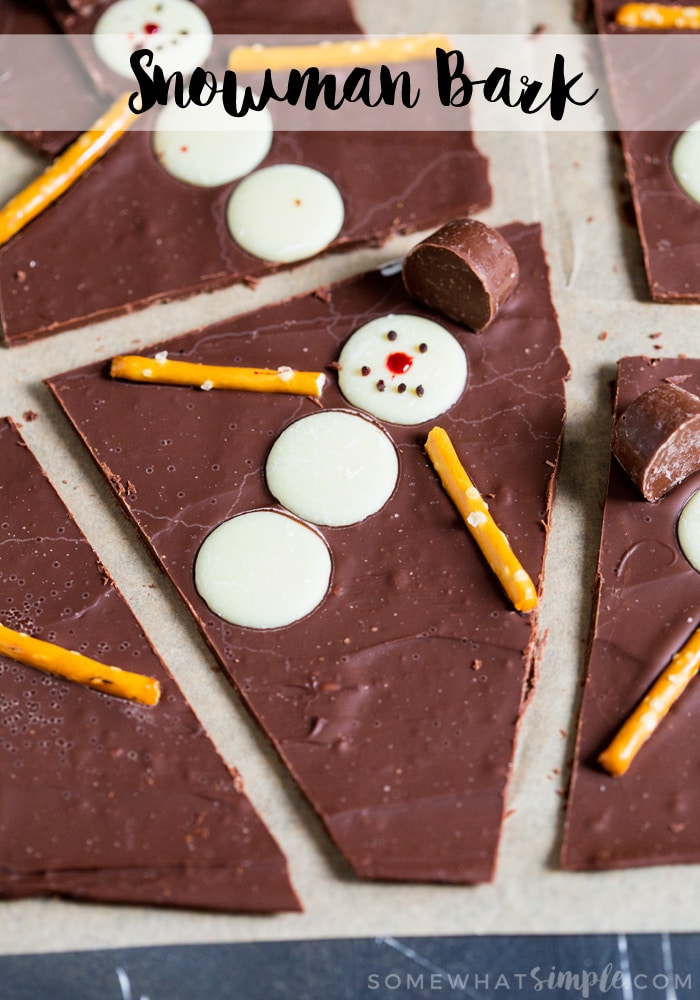 I love making fun festive recipes come this time of year. I've been toying with making some kind of snowman bark for a while, but I had so many ideas of how to do it.
In the end I went for a mixture of dark and milk chocolate for the bark and then used white chocolate buttons, writing icing, pretzel sticks and Rolos to create each little snowman.
The kids will love making this bark and I have to admit, even as an adult, I loved making it too!
The hardest part is drawing on the faces… it might be easy if you're artistic – I am definitely not that and it takes me a while!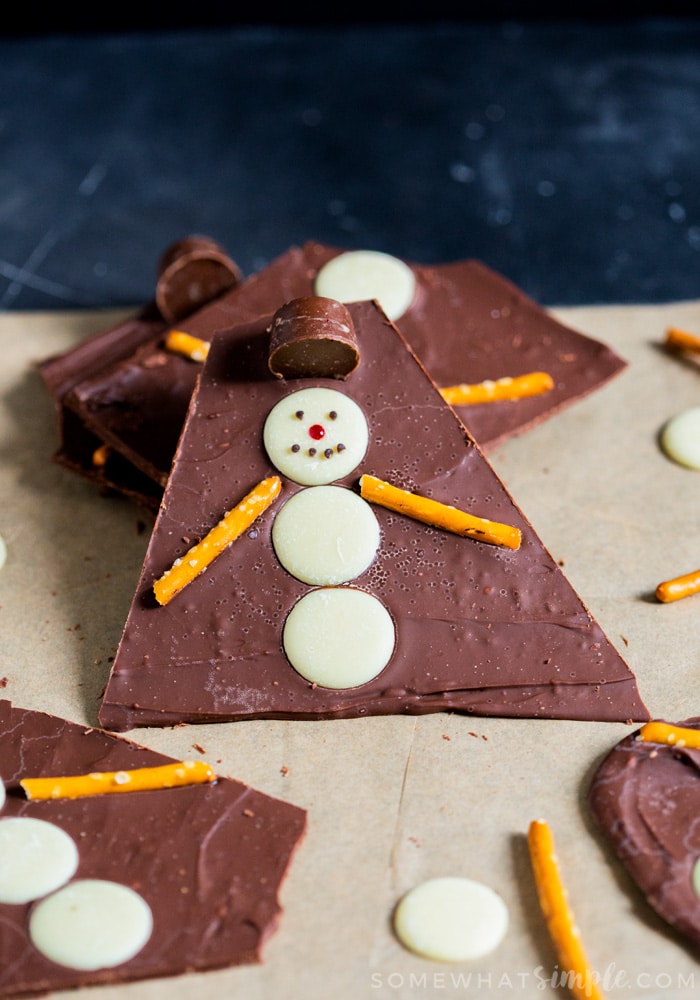 There are so few ingredients to make this Snowman Bark, you probably have them all already. The only thing I had to buy was Pretzel sticks. They're not that common in this country, but I managed to find them and I snapped them in half to make arms for my snowmen!
As well as being fun to make, this bark would make a great edible gift. I know I love receiving homemade, edible gifts as I love the fact that somebody took the time to make me something!
I really hope you make this bark and that you enjoy it as much as we did!
SNOWMAN BARK RECIPE
Serves: 8 // Total time: 60 minutes
INGREDIENTS FOR SNOWMAN BARK:
3.5oz dark chocolate, broken into small pieces
9oz milk chocolate, broken into small pieces
24 white chocolate buttons
8 pretzel sticks, snapped in half
8 Rolos
Black and orange/red writing icing
DIRECTIONS FOR SNOWMAN BARK:
Line a large baking tray with grease proof paper or a silicone mat.
Place the dark and milk chocolate into a medium sized heat proof bowl and place in the microwave in 20 second increments, stirring in between each one until all the chocolate is melted.
Alternatively, place the heat proof bowl over a saucepan of simmering water and stir gently until melted.
Pour the melted chocolate into the centre of your prepared pan and then use a small angles spatula to spread the chocolate into a thin layer; around 2mm thick. I covered my baking tray apart from a 1/2 inch gap around the edge.
Use your writing icing to draw eyes, a nose and a mouth on 8 of the white chocolate buttons. I'm not very artistic, so I did two black dots for eyes, a red blob for a nose (I didn't have orange icing) and then a few black dots in a smile shape for a mouth.
Place one of your faces into the melted chocolate and place 2 plain buttons underneath to make a 3 button snowman shape. Place a Rolo above his face and place one half of a Pretzel stick either side of the gap between the first and second white chocolate button. That's the basic shape: repeat this until you have 8 snowmen arranged randomly in your melted chocolate.
Leave to set for 30 minutes before putting in the fridge for 15 minutes to set fully.
Break into pieces – I actually used a sharp, hot knife to cut around each snowman so each piece of bark had one snowman in; you can try and carefully break it around the snowmen, or you can use a knife.
Snowman Bark can be kept in an airtight container, at room temperature, but in a cool, dark place, for 5 days.
You can also place pieces of bark into clear bags and tie them with a cute Christmas ribbon to gift to friends and family!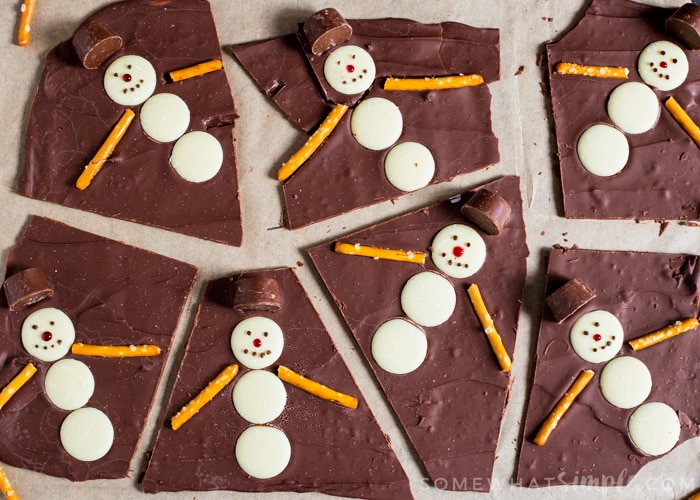 If you enjoyed this recipe, you might enjoy…

Orange and Cranberry Cookies / Melted Snowman Cookies / Melted Snowman Cookies