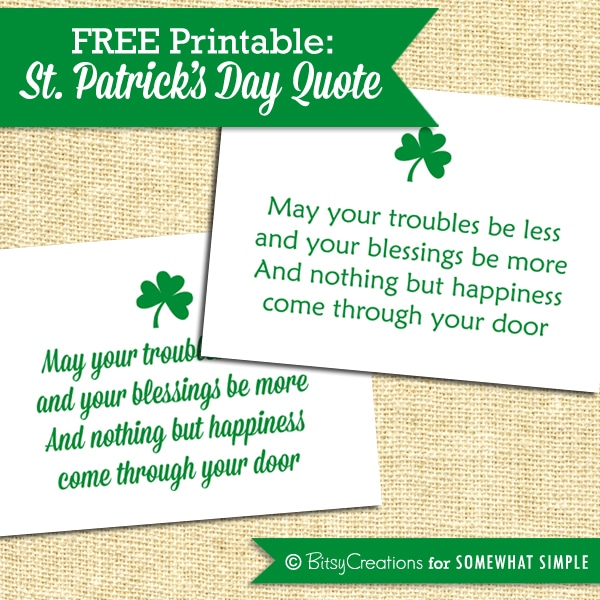 Enjoy this EASY and simple St. Patrick's Day Quote Free Printable. Just save, print, and decorate!
Do you know much about your family heritage? I'm not sure what it was that first got me interested, but the more I learned about our world and geography, the more I wanted to know where my ancestors lived. Like many Americans, I have family from here and there–England, Ireland, Scotland, Germany. For some reason, I have always felt a strong pull to Ireland. I'd love to visit one day!
So even though I don't go nuts for holidays like St. Patrick's Day, I do love taking a moment to enjoy a good Irish proverb now and again! I found this one a few years ago and shared it on my blog: May your troubles be less and your blessings be more, And nothing but happiness come through your door. Simple, sweet, lovely.
I put together a little printable for you! It's yours for free. You can choose script or a more simple font. Both are high resolution JPGs ready to print at 5×7 inches. Just save, print, and pop in to a frame!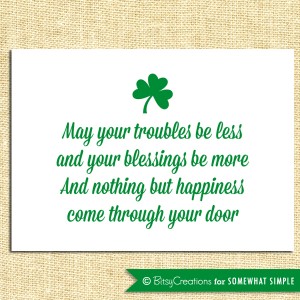 Download 5×7 script font printable here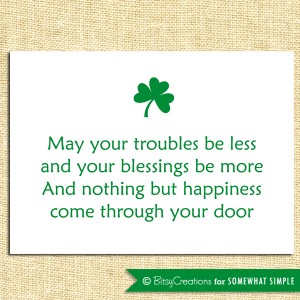 Download 5×7 block font printable here
Love this printable? Want to share or save for later? Pin it below!