Strawberry Basil Frozen Yogurt Pops are the perfect healthy treat for kids and kids at heart!
Strawberry and basil are two of my favorite fresh flavors…so it only seems right to pair them up for a healthy summertime treat!  Basil is one of my favorite herbs, but most of us typically only use it in savory dishes.  This is a fun way to use that basil in a sweet and delicious way!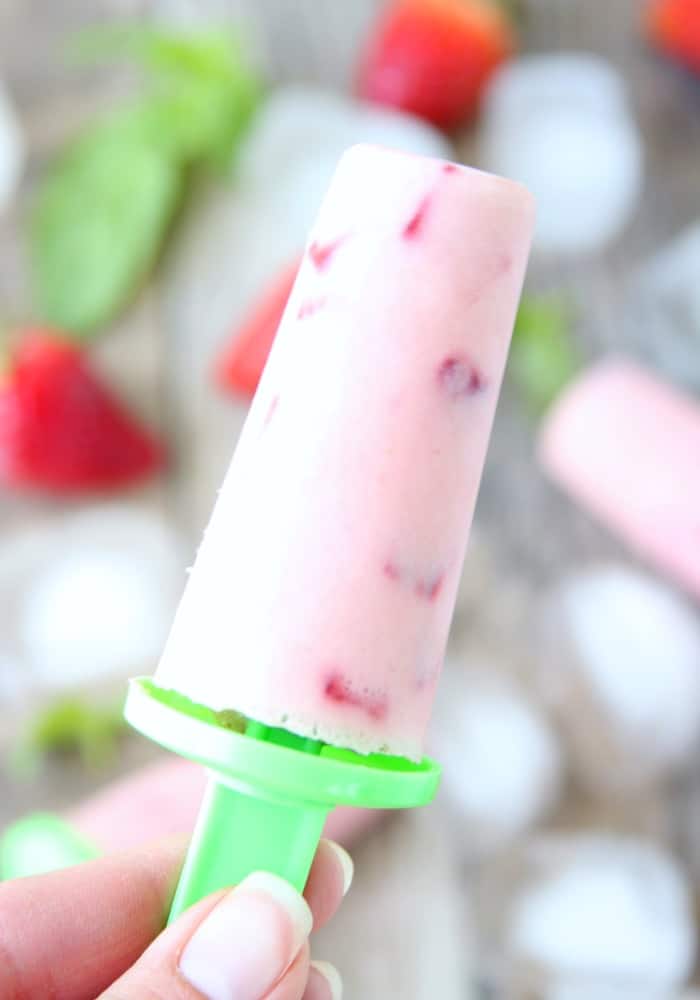 These popsicles are loaded with strawberry flavor, and the basil is a fun surprise!  (Even my picky 5 year old loved this treat!)  The great thing about these popsicles is that you can really customize the flavors.  Want it subtle?  Add less?  Want a bold basil flavor?  Add more.  I recommend tasting the popsicle mixture before you pour it into your molds.  If you need to add more, it's easy and almost no extra work!
Strawberry Basil Frozen Yogurt Pops
Ingredients:
1¼ cup strawberry Greek yogurt
1 cup strawberries, fresh or frozen
6-8 medium basil leaves
1 Tbsp lime juice
dash salt, optional
½ cup diced fresh strawberries
Directions:
Add the yogurt, 1 cup strawberries, basil leaves, lime and salt to blender jar.  Process until smooth.
Pour mixture into popsicle molds, filling each cavity about ⅔-¾ of the way to the top.
Add some diced fresh strawberries to each popsicle, distributing them around evenly, until mixture reaches the fill line.
Add popsicle sticks and freeze for at least 6 hours.
Enjoy your delicious, healthy treat!
Notes:
I use 2 containers of 5.3 oz strawberry Greek yogurt, because I usually have it on-hand.  Any kind from any container will work.
I use frozen strawberries to blend into the yogurt because I usually have a bag in my freezer.  Fresh should work great for blending, but I haven't tested them in this recipe.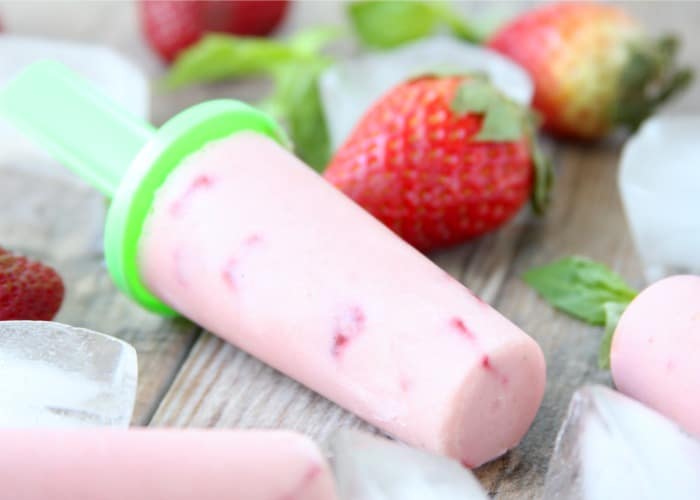 Love these "cool" ideas?  Check out some of our other favorite treats!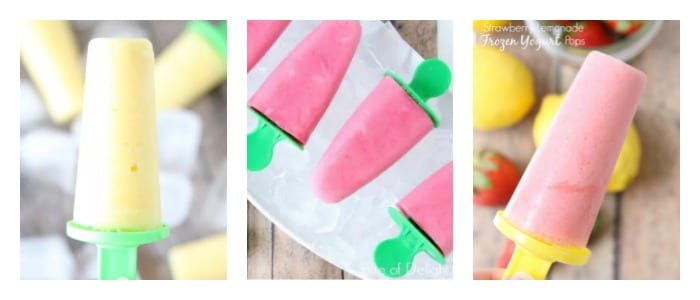 Dole Whip Pops // Raspberry Lemonade Pops // Strawberry Lemonade Pops