This past Thanksgiving was the very first time I cooked the entire Thanksgiving meal myself. I was so afraid I would ruin something, but I was pleasantly surprised with how it all turned out- turkey, mashed potatoes, stuffing… it was all delicious. If I had to pick a favorite dish that adorned our dining table that day, it would be this- Strawberry Pretzel Squares. These are delightful! I got this recipe from a friend who makes a mean Raspberry version, but I decided to see how it would taste using strawberries and I am so glad I did- it is DELICIOUS! I'm a big Strawberry fan, and this recipe is a keeper!
INGREDIENTS:
2 cups  finely crushed pretzels
1/2 cup  sugar, divided
2/3 cup  butter, melted
1-1/2 pkg.  (8 oz. each) cream cheese, softened
2 Tbsp.  milk
1 cup  cool whip, thawed
2 cups  boiling water
1 pkg.  (6 oz.) JELL-O Strawberry Flavor Gelatin
1-1/2 cups  cold water
4 cups  fresh strawberries, sliced
DIRECTIONS:
Heat oven to 350°F.
Mix pretzel crumbs, 1/4 cup sugar and butter; press onto bottom of 13×9-inch pan. Bake 10 min. Cool.
Beat cream cheese, remaining sugar and milk until blended. Stir in Cool Whip; spread over crust. Refrigerate.
Add boiling water to gelatin mix in large bowl; stir 2 min. until completely dissolved. Stir in cold water. Refrigerate 1-1/2 hours or until thickened.
Stir berries into gelatin; spoon over cream cheese layer. Refrigerate 3 hours or until firm.
ENJOY!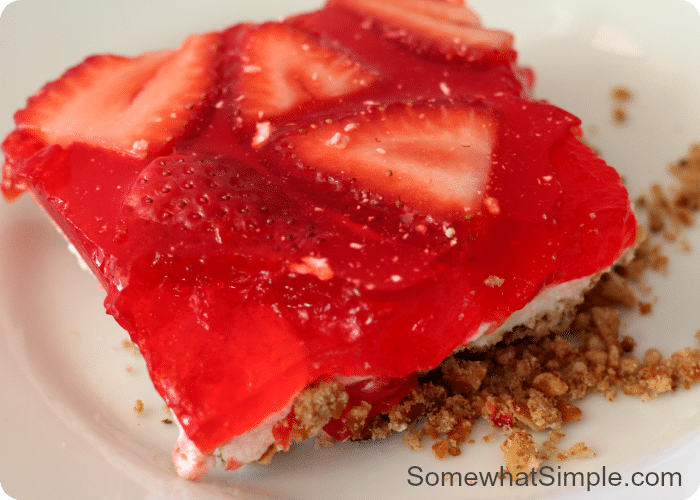 And Ps. I may have had the leftovers of this for breakfast and lunch the next day. It was that good. Please note, I am not responsible for any thickening of waistlines this holiday season. Please eat at your own risk!
This recipe originally published on Somewhat Simple in November 2012