Whether you're hosting a party, attending a party, or quietly watching the game at home, you'll find all the Superbowl food recipes you need to make this year's big game fantastic!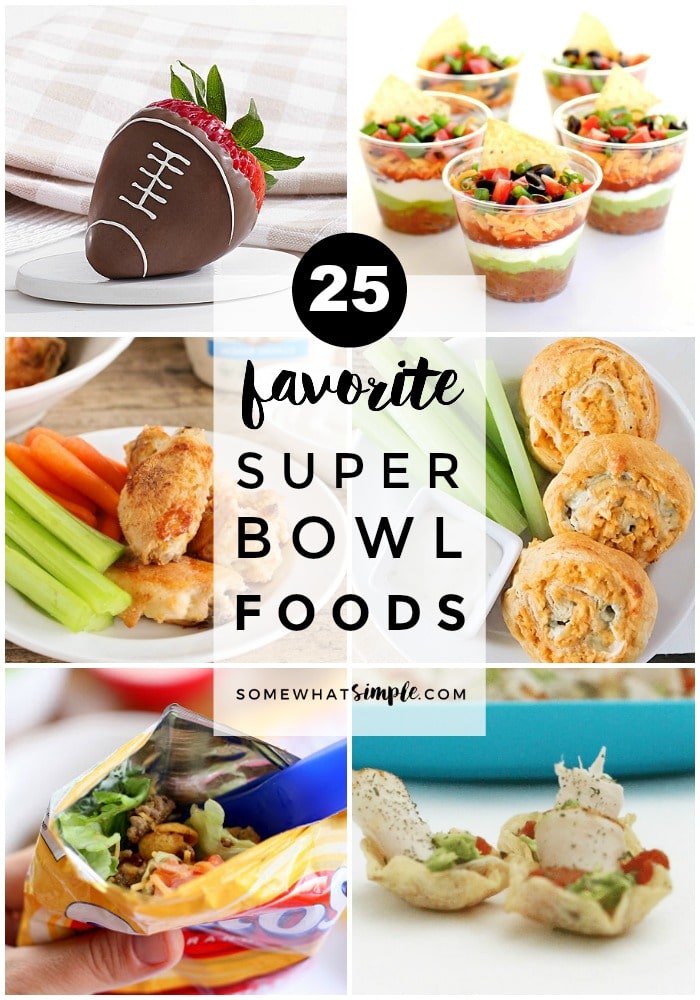 After the New Year celebrations have come and gone, everyone seems to shift their focus straight to Valentine's Day. But in the land of the sports fanatics, there's another holiday coming up before the day of LOVE, and that's SUPER BOWL SUNDAY! I'm actually not even a football fan, but I love the any reason to gather with friends and eat until I'm tired, and the superbowl sure offers a great backdrop for that!
Superbowl Food Ideas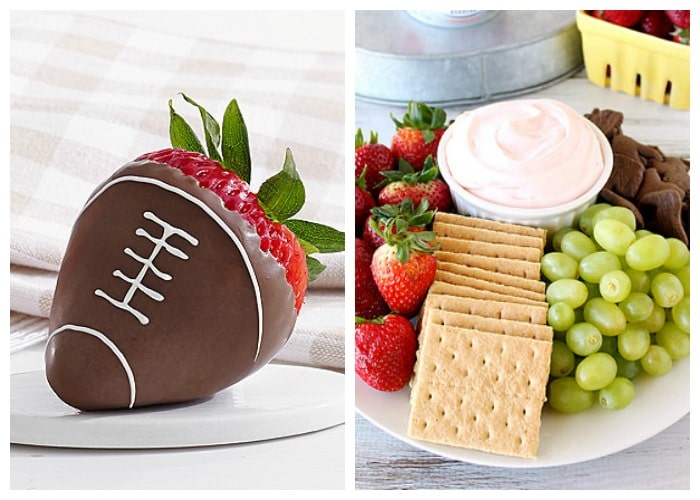 1. Chocolate Dipped Football Strawberries, from Sharri's Berries. Each sweet strawberry is hand dipped and decorated with white stitches simulating the gridiron pigskin.
2. With only 2 ingredients, you can whip up this Strawberry Fruit Dip in no time! From Love Bakes Good Cakes.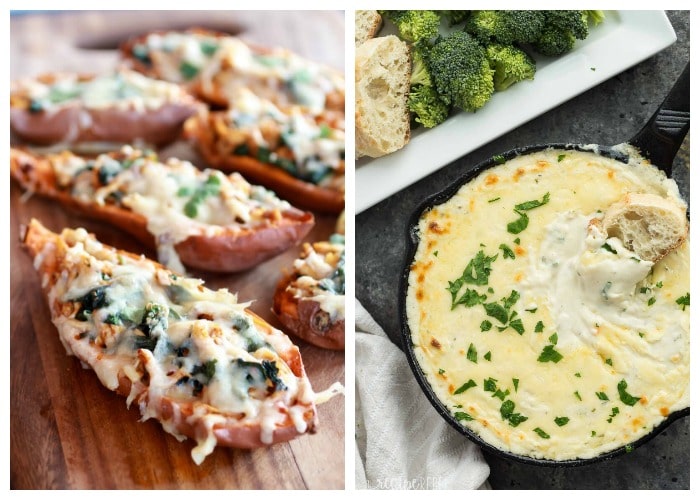 3. Healthy Chipotle Baked Sweet Potato Skins, from HalfBaked Harvest. Sweet, spicy and cheesy. Kind of an unexpected hit of flavors, but they are amazingly awesome together!
4. This Chicken Alfredo Dip is creamy, cheesy, loaded with chicken and made from scratch! From The Recipe Critic.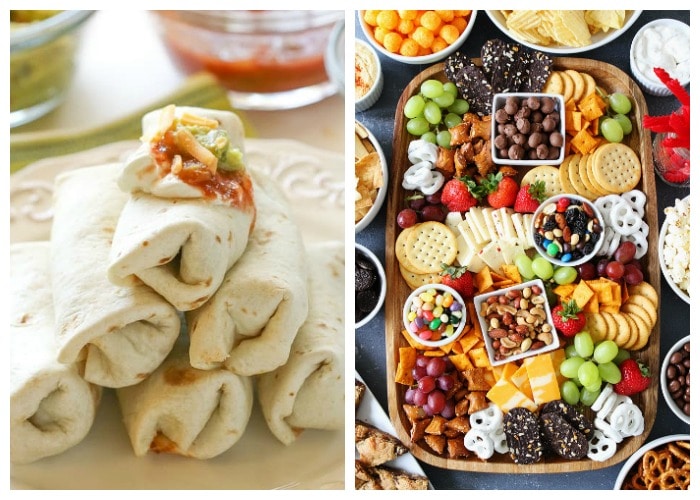 5. Mini Burritos, from The Girl Who Ate Everything. Serve them as an appetizer and let your guests top their own.
6. Sweet and Salty Snack Board, from Two Peas in Their Pod. You will love the mix of sweet and salty snacks for game day or any party!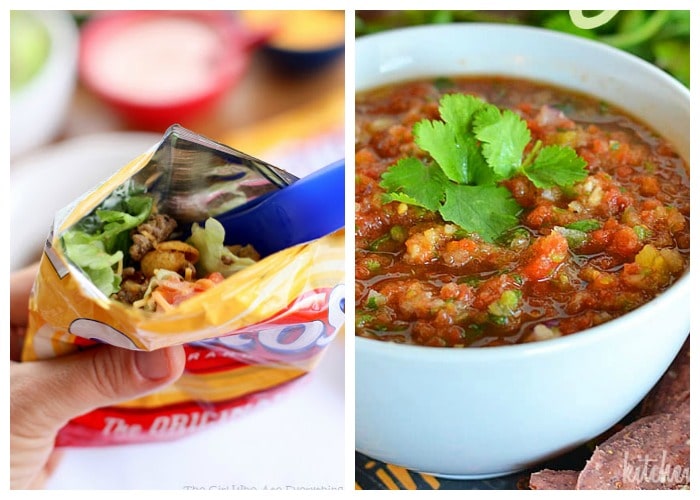 7. Walking Tacos, from the Girl Who Ate Everything. These Walking Tacos are tacos made right in the bag and are super simple to make!
8. 5 Minute Salsa, from Kitchen Meets Girl. A quick and easy version of a delicious recipe.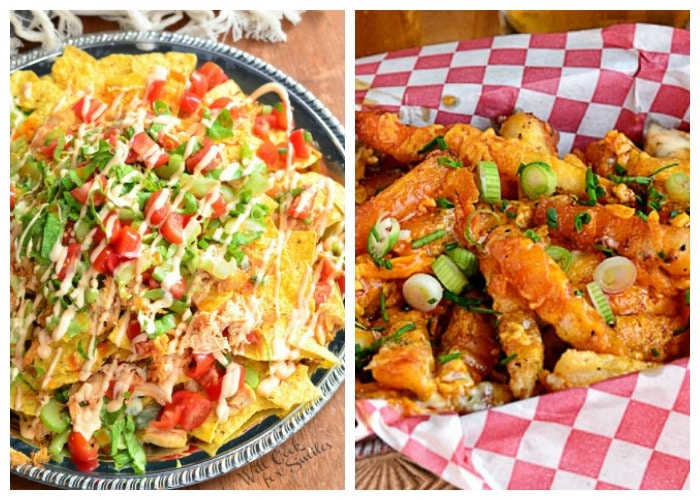 9.  Buffalo Chicken Nachos, from Will Cook For Smiles. Insanely delicious nachos made with crispy tortilla chips, spicy buffalo sauce coated shredded chicken, blue cheese, veggies, more cheese and buffalo ranch dressing.
10. Buffalo Fries, from Tidy Mom. The flavor of buffalo chicken wings meets the crispy texture of french fries topped with sharp cheddar and blue cheese.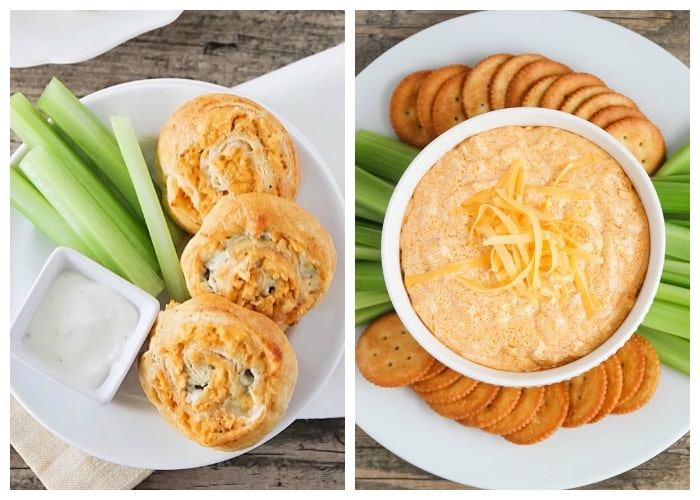 11.These savory and delicious buffalo chicken pinwheels are simple and easy to make, and perfect for game day or entertaining with friends!
12. This delicious buffalo chicken dip recipe an easy appetizer that is sure to please!
Halfway through our list! (Are you hungry yet???)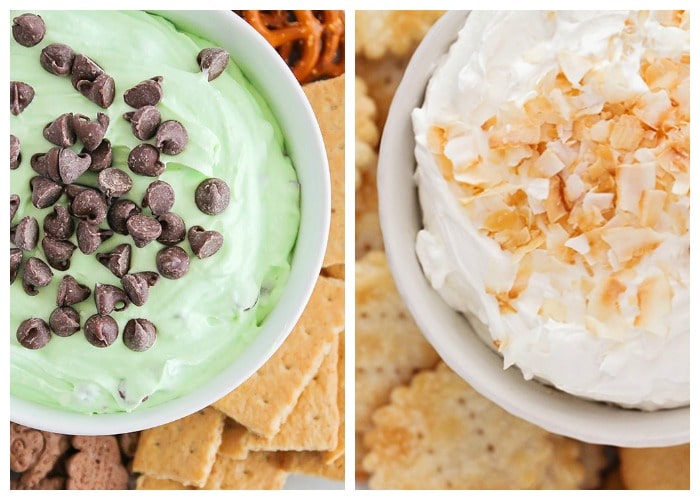 13. This Mint Chocolate Chip Cheesecake Dip is a fun and tasty dip!
14. An easy Coconut Cream Pie recipe turned into a delicious Cheesecake Dip! (Your taste buds are going to thank you!)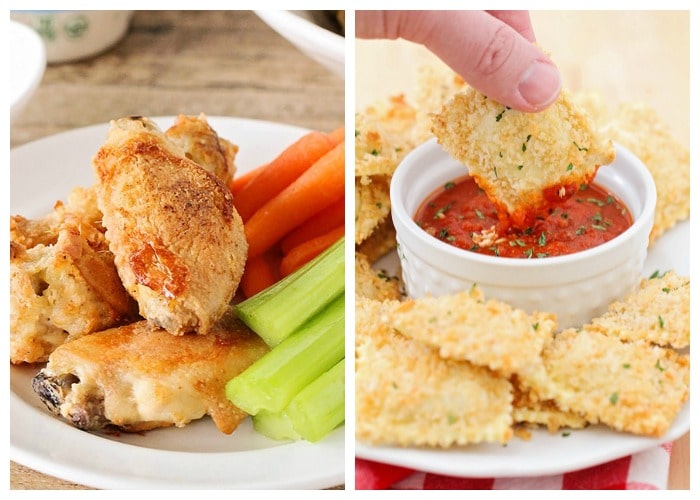 15. These delicious and crispy baked chicken wings are so easy and quick to make, and come out of the oven crisp and tender.
16. This crispy and cheesy toasted ravioli is baked instead of fried, but still just as delicious. It's a tasty snack for game day or party time!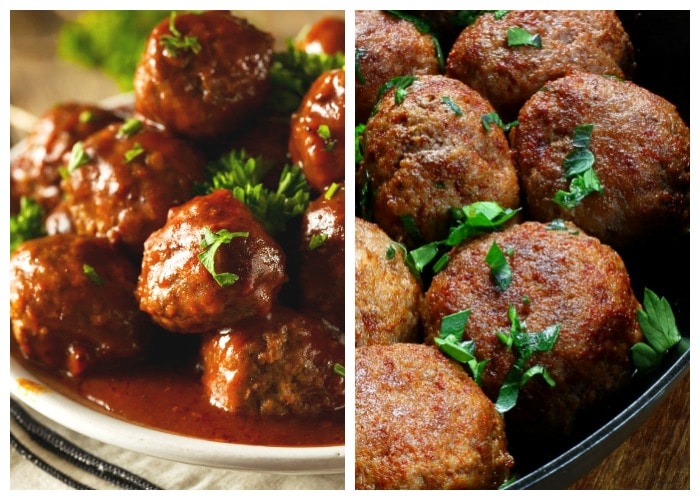 17. Ready for a simple appetizer that your guests will love? These 3 ingredient crock pot meatballs are just for you!
18. These Sweet and Sour Meatballs are amazing!!!
Just a few more…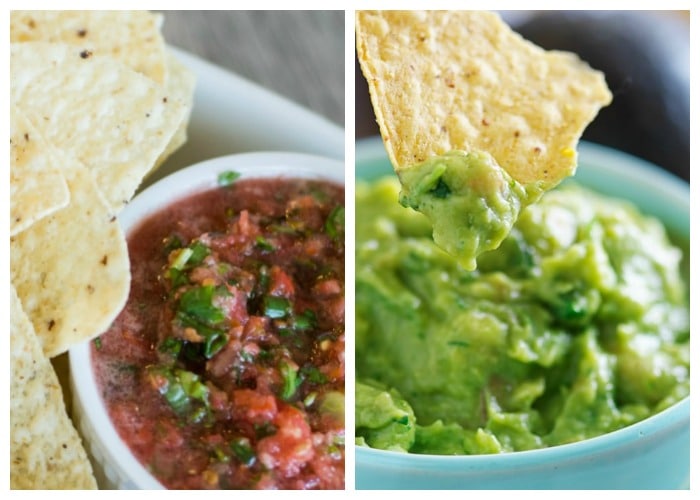 19. The perfect blend of fresh veggies and savory spices – this mild homemade salsa is easy to make and tastes amazing!
20. This simple recipe for speedy guacamole recipe is the perfect dip for your next super bowl party!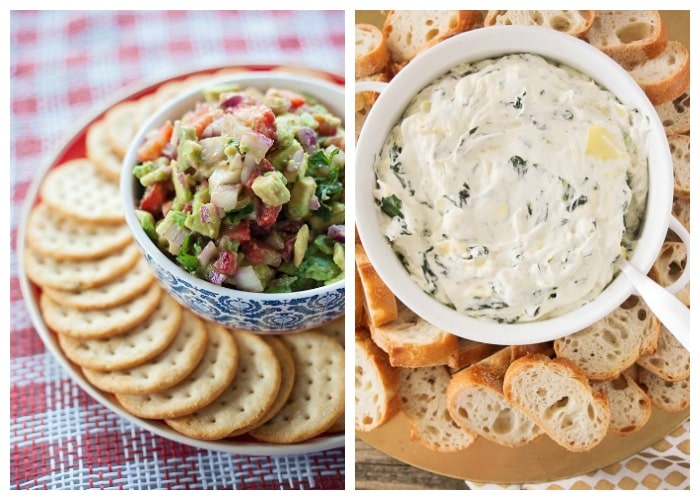 21. This strawberry guacamole challenges the traditional guacamole recipes and formulas we're used to, as it adds sweetness in with the more traditional flavors of avocado and cilantro. From The Perfect Storm.
22. Cheesy spinach artichoke dip – so gooey, melty, savory, and delicious!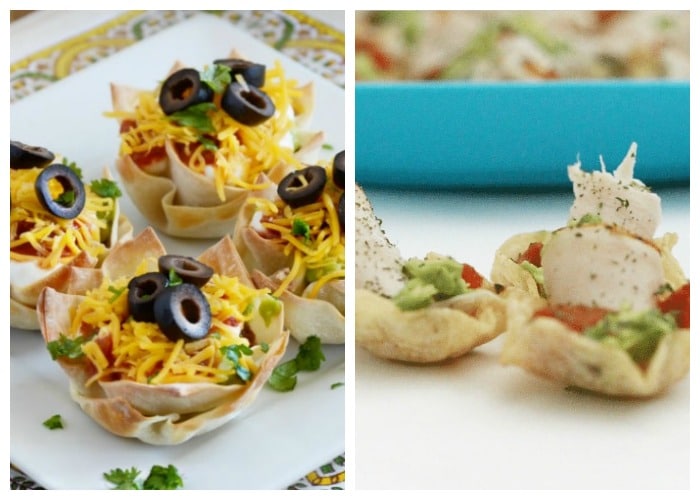 23. Seven Layer Dip Wonton Cups are super simple to make and perfect for lunch, dinner, snacks or appetizers.
24. Kickin' Chicken Cups are healthy snacks and they are so easy to prepare. A perfect appetizer or afternoon snack and they taste delicious!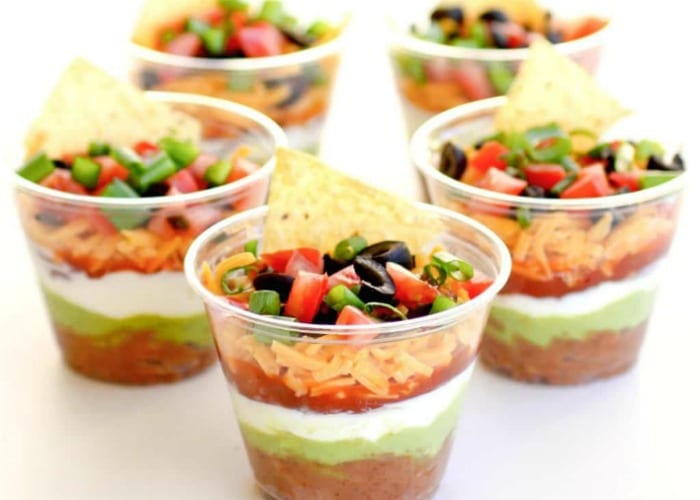 25. These Individual Seven-Layer Dips are individually portioned Mexican appetizer dips perfect for parties, BBQs, potlucks, and get togethers. From The Girl Who Ate Everything.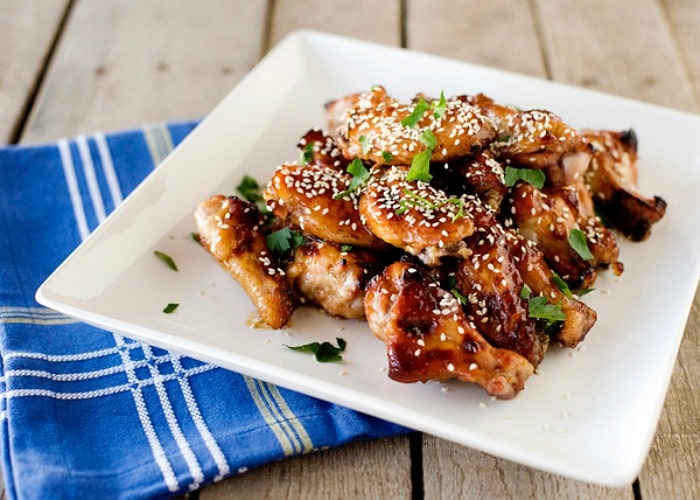 (and one more, just because we love this one so much – )
26. Sweet and Sticky Chicken Wings, from Baked Bree. These are so good, you will never know that they are baked, and not fried!
. . . . .
Have fun watching the Super Bowl this year! And may your favorite team WIN!!!
Here are a few more posts we think you'll love – 
Hack Your Routine!
FREE E-COURSE
5 Time-Saving Tips for Crazy Busy Moms