We LOVE themed Easter baskets, and this SomeBunny Loves You Easter Gift Basket is no exception! We'll show you 3 favorite themed baskets and how to create a special gift for friends, neighbors, or anyone else that needs a little reminder that they're loved!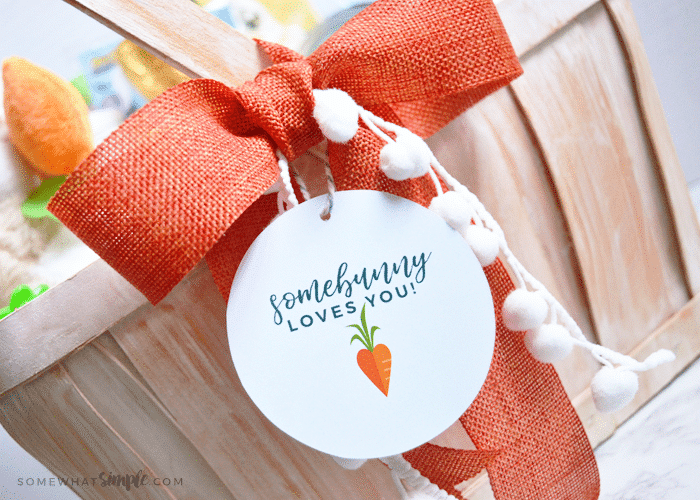 There's something magical about putting something on a neighbor's porch, ringing the doorbell, and then running like mad! So this year, we wanted to create an Easter Basket that we could use for our latest doorbell ditching shenanigans. 😉 We're going to show you 3 adorable gift baskets that are sure to brighten someone's day!
Easter Bunny Themed Baskets
The inspiration for this basket came from these darling bunny items: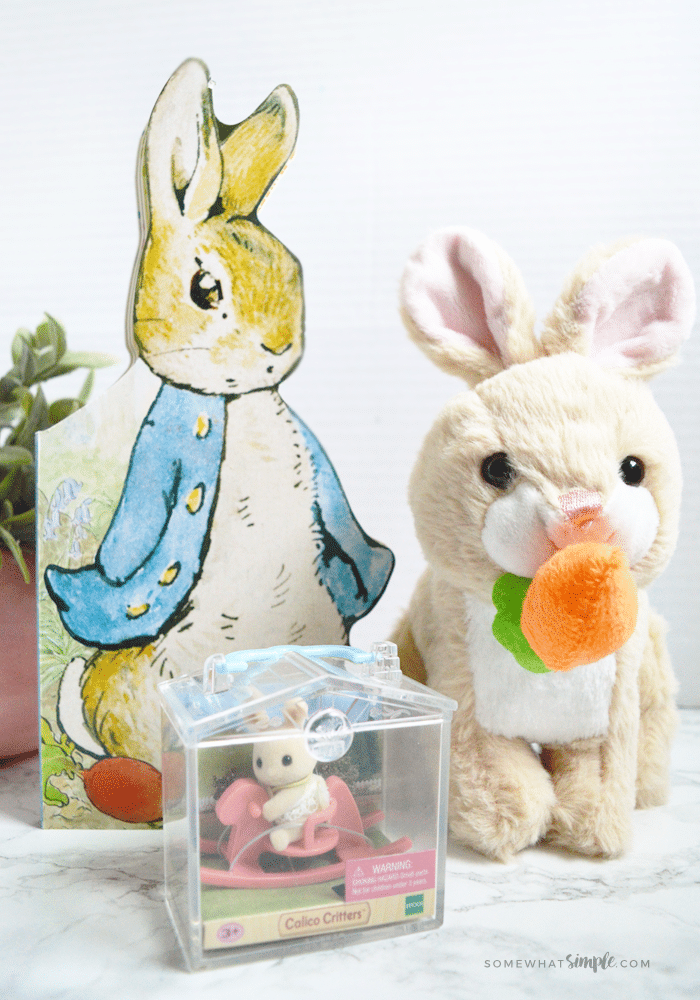 For this basket, you can use anything bunny or carrot related. (Seriously, how adorable are those bunnies?!)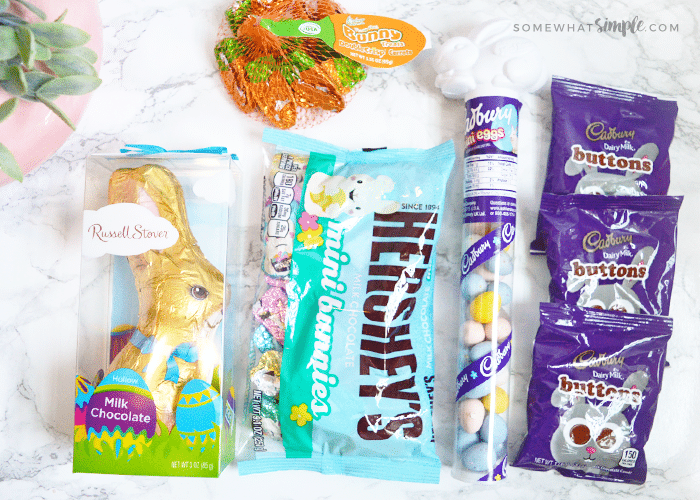 I think we can all agree that one of the most important parts of an Easter Basket is the treats, right? Finding bunny-related treats is definitely not a problem, and since Cadburry Mini Eggs come in a darling bunny container, you must include them too. (Maybe grab one for yourself while you're at it…)
Have you seen the Easter Aisle at Walmart with all the fun little toys, novelties, and activities? That's where I spent most of my time! They have some of the cutest things, like these carrot egg containers! They're the perfect way to contain those small treat items, and they add such an adorable touch to the basket!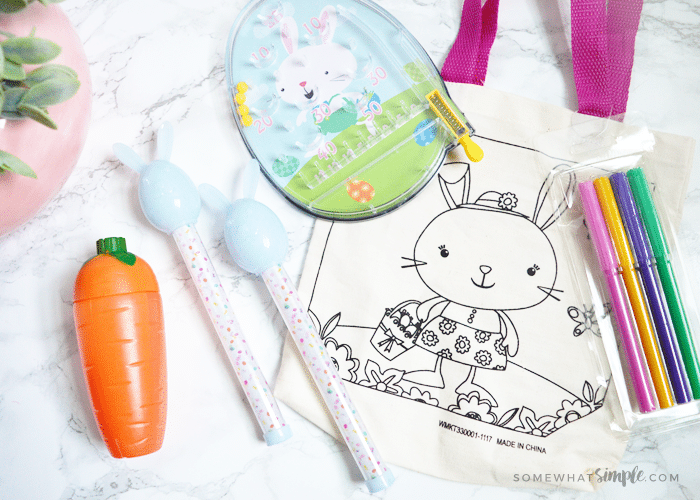 I also grabbed these darling bunny themed novelties: bubbles in a cute carrot container, light-up wands, bunny pinball, and a darling coloring tote bag that comes with markers.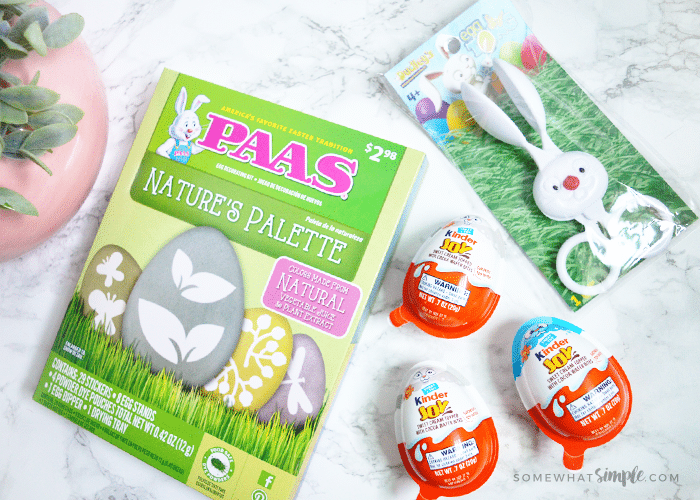 These natural dyes were a no-brainer when it came to picking out an egg-dying kit to include. I love the muted colors, and also the fact that they're made from vegetable juices and plant extracts. The perfect addition to this bunny-themed Easter Gift Basket. And who says a bunny themed basket can't have something egg related? My kids LOVE these Kinder Joy Eggs!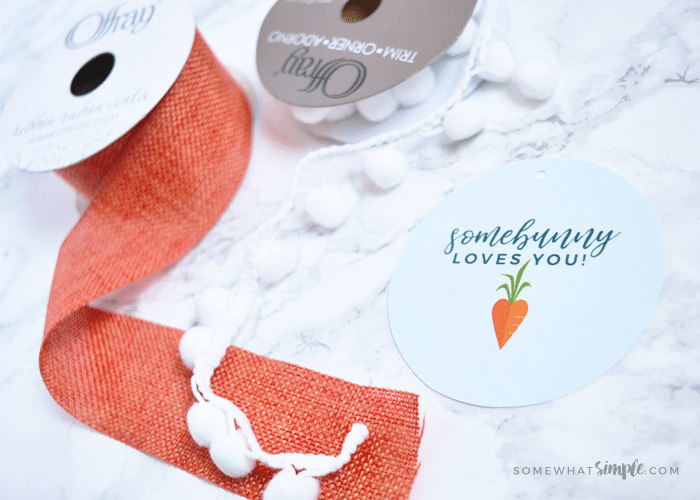 No basket is complete without some beautiful ribbon! And a tag. 😉 I adore this soft burlap-like ribbon – the orange color is perfection! And the pom-pom ribbon? Well that was a must grab. Because, pom-poms. #AllTheHeartEyes
I grabbed both of these at Walmart too. (I wasn't kidding about the one-stop-shopping!) You can download these gorgeous SomeBunny Loves You Tags down below, but you HAVE to see how this basket turned out!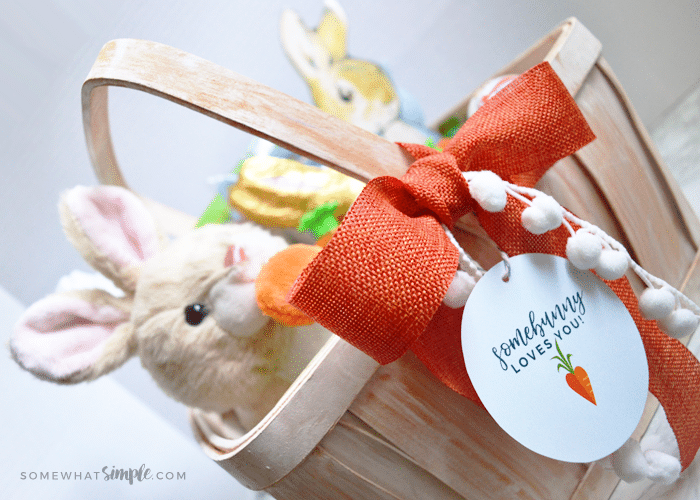 Can. You. Even?! That wooden basket absolutely completed the sweet look! The quality is amazing, and the price had me contemplating buying more of them! So, so good.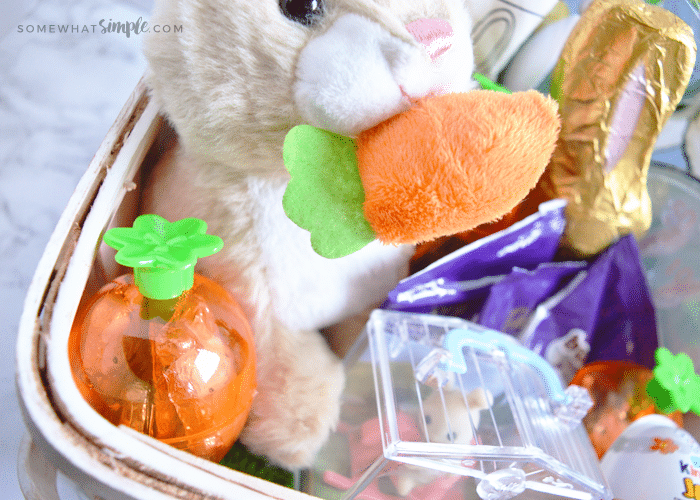 Also, I can't even begin to tell you how soft that bunny is. I kept catching myself rubbing the ears as I pushed my cart through the store. The quality is seriously so good, guys, and for only $2.98? Yes, please.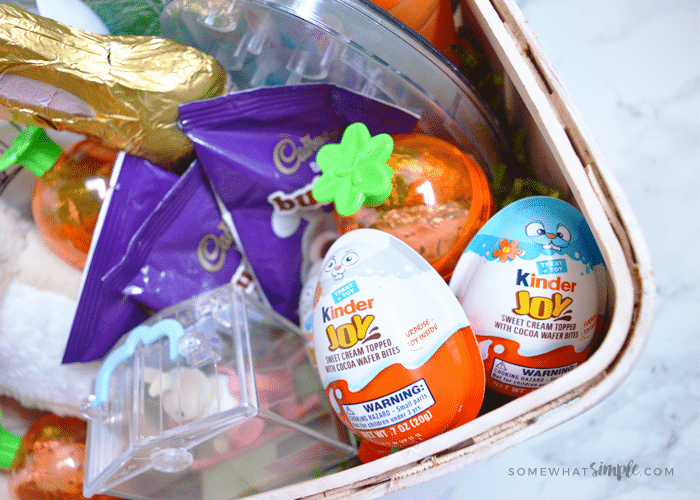 I just love all the details of this basket, and I can't wait to deliver it to a neighbor!
And if you're wondering, yes, I make my kids do all the running while I wait in the car. I like to think of myself as the getaway driver… 😉
I definitely recommend Walmart as a place to grab your Easter Basket items! And you don't have to stick with the bunny theme! I find a theme definitely helps me keep focused, and I thought I'd show you a couple more Easter Basket ideas that are themed!
Color-Themed Easter Baskets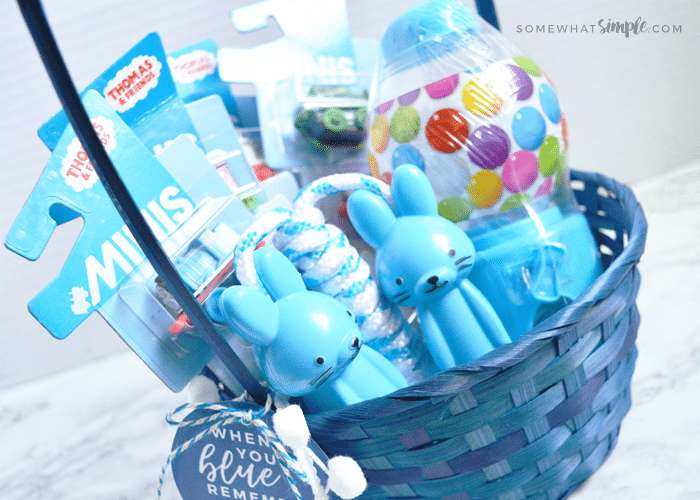 Using Walmart's round bamboo baskets, you really can create the perfect gift without breaking the bank! I grabbed some popular toys that fit with my blue theme, and then headed over to their Easter Aisle to grab a cute jump rope and gum ball machine! There were lots of different color options available for toys and baskets so you can build a basket around your favorite color. For a few bucks, I had a darling basket. I then topped it off with a cute pun gift tag –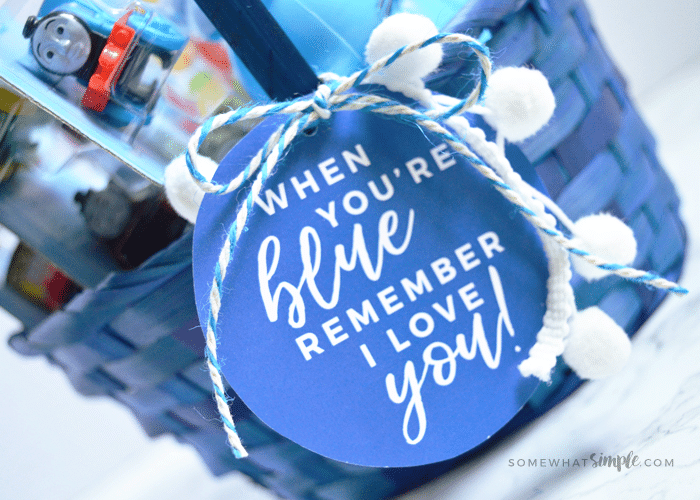 Rainbow and Unicorn Easter Baskets
You can build a basket around one of the latest trending toys: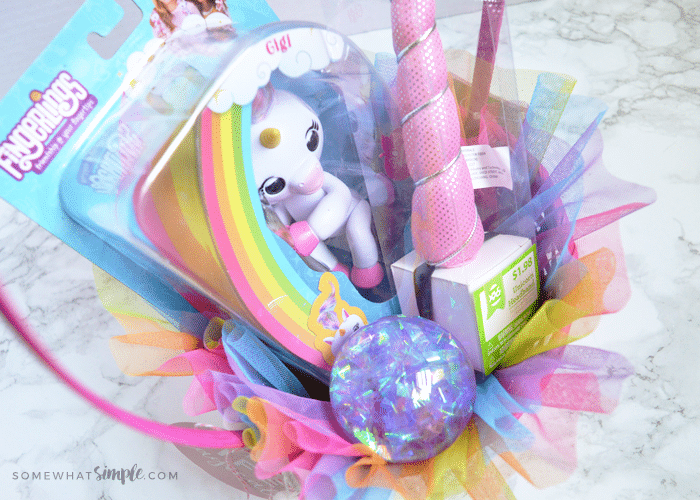 I chose the Fingerlings because my kids have been begging for one, and I couldn't beat the price! I found the rest of the items in the Easter Aisle, and let me tell you how happy my momma heart was that most everything there is under $2!!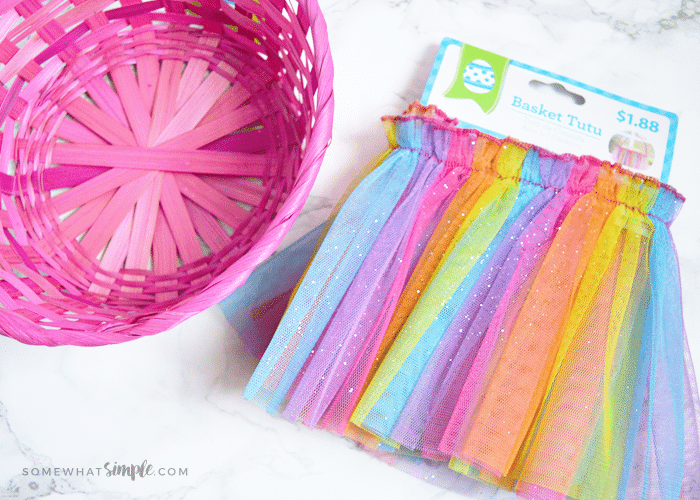 Instead of Easter grass, I grabbed one of their exclusive Easter basket tutus, turned it upside down, and lined the inside of the basket! I then added another tag to make it complete –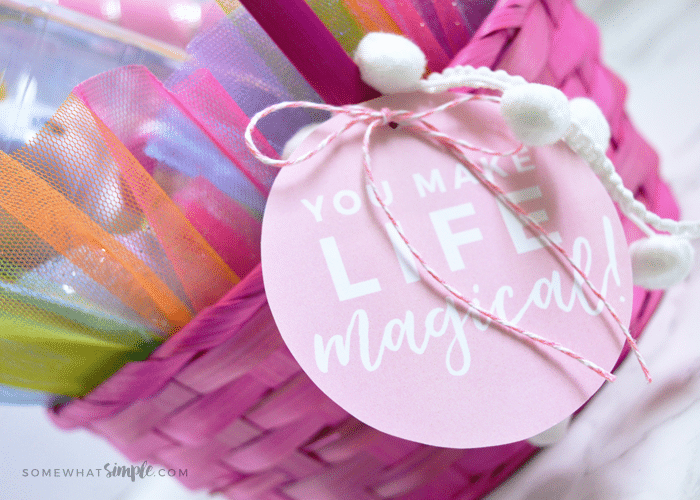 I adore how this one turned out!
So there you have it: proof you don't have to spend a fortune to make this Easter season a little more special!
Ready to create your own themed Easter Baskets?
Click the links below to download and print your favorite Easter tags –
Feeling Blue // I Love You Gift Tags
You Make Life Magical Gift Tags