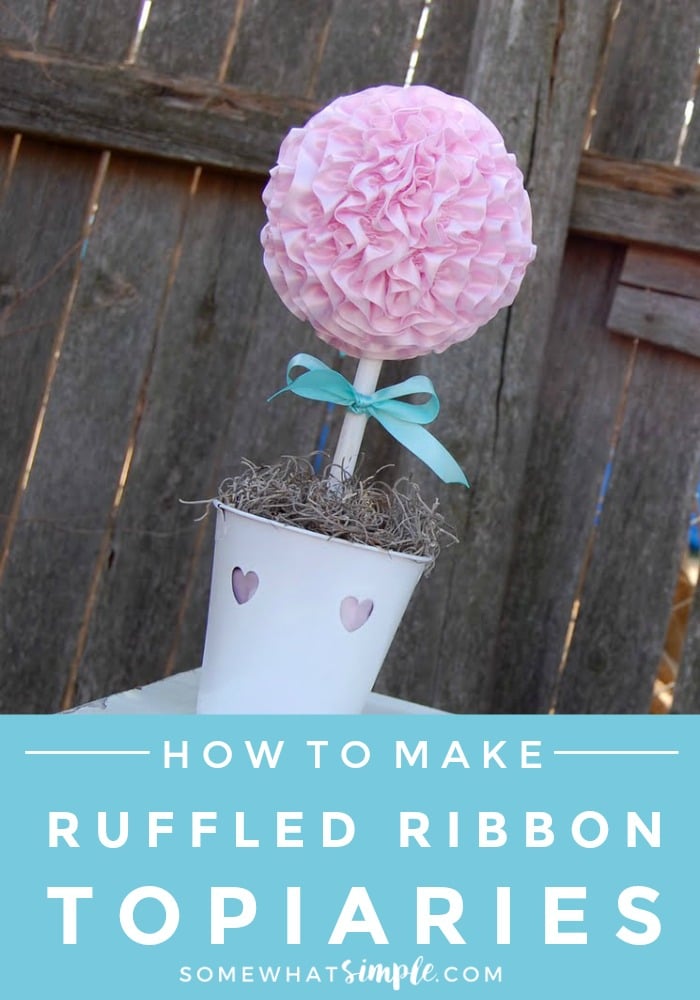 This sweet topiary is easy to make and will look perfect in your home for Valentine's Day!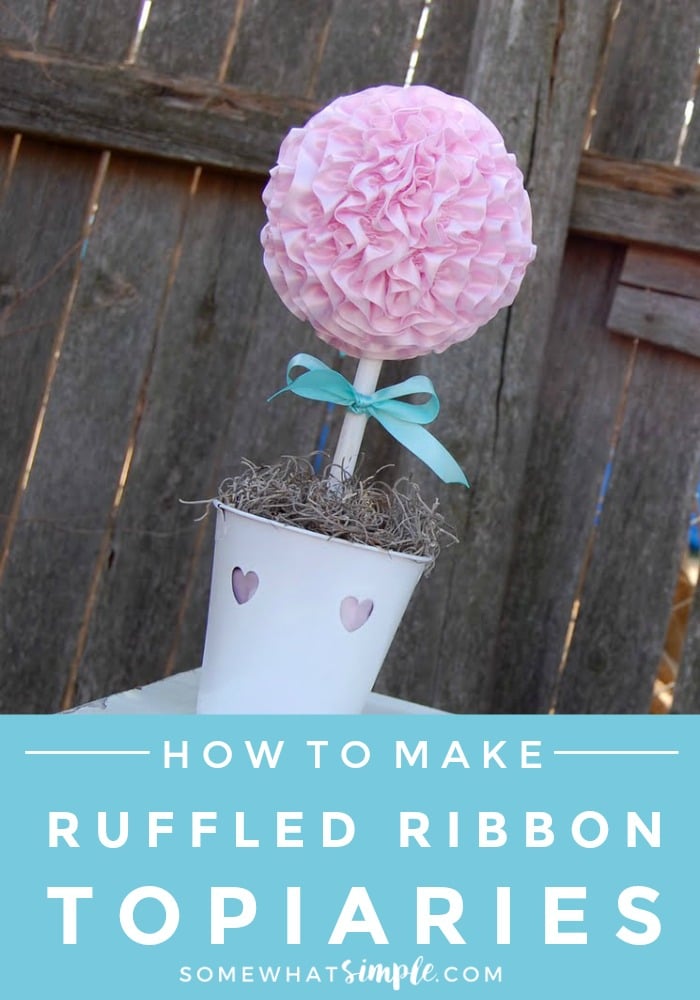 This Ruffled Ribbon Topiary Tutorial is one of the funnest projects I've ever made! It was so simple to create, and I did most of it while watching TV at night with my husband. Sometimes I get an idea in my head, and when I actually make it, it looks nothing like I had hoped, but this turned out just like I wanted it to! Isn't it so cute?
It is also affordable, too! I bought the bucket, floral foam, Styrofoam ball, elastic and moss from the dollar store. The rest of the materials were from Hobby Lobby. So easy, right?
Here is how to make it –
Ruffled Ribbon Topiary
MATERIALS –
4 yards of 1/2″ braided elastic*
60′ Satin Ribbon* (I used 1.5″ wide single sided satin, and I didn't end up using ALL of it)
straight pins
3″ styrofoam ball
wooden dowel, painted white and cut to size
floral foam
little tin bucket
moss
hot glue + glue gun
ribbon for a bow , optional
* Or, you could buy ruffled ribbon on a spool, already assembled.
DIRECTIONS –
Make the ruffled ribbon: Sew the elastic to the mat side of the ribbon using a zigzag stitch on your sewing machine. Stretch the elastic as you sew so that when it goes back to it's original form, it creates a ruffle in the ribbon. Make sure to pull both sides of the ribbon/elastic when sewing or it won't feed through your machine.

Using some straight pins, pin a strip of ruffled ribbon down the center of your styrofoam ball.

Continue wrapping and pinning the ribbon, strip by strip, up and down until the whole ball is covered.

Push the pins through the elastic, under the ribbon, so they will be hidden.

Assemble your topiaries by pushing the wood dowel through the ball.

Fill your bucket with floral foam and then stick the other end of the wood dowel into the foam.

Put some hot glue on top of the floral foam and smoosh the moss on top.

Tie a little bow around the dowel and

you're done!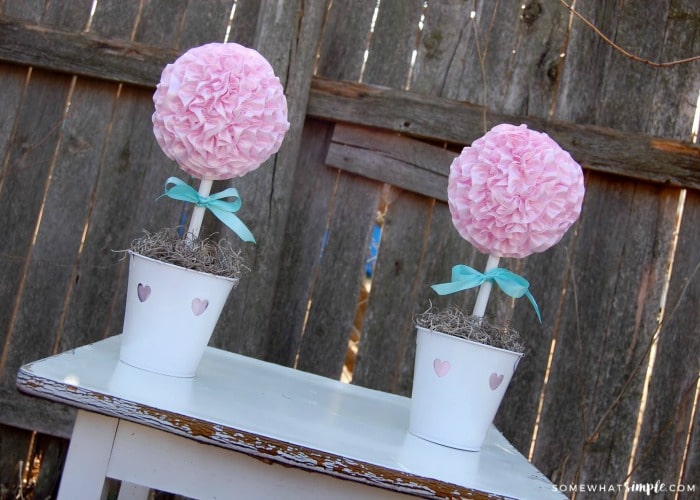 I had so much fun making these, I think I might make a wreath or some kissing balls with some different ribbon!
Here are a few more ideas we think you'll love –