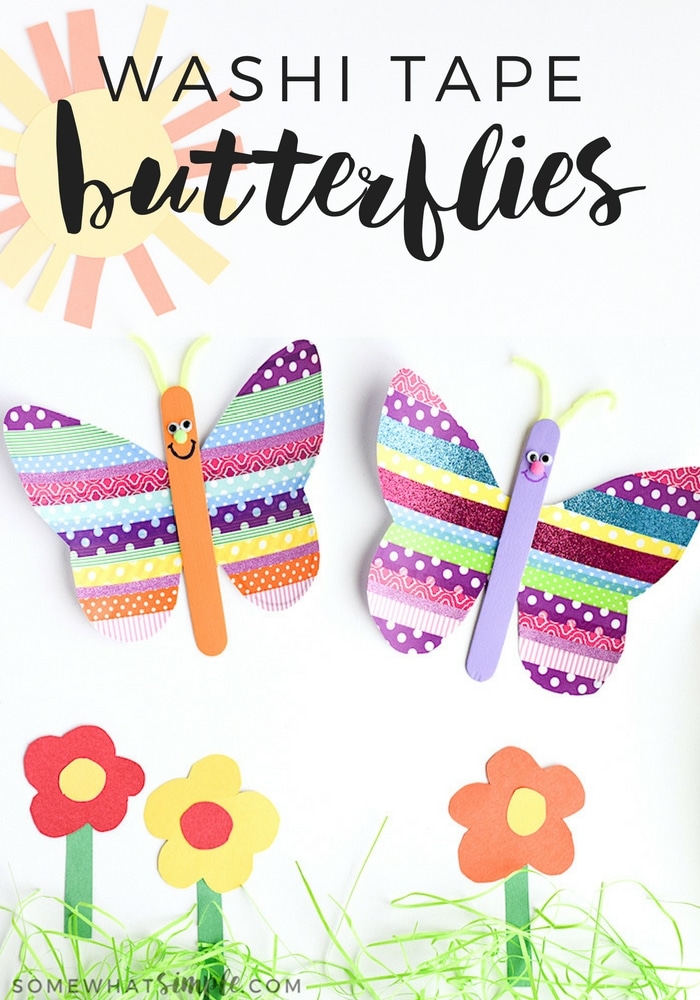 Grab a few rolls of washi tape and some basic craft supplies to make these super cute washi tape butterflies!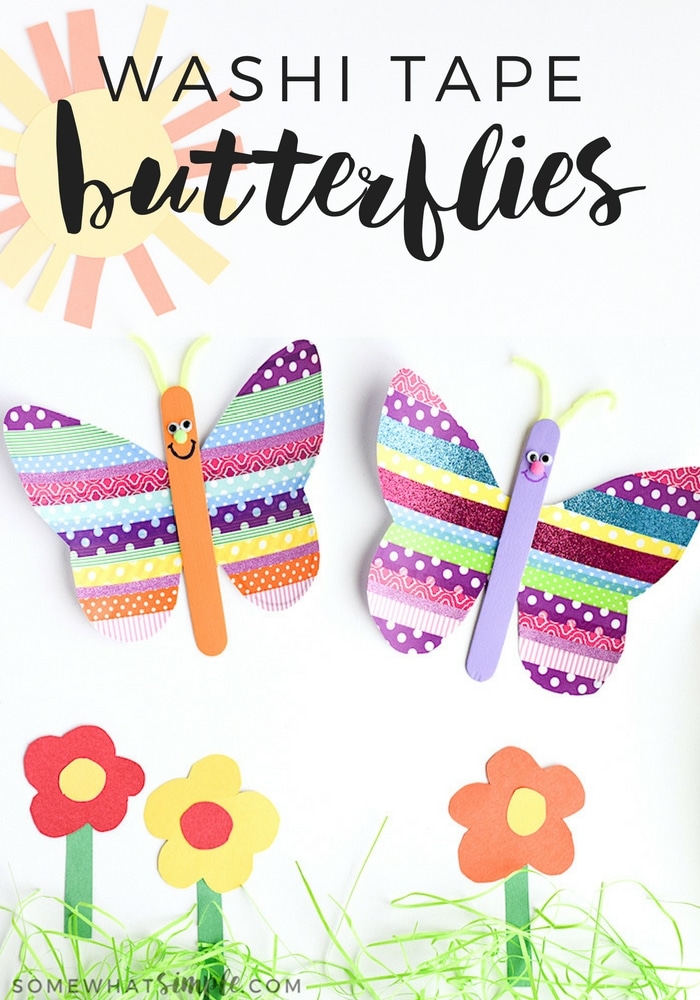 Spring time is always my favorite when it comes to craft projects. With inspiration from Easter, flowers, butterflies, and rainbows, there are so many fun ideas when it comes to spring crafting with the kids. To celebrate the start of spring, we made these fun washi tape butterflies!
One of my new favorite craft supplies to use with kids is washi tape! I'm all about the low-mess kind of crafts that don't call for a ton of glue. Washi tape is a great way to add some fun colors and patterns to our projects. Plus it's the perfect size for little hands and easy enough for them to tear or cut into pieces.
How to Make Washi Tape Butterflies
Supplies
butterfly template
washi tape in a variety of colors and patterns
craft sticks
construction paper
googly eyes
pipe cleaners
paint & brush
glue, scissors, marker
Directions
Start by painting the wooden craft sticks which will become the butterfly body.
While the craft sticks are drying, use the butterfly template to trace an outline onto a piece of construction paper.
Tear off or cut different lengths of washi tape and place them onto the butterfly shape.
Cover the whole butterfly shape with washi – use different colors and patterns, allow the kids to get creative with their butterflies!
Cut out the butterfly, following the outline that was traced onto the paper.
Glue the craft stick onto the butterfly to create the body.
Add googly eyes, some pipe cleaner antennas, and a little smile to finish up the project.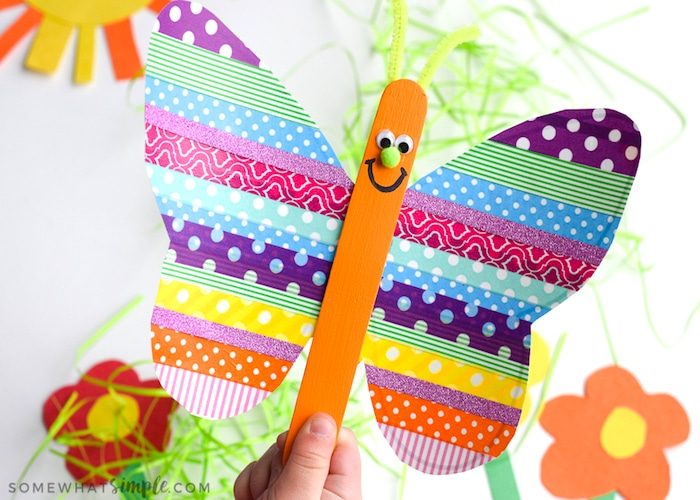 We used the larger craft sticks, so our butterflies were the perfect size for becoming puppets! You could even attach some yarn to them and hang in the window. There are so many possibilities with this fun, spring craft!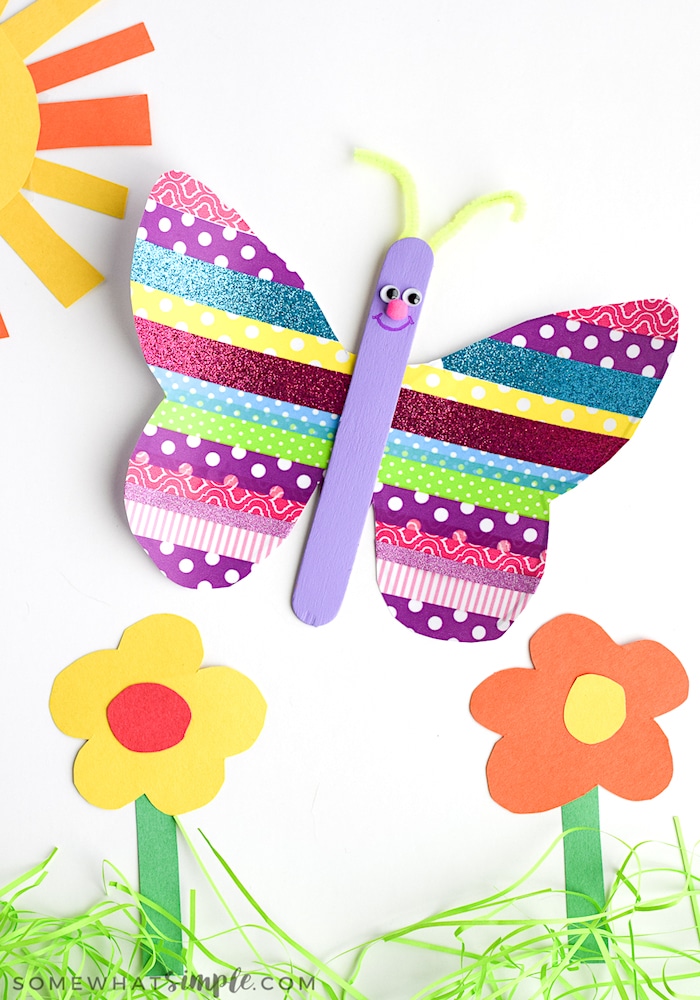 Here are a few more spring inspired crafts you might enjoy: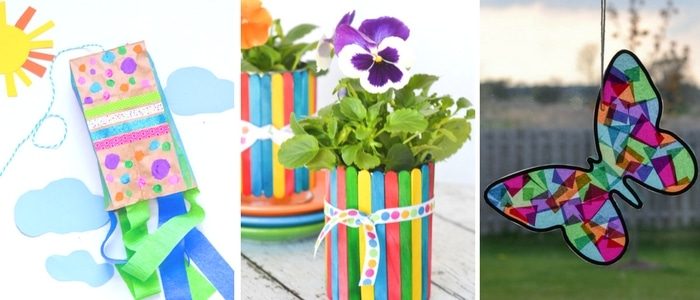 Paper Bag Kites // Popsicle Stick Flower Pots // Stained Glass Butterfly