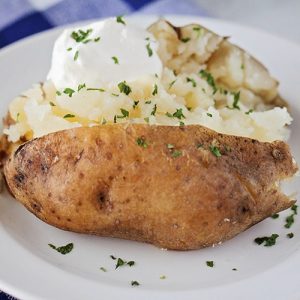 The EASIEST crock pot baked potatoes ever! This just might change the way you cook baked potatoes forever! Here is how to cook potatoes in a crock pot.
Keyword:
crock pot, potato
Russet Potatoes

all about the same size

Vegetable oil

Sea salt
You will also need:
Aluminum foil

fork

paper towels
Wash the potatoes really good. Russet potatoes are especially dirty!

Dry the potatoes with a paper towel.

Poke potatoes with a fork 3-4 times on all sides on the potato.

Brush vegetable oil over each potato then sprinkle with sea salt.

Tightly wrap each potato individually  in aluminum foil, then place directly into crock pot.

Place as many wrapped potatoes as you need in the crock pot, starting with a single layer on the bottom and then stacking more potatoes on top. Depending on the size of your potatoes and how big your crock pot is will determine how many you can cook at one time. You just need to make sure you have room for the lid to close securely.

Cook according to directions below-
6-8 potatoes
On low for 6 hours

On high for 4 hours
A full crock pot
On low for 10 hours

On high for 6 hours
Check the potatoes at the end of the cooking time to make sure they are soft enough and to your liking. If they need more time to cook, just check them every 15 minutes or so. Potatoes will stay warm in the crock pot for several hours after it has been turned off.
Nutrition Facts
Crock Pot Baked Potatoes
Amount Per Serving
Calories 168
* Percent Daily Values are based on a 2000 calorie diet.