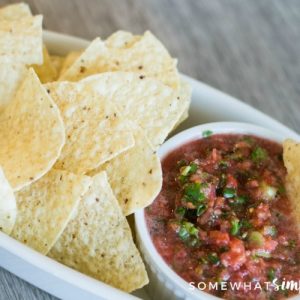 This homemade salsa recipe is so easy to make and tastes amazing! This restaurant style salsa is made with fresh tomatoes, green onions, cilantro, limes and pickled jalapenos. It's the perfect blend of fresh vegetables and savory spices that is perfect for dipping.
Course:
Appetizer, dinner
Chop tomatoes very fine by hand or in a food processor being careful not to puree. Put tomatoes in a large bowl.

Chop jalapenos very fine or you can add them to the tomatoes as you put them in the food processor.

Thinly slice green onions and finely chop the cilantro leaves. Add them to the bowl of tomatoes and jalapenos and mix well/

Add lime juice, salt, garlic, cumin, and sugar to the bowl and stir until well combined.

Chill several hours before serving to blend flavors (if you can't wait that long!)
* Pickled jalapenos come in a can on the Mexican Food Aisle. The original salsa recipe calls for 4 medium pickled jalapenos, but sometimes all I need is 1 or 2 because you never know how spicy they will be. So start with less and add more to your liking!
Nutrition Facts
Best Homemade Salsa Recipe
Amount Per Serving
Calories 25
* Percent Daily Values are based on a 2000 calorie diet.