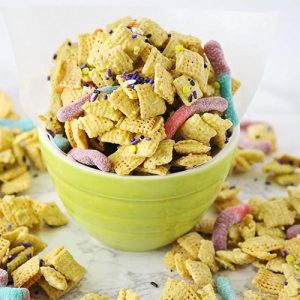 Zombie Bait Chex Mix is a fun Halloween treat that comes together in a snap! It is SO easy to make and uses only 4 ingredients!
Keyword:
halloween,, snacks
In a medium heat-safe bowl, melt the candy melts in the microwave for 30 seconds on 50% power. Stir and repeat microwaving until the chips are completely melted.

In a large bowl pour the candy melts over the Chex. Stir carefully until the Chex are coated.

Spread the mixture out over parchment paper or wax paper. Add the sprinkles on top and let cool and harden, about 1 hour.

Break apart, add the candy worms and serve immediately or store in an air-tight container.
This zombie Bait Chex Mix can be stored in an air-tight container for up to 5 days... but I don't think it'll last that long! This recipe is so versatile. With all of the different candy melt colors & seasonal sprinkles, the combinations are endless! If you want to add a salty component to the recipe, add a cup of pretzel sticks in with the Chex cereal before adding the melted candy melts. The "vibrant green" candy melts that I used are a bit on the pale side. Feel free to use a darker green candy melt if you want a more noticeable green color.
Nutrition Facts
Zombie Bait Chex Mix
Amount Per Serving
Calories 350
* Percent Daily Values are based on a 2000 calorie diet.