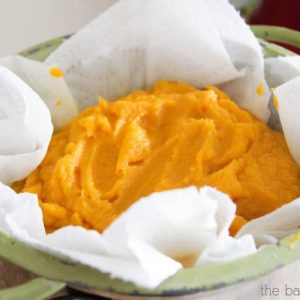 This homemade pumpkin puree recipe uses fresh pumpkins and is so easy to make. Learn how to make pumpkin puree in just a few easy steps that can be used in many of your favorite pumpkin recipes.
Cut the tops off your pumpkins

Cut the pumpkins in half, from top to bottom

Scoop out the insides of the pumpkins

Place the pumpkins face down on a baking sheet

Add about 1/4 inch of water around them

Bake at 350 for 60-90 minutes, checking periodically after 60 minutes

They are finished when a fork slides in easily

Let the pumpkin cool and then scoop the meat out into a blender
If you want the puree to be more like what you get out of the can, drain the puree in a colander set over a pot. I found that paper towels worked great for lining the colander.
Nutrition Facts
Easy Homemade Pumpkin Puree
Amount Per Serving
Calories 49
* Percent Daily Values are based on a 2000 calorie diet.