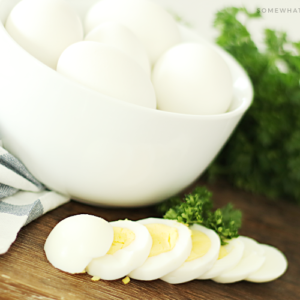 Learning how to make hard boiled eggs is really easy. This simple method will give you easy to peel eggs and works perfectly every time!
Place the eggs into a large pot

Cover the eggs with cold water so they are fully submerged with at least an inch of water covering the eggs

Cover the pot and bring it to a boil

Turn off the heat and let the pot sit for 10-13 minutes

Carefully remove the eggs and place them in an ice bath for at least 10 minutes

Peel the eggs and serve
Nutrition Facts
Hard Boiled Eggs Recipe
Amount Per Serving
Calories 78
* Percent Daily Values are based on a 2000 calorie diet.