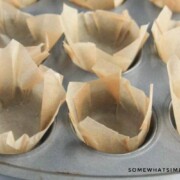 Print Recipe
DIY Bakery Style Cupcake Liners
Make your baked goods look straight out of a professional bakery with these DIY cupcake liners! They are a simple, FUN way to dress up your favorite cupcakes or muffins! 
First, measure and cut your parchment paper into 12, 5-inch squares.

Place your round jar in the center of one parchment square. Use your hand to push the sides of the parchment paper up and around the jar, creasing as you go, then place in the muffin tin. Repeat with your remaining parchment squares.

Now its time to whip up your favorite recipe and fill your liners with some delicious batter!