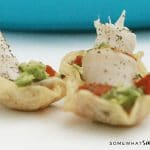 Print Recipe
Kickin' Chicken Cups
Kickin' Chicken Cups are healthy snacks and they are so easy to prepare. A perfect appetizer or afternoon snack and they taste delicious!
Lay out the chips on a tray in a single layer.

Place small slices of chicken inside each scoop chip

Add a dab of avocado and a dab of salsa on top of chicken.

Sprinkle with Parsley, if desired.