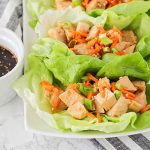 Print Recipe
Easy Chicken Teriyaki Lettuce Wraps
Chicken Teriyaki Lettuce Wraps are a quick and easy dinner idea that is jam-packed with fresh, delicious flavor!
Marinate your chicken in the Teriyaki Marinade for at least 30 minutes.

Fire up your grill and toss the chicken on the grill until cooked through.

Cut chicken into bite-size pieces and place on top of lettuce.

Sprinkle with carrots and fresh herbs.

Serve with rice and your favorite veggies, then eat and enjoy!