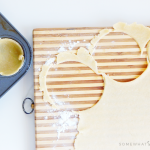 Print Recipe
Easy Pie Crust Recipe
If you've never made your own homemade pie crust, you are in for a delicious treat! This is the BEST pie crust recipe, and it happens to be a SUPER easy pie crust recipe too!
Blend flour + salt in a bowl. Cut up 1/2 of the Baking Stick into cubes and combine with the flour and salt until the dough is crumbly.

Stir in just enough water until the dough holds together. (I only needed the 3 Tbs.) You should be able to create a smooth ball that doesn't fall apart. Shape dough into a ball and chill for at least 30 min.

Roll out the dough on a floured surface. Using a bowl or round pattern with a sharp knife, cut out your dough. If you're making a regular pie, you want it to be 2 in. wider than your pie plate. If you are making mini pies, roll the dough out a little thinner than normal, cut out using a large cup, then place them in your muffin tins, not caring about where the creases end up. Poke the bottom of the pie dough with a fork.

Bake your crust(s) in the lower third of the oven, at °425 F, for 8-12 minutes, or until lightly golden. Pull the pie crust(s) out  and place on a cookie sheet to cool.