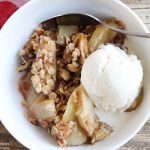 Print Recipe
Apple Crisp Recipe
Loaded with crisp delicious apples, this apple crisp recipe is so easy to make and unbelievably delicious! I have tried several different apple crisp recipes and this one is definitely my favorite.
DIRECTIONS:
Preheat the oven to 350. Spray a 9 x 9 baking dish with cooking spray.

Toss the apples with the lemon juice, sugar, cinnamon, nutmeg, and flour. Spread the apples in the bottom of the prepared dish.

To make the topping mix together the oats, flour, pecans, brown sugar, and salt. Add the butter and mush it in with your fingers until the dough is crumbly and has some big chunks but is starting to stick together. Sprinkle the crumb topping over the apples.

Bake 35-40 minutes, or until the filling is bubbling and the topping is golden brown. Let cool slightly before serving.