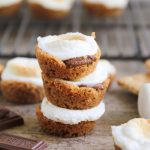 Print Recipe
Easy S'mores Bites Recipe
If you're a huge fan of s'mores like me but don't want to build a camp fire, then these s'mores bites are for you. With this easy recipe, you can enjoy s'mores any day of the year from the comfort of your own home!
Preheat the oven to 350. Crush the graham crackers finely using a food processor or a ziplock bag and a rolling pin. In a small bowl, mix together the graham crackers, butter, and powdered sugar. Scoop about one teaspoon of the graham cracker mixture into 24 wells of a mini muffin tin and use your fingers to press the crumbs down.

Bake 4 minutes, then remove from the oven. Add a piece of chocolate to each well of the muffin tin and top with half a marshmallow. Return to the oven and cook an additional 2 minutes, or until the marshmallows have softened.