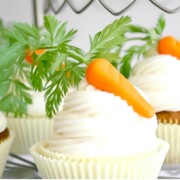 Print Recipe
Carrot Cake Cupcakes with Cream Cheese Frosting
Our favorite carrot cake recipe, in smaller cupcake form! These Carrot Cake Cupcakes are topped with a delicious cream cheese frosting that tastes amazing! They are the perfect treat for Easter, spring bake sales, or a simple afternoon treat!
for the cupcakes
2

cups

flour

2

cups

sugar

2

tsp

baking powder

2

tsp.

cinnamon

1/2

tsp.

ground nutmeg

1/2

tsp

salt

1 1/4

cups

vegetable oil

4

eggs

beaten

1

tbsp

vanilla extract

3

cups

finely grated carrots
for the cupcakes
Preheat oven to 350 degrees.

Mix flour, granulated sugar, baking powder, cinnamon, nutmeg and salt in large bowl.

Add oil, eggs and vanilla; mix well.

Add carrots; mix until well blended.

Spoon batter into 24 paper-lined muffin cups, filling each cup 2/3 full.

Bake 20 minutes or until toothpick inserted into cupcake comes out clean. Cool completely before frosting.
for the frosting
Combine all ingredients in a mixing bowl.

Beat with an electric mixer until smooth.
for the carrot tops
Take a small piece of orange fondant and roll into a log, making one end smaller than the other.

With a bamboo skewer or toothpick, put a small hole in the top for the greenery.

Lay your carrots on a sheet of wax paper and with your skewer or toothpick gently make a few indentations along your carrot and allow to dry.

To keep your carrot tops fresh until you're ready to use them, cut off the carrots and place the tops in a cup of fresh water, just like you would flowers. Just before you're ready to serve, add the real carrot leaves by sticking the stems into the holes on the tops of your fondant carrots.

Gently place a carrot on each cupcake and enjoy!