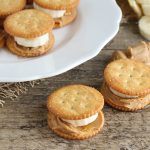 Print Recipe
Peanut Butter Banana RITZwiches
These peanut butter banana cracker are the perfect snack for any time of day. They are super delicious and so easy to make!
Spread 12 of the RITZ crackers with about 1 teaspoon of peanut butter each.

Top each cracker with a banana slice.

Drizzle with honey, then add a second RITZ cracker to make a sandwich.

Enjoy!