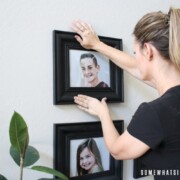 Print Recipe
How to Hang a Picture
Hanging several pictures in a straight line can seem a bit daunting, but today is the day your photo-hanging fears will flee! I'm going to teach you how to hang a picture collage using a simple method that will have you saying, "Why didn't I think of that??" Ready for it????
Add a small dot of toothpaste to the back of your picture where the nail(s) will go.

Press the picture frames to the wall where you want to hang it.  The toothpaste from the back of your frames will then stick to the wall.

Set your laser level so that the laser points towards the toothpaste on your wall in a level line. Put your nail right where the toothpaste meets the laser.

Hang your picture on the nail, and you're good to go!