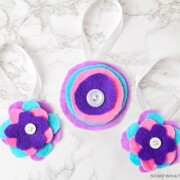 Print Recipe
Colorful Felt Ornaments
With a few simple supplies and 5 minutes of your time, you can create these easy felt ornaments! Grab the kids and get ready to deck the halls for Christmas!
Cut out varying sizes of felt in the shape of your choosing. You can try to make these perfect with a stencil, but I actually like the look of the imperfect shapes- it adds some character.

Stack 3-6 shapes on top of one another, then sew a button to the center of the felt stack.

Hot glue a ribbon to the backside of each stack. Add your glue as close to the edge as possible so your ornament doesn't flop over.

Hang and enjoy!