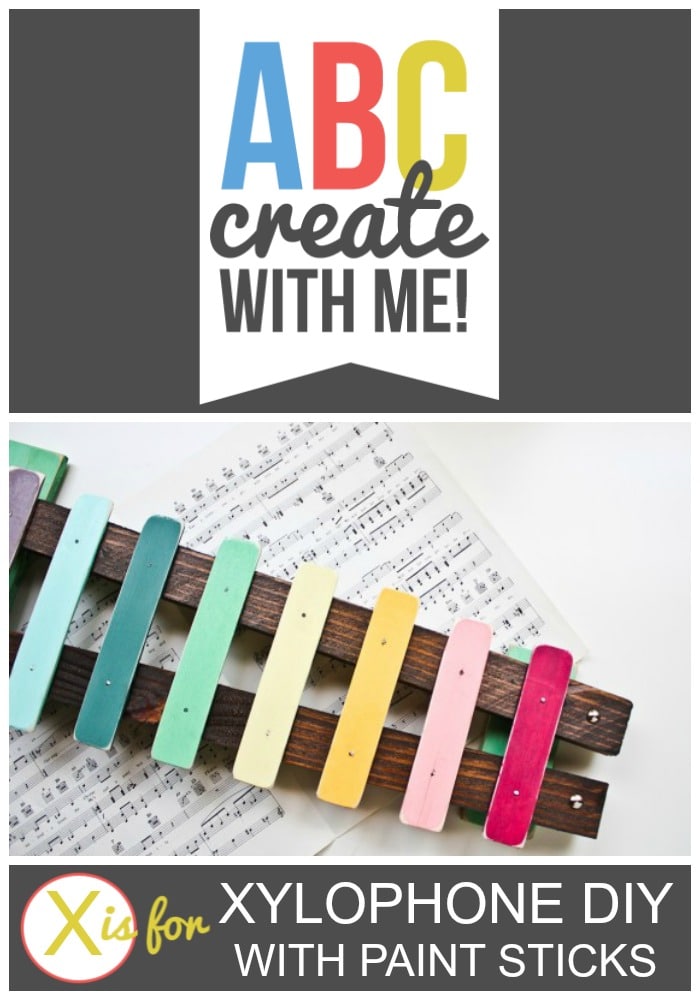 Hey there Somewhat Simple readers! I'm Anna and I blog over at Ask Anna, it's fun being back here sharing with you because it's been years! When Stephanie emailed and asked me if I'd be a part of her "ABC Series" I told her I'd love to, I was just bummed I didn't come up with the idea first because it's SO fun!
When I finally clicked over to the sign up sheet for the series the only letter left was "X" and I felt bad for it so I took it! Then came the challenge of finding something that started with an "X". I though about sharing an eXcellent recipe, or something X-tra fun, or even an X-Mas craft (except that I'm morally opposed to calling it that), but in the end I decided I should do a fun project that actually STARTED with an "X" so today I'm going to show you how to make this fun and super cute Xylophone Craft!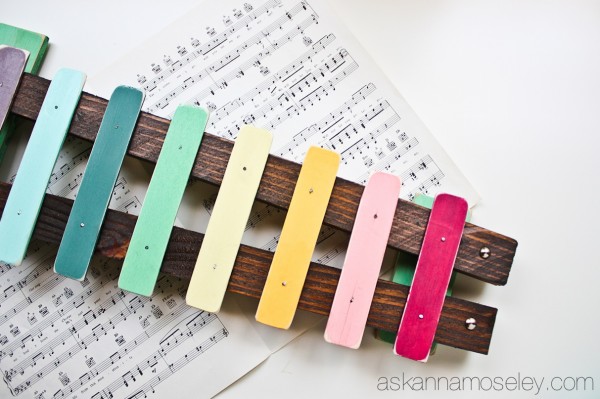 The best part about this project is that you probably have all the stuff lying around your garage/workshop. This project was totally free for me, the only thing I had to pick up were a few extra paint stir sticks.
Here's what you'll need:
10- paint stir sticks
2- 1″x1″ boards about 21″ long
8- paint colors
16- Finish nails
4- wood screws
4- decorative brads
Step 1
Measure and cut the stir sticks to the right sizes. Here are the sizes I did for each of mine, working from the top down.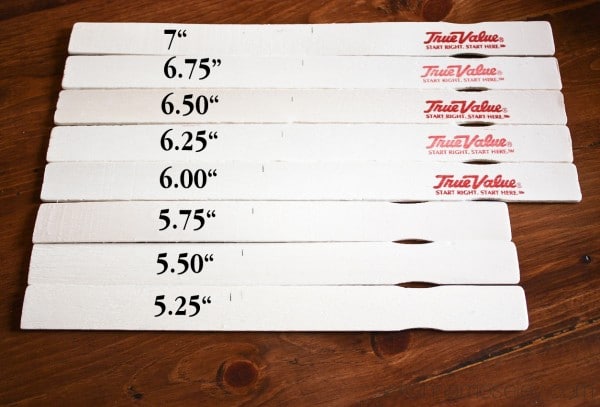 I also cut an additional 5″ piece and a 9″ piece which were the 2 pieces that will end up holding the base of the xylophone together.
I used a chop saw to cut the paint sticks because it was easier than pulling out the table saw. If you don't have a saw, a sharp blade will also work to cut through them.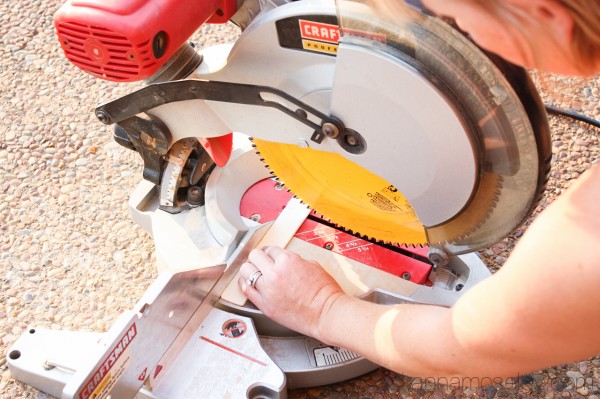 Step 2
Paint the stir stick pieces you just cut. I painted mine the order of the colors of the rainbow, but of course you can do yours however you want. 🙂 Don't forget to paint the 2 pieces that go in the back, I painted mine green because it's my favorite color.
Red
Pink
Orange
Yellow
Green
Teal
Blue
Purple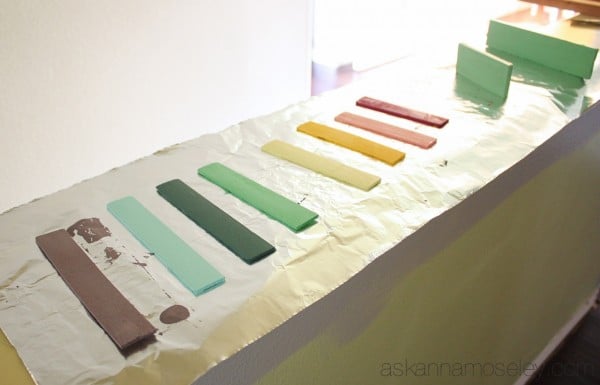 Step 3
While the paint was drying on the stir sticks I used that time to stain the 1″x1″ wood pieces, which are the base of the xylophone. Once the stain was dry on the 1″x1″s and the paint was dry on the 2 paint sticks that were back pieces (paint those first) I brought them out to start assembling the body of the xylophone. Using 4 small wood screws, I attached the stir sticks to the 1″x1″ wood strips. Now you have the body of the xylophone!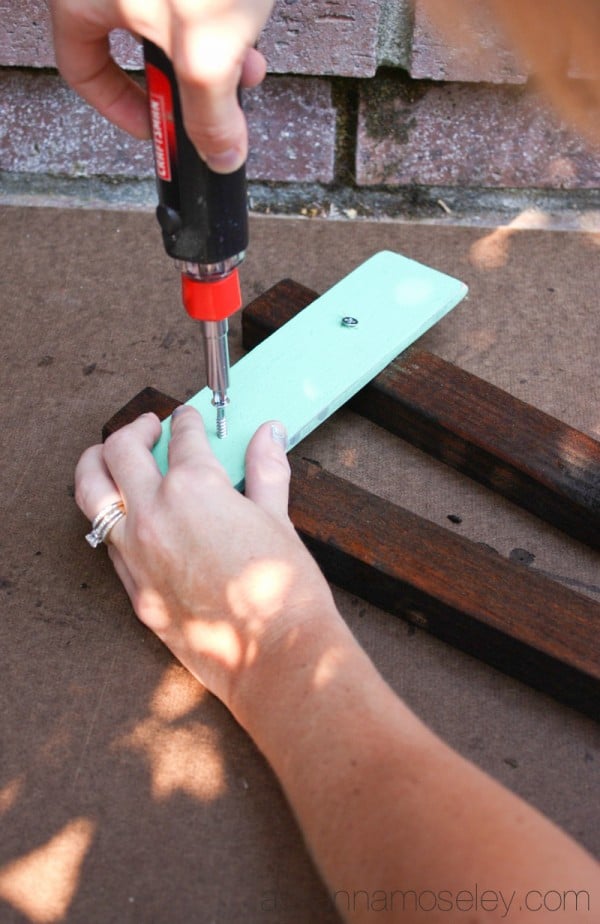 Step 4
Once the rest of the stir sticks were dry it was time to attach them to the base. First I lined them up in the order I wanted them to figure out how much space should go between each one. I didn't use an exact measurement, I just eyeballed each one, but they ended up being just over 1″ apart.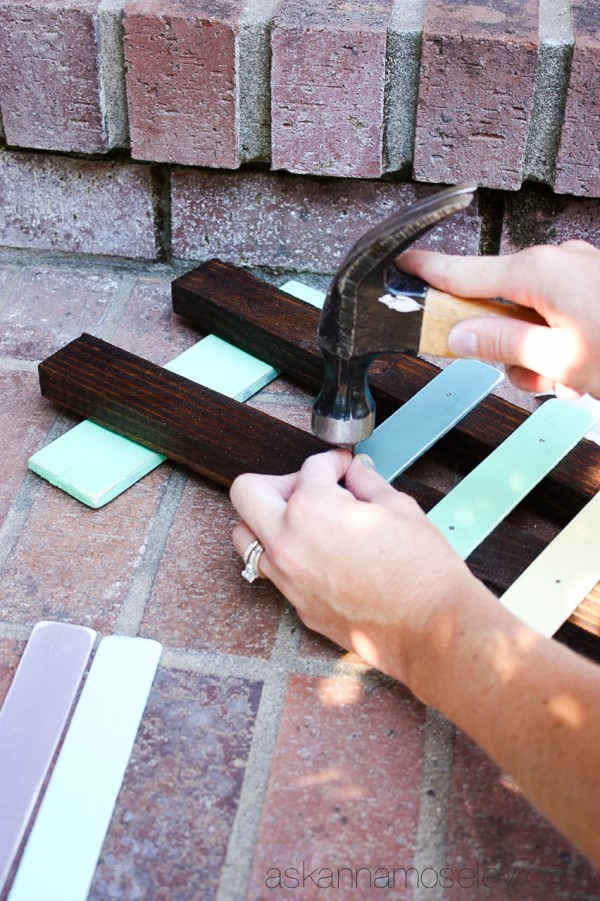 Using the finish nails and a hammer I attached each of them to the xylophone base. I distressed each of my paint sticks, but you don't have to. You could also antique them with wax or just leave them as is.
Step 5
The last step is to add the brads to the front, top and bottom of each of the 1″x1″s. I had some furniture brads left over from another project and they worked perfectly. If you don't have any on hand you can purchase them at most hardware stores.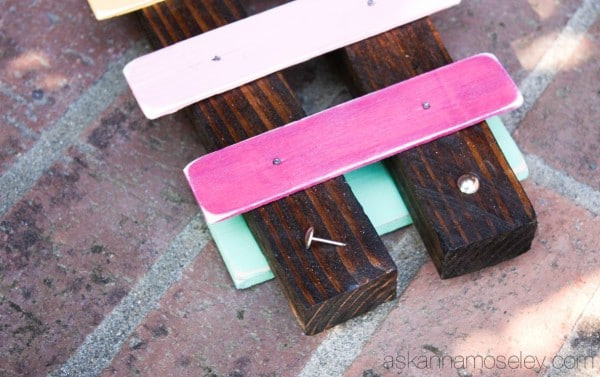 I wanted to be able to hang the xylophone so I also added a picture hook on the back of it. These can also be found at any hardware store.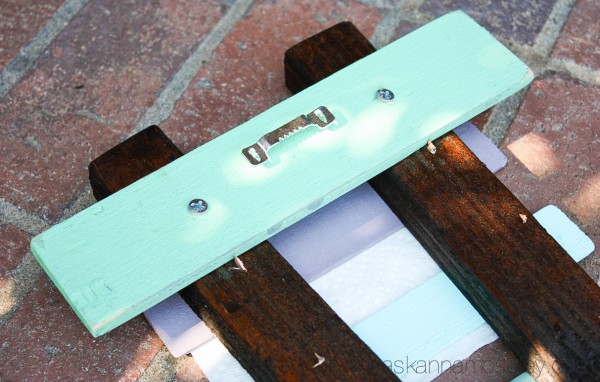 Once I finished assembling it I stood back to admire how cute it turned out! My neighbor stopped by while I was assembling it and I think she wanted it because she kept asking "what are you going to do with it?". I might have to give it to her girls and make another one for my daughter. 🙂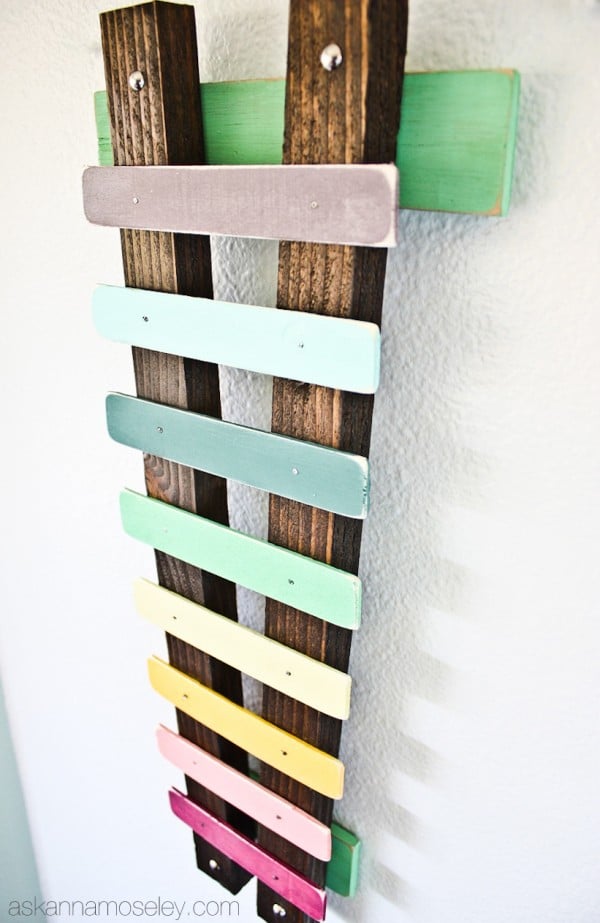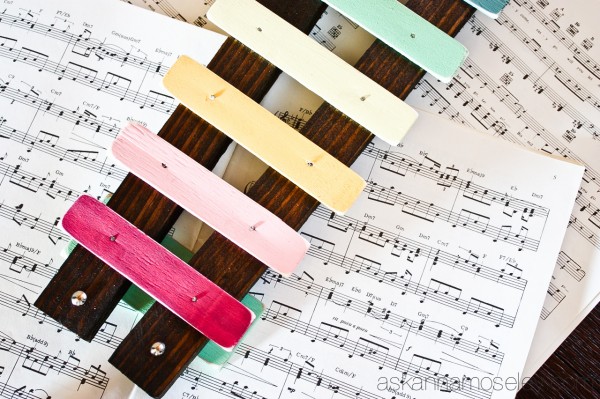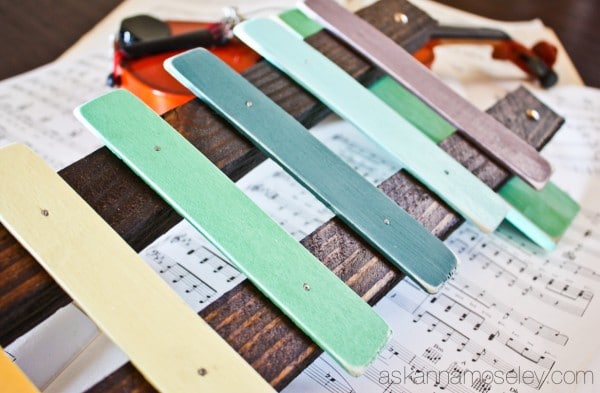 Isn't it such a fun decoration for a kids room or a play room? Thank you so much for letting me hang out with you today! I'm sure I'll be back but in the meantime stop by and say "hi" to me over at Ask Anna!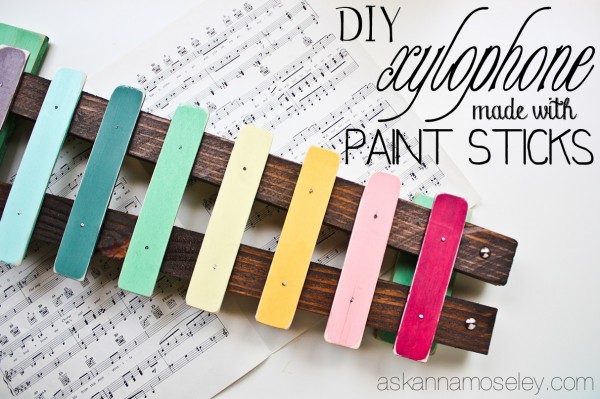 Anna
ABOUT THE AUTHOR: Hi I'm Anna and I blog over at Ask Anna where I love to answer your household questions! I have always loved to clean, organize and decorate and this blog is a fun way for me to help you love it too! I am a wife and a busy mom of a 5 year old and an adopted 16 year old. Together we fill our days with projects , fun and lots of love. I serve an incredible God and overall I'd say I'm truly blessed!